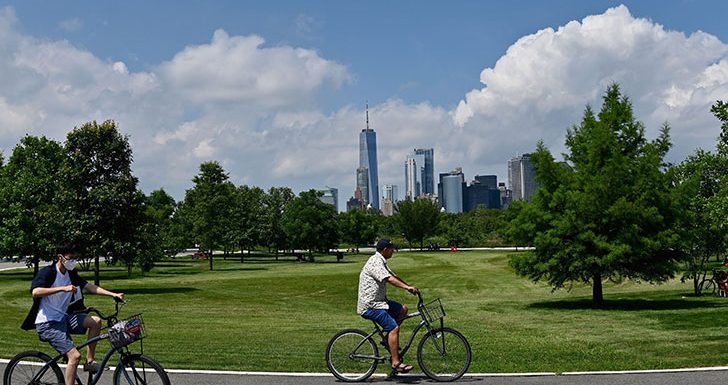 Look, Manhattan is great and all, but did you know there are actually multiple smaller islands around the city and in New York State that are just as fun (and arguably more beautiful)? Whether you want to tuck into freshly–caught seafood, ride your bike while gazing out onto the city's skyline or get a front row seat to Niagara Falls, there are plenty of exciting isles to visit near NYC. Here, we rounded up 11 of the most interesting, exciting and downright breathtaking islands in New York.
RELATED: The 10 Best Lakes in New York State

© ANGELA WEISS/Contributor/Getty Images


Image credit: ANGELA WEISS/Contributor/Getty Images
1. Governor's Island
When to visit: May 1 to October 31
How to get there: Ferries at The Battery Maritime Building in Lower Manhattan, Pier 6 in Brooklyn Bridge Park or Atlantic Basin in Red Hook
If you have ever visited Ellis Island or Liberty Island, chances are you passed by Governor's Island. Once a former military base, this tree-lined oasis is now a lush public space with plenty of activities for adventure-seekers, history buffs and chill types. Bike rentals are available and the best way to explore the island's many Hills (manmade mounds that provide breathtaking views of the Manhattan skyline and the Statue of Liberty). Our favorite? Slide Hill, which features four slides including New York City's longest at 57 feet! Exciting art, food and historical structures can also be found throughout the island.

© Ben Gabbe/Contributor/Getty Images


Image credit: Ben Gabbe/Contributor/Getty Images
2. Roosevelt Island
When to visit: All year round
How to get there: Tramway at the Upper East Side, MTA F train, MTA Bus Q102, NYC Ferry (Astoria Route), Roosevelt Island Bridge through Astoria, Queens (for short-time visits only)
A quick trip over the East River and you'll find Roosevelt Island. The island sits between Manhattan and Queens and offers visitors plenty of things to do, places to eat and ways to relax—all while being mere minutes away from the hustle and bustle of Manhattan. You'll want to start at the top of the island and explore the Blackwell Island Light, a charming lighthouse with the best view of the city. Then begin walking down to see landmarks like Renwick Ruin (a former smallpox hospital and apparently home to a lot of cats), Octagon Tower (an abandoned asylum), Blackwell House and Strecker Lab along the way. By the time you make it to the southern tip, you'll come across the serene Four Freedom Park where you can kick back after a busy day of exploring.
https://www.instagram.com/p/CCOoUCUBrkg/
A post shared by Johnny's Reef (@johnnysreefrestaurant)
When to visit: All year round (but some restaurants close in the winter months)
How to get there: MTA Bus Bx29 and BxM8 or by car across the City Island bridge
If you're a foodie, look no further than City Island. Located near the eastern part of the Bronx, this island is a seafood lover's dream. While the fan-favorite is lobster, you can just get about anything at over 30+ restaurants located on the island. Check out Johnny's Reef, Seafood City, Sammy's and The Lobster Box, to name a few. Follow up with a couple of scoops of cookies 'n creme ice cream at Lickety Split Ice Cream Parlor (with a sweet deal of $5 for two scoops BTW). And when you're all stuffed for the day, explore the local shops like 239 Play and Kaleidoscope Gallery for antiques and vintage items (like comics, jewelry and artwork) you can only get on the island. You can also learn more about the island's maritime history at the City Island Nautical Museum if you're into that kind of thing.

© Gonzalo Marroquin/Stringer/Getty Images


Image credit: Gonzalo Marroquin/Stringer/Getty Images
4. Randalls and Ward Islands
When to visit: All year round
How to get there: By car across the Triborough and Hell Gate bridges, by feet across the Wards Island bridge and Randalls Island Connector and the MTA Bus M35
Move over, Central Park. Randall's Island is a the place to enjoy a day in the sun—especially for fitness freaks. Slabbed right in the middle of Manhattan, the Bronx and Queens, we promise you'll get a great view of the city wherever you're standing…or running. The island is home to a ton of recreational facilities, like the Icahn Stadium for track and field, golf center, tennis courts and batting cages. There's also over 60+ playing fields, bikeways and pathways. Want to explore the isle without breaking a sweat? The island hosts events and programs all year round, most famously the Governor's Ball Music Festival and Electric Zoo.

© ANGELA WEISS/Contributor/Getty Images


Image credit: ANGELA WEISS/Contributor/Getty Images
5. Little Island
When to visit: All year round
How to get there: Multiple public transportation options including the subway (1, 2, 3, A, C, E, F and M) and buses (M11, M12 and M14 SBS)
The newest—and by far the smallest—NYC island is here and it's definitely worth checking out. Little Island is a new public space created by the remnants of Pier 54 and located right along the Hudson River (and just an avenue away from The High Line). With just 2.4 acres and a structure that can surely catch anyone's eye, visitors here can experience live music, food trucks and open areas to unwind. The island only opened in May 2021 and already boasts a slew of free programs and events— check out the Storytelling Festival starting July 21 and Dancing Festival starting September 15. (Note: Reservations to visit the island are required.)

© Gesine Stross/Contributor/Getty Images


Image credit: Gesine Stross/Contributor/Getty Images
6. Fire Island
When to visit: All year round
How to get there: Fire Island Ferry
Looking for a weekend getaway? Fire Island is a prime vacation spot less than two hours away from the bustling city. Parallel to Long Island and next to small islands like Jones Beach and Westhampton Island, this pretty destination is for the person who loves pristine beaches, nature walking (with some birdwatching and camping in the mix) and quaint shops at Ocean Beach. The long coastline gives you a bunch of opportunities to get in touch with nature, including beautiful Davis Park, Saltaire and Cherry Grove. And there's something for every type of traveler, too. Whether you're looking to try jet skiing, outdoor dining (we recommend Top of the Bay and Flynn's Fire Island) or indulging in the party scene, this lively island has a space for everyone.

© Onasill/Flickr


Image credit: Onasill/Flickr
7. Heart Island
When to visit: May 8 to October 11 How to get there: Boat Tours
Not to be mistaken for Hart Island in the Bronx, this spectacular destination is located in the town of Alexandria and is a part of the Thousand Islands, an archipelago of 1,864 islands that straddles the Canada–US border.While the beautiful scenery is one good reason to head over, it's really the Boldt Castle that has tourists flocking to the island. There you can walk the grounds and learn all about the sweet love story behind the castle (George C. Boldt dedicated the expansive place to his wife Louise). Top tip: before embarking on this island, make sure to wear comfortable shoes.

© John Chambers/Flickr


Image credit: John Chambers/Flickr
8. Dark Island
When to visit: May 22 to September 5 How to get there: Uncle Sam Boat Tours
If Boldt Castle was fun, swing on over to Singer Castle located on nearby Dark Island (also part of New York's Thousands Islands). Created for the Singer Sewing Machine (hence the name), the island's landmark will take you on a quest filled with hidden passageways, artifacts and 20th century architecture (inspired by Woodstock by Sir Walter Scott). Plus, you can even stay inside the castle in their Royal Suite and live out your Game of Thrones dream.

© NYS Parks & Sites/Flickr


Image credit: NYS Parks & Sites/Flickr
9. Wellesley Island
When to visit: All year round How to get there: By boat or car across Thousand Islands Bridge
Speaking of the Thousand Islands, Wellesley Island is also a part of the impressive archipelago. This large island is a must for campers, whether you're experienced or a first timer. With about 432 campsites, you can't go wrong with finding a spot for you and your group. Once you're settled, enjoy some fishing, swimming and even golf at Wellesley Island State Park. And if you're looking for educational options, check out the Minna Anthony Common Nature Center to learn all about the wildlife and surrounding habitats of the island.

© Karl Agre/Flickr


Image credit: Karl Agre/Flickr
10. Rock Island
When to visit: All year round How to get there: Clayton Island Tours
Another Thousand Islands favorite is Rock Island. Its star attraction—Rock Island Lighthouse —gives you a panoramic view of the St. Lawrence River (and bragging rights because who wouldn't want to climb up a lighthouse?). After walking up the 50-foot tower, tour the museum (located inside the keeper's quarters) and learn all about the island with structures that date back to 1845.

© Andrey Sulitsky/Flickr


Image credit: Andrey Sulitsky/Flickr
11. Three Sisters Island
When to visit: All year round How to get there: Through Goat Island
Want a spectacular view of Niagara Falls minus the crowds? Check out the Three Sisters Island. Just as you expect given the name, you'll come across three small islands to give stunning views of the rapids. We all know about Goat Island (the isle that's located between the American and Canadian Falls) but if you want to avoid the crowds and already have the Cave of the Winds attraction checked off your list, just walked across to one of the three bridges for a different perspective of the Falls.
RELATED: The 8 Most Beautiful Places in New York State
Source: Read Full Article