InterContinental Hotels & Resorts is the flagship brand in IHG Hotels & Resorts' portfolio and until 2015 was the company's sole luxury flag. Earlier this fall, IHG unveiled plans for an "extensive global brand evolution" of InterContinental, spanning everything from design elements to its approach to service. Hotels editor Christina Jelski recently connected with Tom Rowntree, vice president of luxury brands at IHG, which include Six Senses and Regent, to get details on the transformation.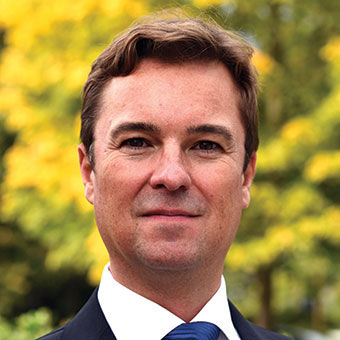 Q: Why was the timing right for a major update of the InterContinental brand?
A: We've had incredible growth [within luxury], and we've actually seen that luxury-lifestyle now represents 21% of IHG's future pipeline, which is almost double what it was five years ago. And if you look at the world, by end of 2025, 61% of luxury consumers globally will be millennials and Generation Z. And then using the U.K. as an example, 73% of parents of the United Kingdom state that their children influence that travel behavior. So you've now got Gen Alpha coming in along with millennials and Gen Z. It's a very exciting time for the InterContinental brand to be crafting a future [that's] appealing to this modern luxury consumer.
Q: How extensive will the brand's evolution be?
A: This evolution is absolutely end to end, meeting the needs of the modern luxury traveler at every single point. For example, we've developed a new colleague culture so that we can make sure that we're retaining and attracting the very best talent in the industry, and on the back of this we're developing a new service style. We've developed a new food and beverage strategy, which recognizes the importance that food and beverage plays in celebrating cultures and bringing people together. And we've also developed a new design style called "cultivated elegance"; this is truly a multisensory [approach to] design. So of course, it involves the core interior design and architecture that you have in the hotel, but it also goes into scent, it goes into sound, it goes into botanicals and it goes into uniforms.
Q: One key change being made on the service front is a rethinking of the hotel concierge. How will InterContinental's concierge experience evolve?
A: The concierge is a hallmark of the InterContinental brand today. But we want to try to unlock time for them to be more proactive with our guests, getting them out from behind the desk and connecting with guests as individuals. We're developing an element called the Concierge Gallery, which could be a pop-up or physical build-out within our concierge spaces and will allow guests to have conversations with a concierge but without the physical barrier. What we're also looking at is introducing an element of technology, where we'll be building in an immediate chat functionality between our concierge and our guests, which can be used while they're in the hotel but also while they're in the destination. And then we're also building up networks of what we call "insiders" who are local experts. So in addition to having these Concierge Galleries, we'll have these insider events around cultural exchange, inviting locals and guests to the experience. 
Q: InterContinental has also announced a tie-up with the jet lag app Timeshifter. Why did this particular partnership become a pillar of the brand's transformation?
A: Travel is wonderful, but it's physically and mentally quite demanding. Timeshifter basically helps you reset your circadian rhythm: When to drink coffee, when you shouldn't drink coffee, when to get daylight, when to sleep. You put your flight details in, and it populates this all for you. We'll be launching this partnership this winter, and it will begin with guests traveling to key gateway cities. 
Source: Read Full Article