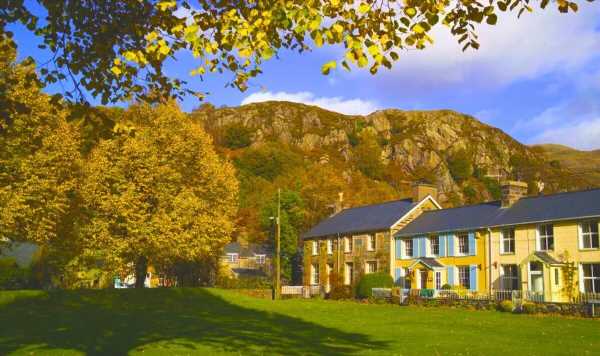 The colder seasons are now approaching but that does not mean people cannot still have fun travelling, and this beautiful village should be added to your next place to visit in the UK due to its breathtaking scenery. 
Beddgelert (pronounced beth-gel-airt) is a tiny village that stands located on two rivers in the heart of the Snowdonia area of Gwynedd, Northern Wales and is famous for its vast mountain surroundings, cobblestone pathways and stunning stone-brick medieval cottages that look magnificent in the autumntime. 
Despite only having a population of less than 500 people, Beddgelert has been put on its map due to its rich history and legends. The local area has also exploded in popularity on social media, due to its medieval buildings and floral displays, as one enthusiastic traveller in a video has described the village as "feeling like a fairytale" 
It has also been described as being one of Britain's "prettiest autumn villages" according to Fine and Country, who have said Beddgelert is an incredibly welcoming place to visit due to its "captivating landscapes" and "charming cottages."
The magazine wrote: "Beddgelert has a cosy atmosphere that beckons visitors to slow down, relax, and soak in the tranquil surroundings." 
READ MORE: The village so 'desirable' people buy million pound homes without seeing them
Why visit Beddgelert?
One of Beddgelert's main attractions is its link to Prince Llywelyn the Great, one of Wales's most famous legendary figures, who is said to have built a palace in the area for hunting in the 13th century. 
According to folklore, Llywelyn's faithful dog Gelert is meant to be buried in the village after the ruler accidentally killed him. It is said that Llywelyn never smiled again after the hound's death, and many people continue to visit Gelert's grave to pay their respects to the loyal animal. 
Another magical legend that surrounds Beddgelert is that of the Dinas Emrys hills located nearby, in which Merlin from the Arthurian legends is said to have been found as a child by a local warlord and also involves the red dragon on the Welsh flag, who is said to still sleep underneath the hills to this day. 
Beddgelert is also known for being linked to the British icon Rupert the Bear, as author Alfred Bestall first wrote and illustrated the Rupert Bear comics while living in the village before the comics were published in the Express in 1920. Fans of Rupurt can explore the author's storage as well as visit Rupert's Garden, which has become a popular picnic area. 
Beddgelert is the perfect place to visit for anyone wishing to experience some breathtaking autumn scenery, as the village is actually located inside Snowdonia National Park and is in the very heart of Wales' beautiful countryside. 
Those who wish to experience this beautiful landscape in comfort can ride a steam train to explore the countryside as the Ffestiniog & Welsh Highlands Railway runs through Beddgelert. 
There are two rivers that run through Beddgelert (the River Colwyn and River Glaslyn). and mountains surrounding the village, meaning there are many trails to take a relaxing walk and also hiking trails for anyone feeling more adventurous. 
Don't miss…
UK village 'really is a jewel in the crown for Pembrokeshire'[LATEST]
This UK beach has 'quiet beaches and blue waters like the Caribbean'[REVEAL ]
The underrated UK town that's a hidden gem of the Cotswolds but there's a catch[INSIGHT]
We use your sign-up to provide content in ways you've consented to and to improve our understanding of you. This may include adverts from us and 3rd parties based on our understanding. You can unsubscribe at any time. More info
@tripsbytroinski The perfect place to feel like you're in a fairytale is Beddgelert, Wales. #beddgelert #visituk #ukholiday #visitwales #explorewales ♬ Fairytale Melody – Piano Peace
What is there to do in Beddgelert? 
Beddgelert is steeped in history and there are plenty of local historic buildings to explore. The local church, St Mary's Church, is one of the oldest Christian buildings in Wales and is thought to have origins dating back to the 6th century. 
Near Beddgelert is Caernarfon Castle, a fortress-palace built in the 11th century following Willian the Conqueror's invasion of Britain and rebuilt by King Edward I in the 13th century and there is also the Sygun Copper Mine, which has been mined for copper since the Romans but closed down just after the Victoria era in 1903. 
Walking over the River Colyyn bridge will take visitors into the centre of Beddgelert where they can walk through the enchanting village and see off the stone cottages, big floral arrangements, vintage oil lamps plus lively shops and pubs all along the riverbank. 
If you are looking to support some of Beddgelert's local businesses, then one of the most unique shops in the area is Beddgelert Woodcraft which sells many fantastic wood carvings of local wildlife, horses and even dragons as well as selling homeware, jewellery and music instruments.  
There is also the craft store Ty Isaf which was once a historic medieval inn but is now owned by the National Trust and sells local art, food as well and crafts. Visitors can also visit the souvenir shop Riverside Gifts which sells local heather honey, prints, beautifully painted ornaments and many other knick-knacks. 
Anyone wishing for somewhere to eat should visit Real Coffee Shop by The Coach House which according to reviews sells excellent coffee, homemade cakes and delicious baguettes. However, there is also the  Glaslyn Artisan Ice-Cream and Pizza shop, an award-winning family-run restaurant known for its "handmade quality ice cream and pizza" according to its website. 
However, no visit to a countryside village would be complete without a drink as the local pub and despite being a small village, Beddgelert is home to many drinking establishments for visitors to choose from such as the Saracen's Head, Trennonen Inn, Prince Llewelyn Hotel and Cwellyn Arms, so there is always somewhere cosy to relax after a day of exploring this beautiful village. 
Follow Daily Express US on Facebook and Twitter @ExpressUSNews
Source: Read Full Article