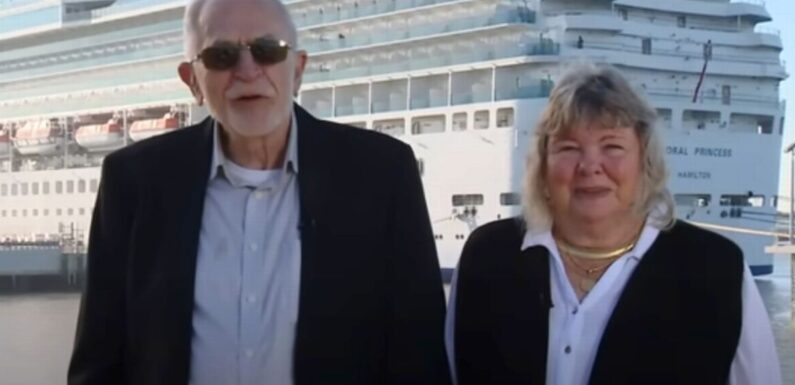 A couple are living their best life on a non-stop holiday, having booked 51 cruises back-to-back.
Marty and Jess Ansen are making the most of retirement by sailing around the world, having already clocked up a whopping 455 days onboard Princess Cruises' Coral Princess – and they have no plans to stop. The Aussie couple claim that it's a cheaper alternative to a retirement home, especially since their meals are taken care of and their room is cleaned daily.
Marty told A Current Affair that the experience is a "wonderful life", and that the couple embarked on the adventure to "see the world, meet these people and make lifelong friends". He also joked that they've forgotten how to wash up or make a bed as they've become so used to staff doing it for them!
READ MORE: World's largest cruise ship will be five times size of Titanic with huge water park
READ MORE: Cruise expert warns of dress code rule passengers can expect on nearly all ships
They've been on the ship longer than some of the members of crew, who've quipped they are a 'second mum and dad' that they visit when they come back to work. Marty and Jess have also become local 'celebrities' in the world of cruises, with other guests recognising them and asking crew if they're onboard.
Want more cruise news, deals and tips direct to your inbox? Sign up to our Anchors Away newsletter in the Lifestyle section here.
The decision to go on one big non-stop holiday came after Covid, when the pair were keen to get travelling again after years of having been stuck at home. "Eventually I said to my agent, 'Look, whatever comes, book it' and that's how it got to be such a long cruise," Marty explained. The pair won't be docking any time soon – they already have another around-the-world cruise lined up although this time on a different ship, the Crown Princess.
Admitting that the only downside is saying goodbye to people they have met, the couple still get to see their friends and family, as they plan visits around the ports where the ship is stopping.
While being on a cruise for years won't appeal to everybody, it's not as uncommon as you'd think. In recent years, cruise lines have been launching months-long itineraries that sell out, with some passengers booking for the entire duration, and others opting for a few legs of the journey.
In fact one cruise ship is embarking on a three-year itinerary. Miray Cruises, founders of Life at Sea Cruises, is launching an extensive three-year-long cruise this November. Visiting 148 countries over seven continents they claim it's the first cruise of its kind – and it's been so popular that the company had to look for a larger ship to accommodate all the holidaymakers who have signed up. The all-inclusive trip – pinned as a "cruise around the world" costs from $87,720 per person (£69,247).
Do you love the idea of a years-long cruise holiday, or is it your idea of a nightmare? Let us know in the comments below.
Source: Read Full Article