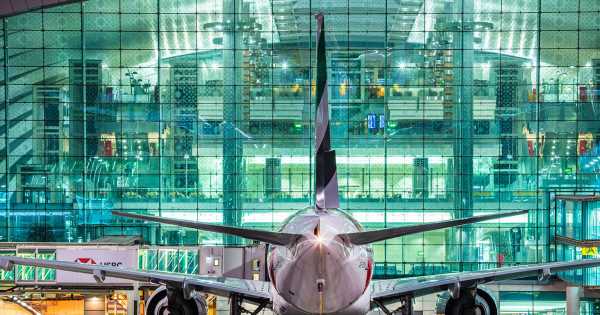 Foreign minister says arrangements are being finalised with the UAE to include country in opening up of travel corridors from October 4
Arrangements are being finalised between the UK and the UAE to ease coronavirus-related air travel rules after it emerged that the UAE is not included in the new list of vaccine approved countries.
UK Transport Secretary Grant Shapps on Friday announced that from 4am on October 4 the UK will ease restrictions to visitors who have been fully vaccinated for at least 14 days under an approved vaccination program in the UK, Europe, US or UK vaccine programme overseas.
However the rules stipulate vaccination with a full course of the Oxford/AstraZeneca, Pfizer BioNTech, Moderna or Janssen vaccines from a relevant public health body in a list of 17 countries including Bahrain, Kuwait, Qatar and Saudi Arabia but not the UAE.
In a tweet, James Cleverly, a Foreign Office minister, said: "We are finalising arrangements with UAE to include their nationals and residents in our plans to open up to the fully vaccinated from other countries from 4 October."
Mansoor Abulhoul (pictured below), the UAE ambassador to the UK, also tweeted after the initial announcement, saying: "Good news that many Emiratis and UAE residents will soon be able to fly to the UK with reduced travel restrictions."
While the amber category has been removed, travellers coming from countries not within the fully vaccinated scheme must still self-isolate at home for 10 days.
In the latest batch of changes, eight countries including Oman were removed from England's red list.
The UAE was initially put on the UK's travel red list on January 29, meaning that all UK arrivals must quarantine in a government-mandated hotel for 10 days.
After 188 days, the UAE was moved to the amber list, meaning  visitors who are not fully vaccinated need to self-isolate for 10 days.
But on Friday, in a further easing of travel rules, the UK removed the amber list altogether, enabling the UAE to move to its new non-red list.
John Grant, a partner at aviation analysis firm Midas Aviation, described the UK decision as "a step in the right direction" but added: "It is unlikely to lead to any increases in capacity from airlines operating to the UK since many flights are operating with very low load factors at the moment.
Andrew Charlton, founder of Aviation Advocacy, added: "Nothing is written in stone and as breakout infections rise and as other variants loom, it is possible to imagine a less than totally rosy future. That said, it is also possible to imagine a more optimistic scenario too. The measure we actually need to monitor is the 'living with the virus-o-metre', because that will tell us what happens next."
A spokesperson for aviation analysts Strat Aero Research told Arabian Business: "In a perfect world, this would be getting back to normal. But all it takes is one new covid variant to emerge and spread and all bets are off."
UAE commits to invest $13.8bn in key sectors of UK economy
UK Office for Investment and Abu Dhabi's Mubadala Investment Company ink deal to significantly expand the UAE-UK Sovereign Investment Partnership
Emirates and Etihad have previously revealed plans to ramp up their UK operations while British Airways has resumed its once-daily flights from London to Dubai for the first time since January.
Emirates announced it would be operating 73 weekly flights into the UK by October while Etihad Airways has rescheduled three daily flights to London's Heathrow and once daily to Manchester.
Source: Read Full Article