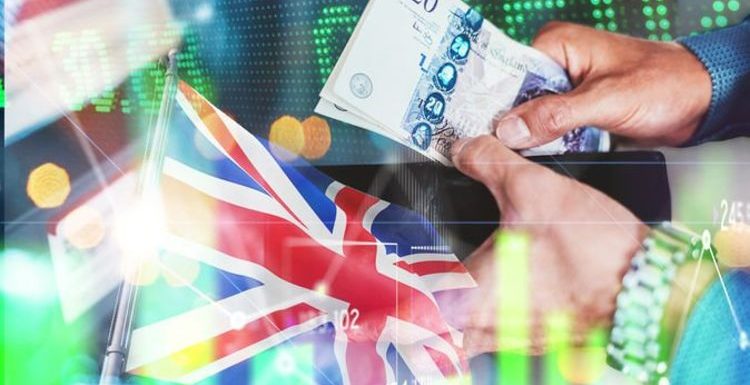 Matt Hancock reveals all those eligible can request vaccine
The pound picked up strength last week as the vaccine roll-out pushed ahead in the UK, and has continued to hold its regained position. Currently, both the GBP and the euro are sitting above the 1.14 mark.
It is good news for sterling which, amid the coronavirus crisis, has seen dramatic falls.
Experts think the coronavirus vaccine effort in the UK is to thank for the currencies current position.
The pound is currently trading at a rate of 1.1405 against the euro according to Bloomberg at the time of writing.
Speaking exclusively to Express.co.uk, Michael Brown, currency expert at Caxton FX, shared his insight.
We will use your email address only for sending you newsletters. Please see our Privacy Notice for details of your data protection rights.
"Sterling remains underpinned against the euro, aided by the BoE effectively ruling out negative rates, and the continued strong pace of the UK's covid vaccination programme," he explained.
"This week sees little by way of economic releases, though the pound's recent momentum should be enough to keep the pair afloat above the €1.14 handle."
According to the most recent figures from the NHS, in the week ending the January 31, an additional 2,307,976 people were reported to have received an NHS vaccination for COVID-19 in England.
This took the total number of people vaccinated since vaccinations began on December 8 to 8,100,353 and the total vaccinations given to 8,558,136.
DON'T MISS
Holidays: France, Italy, Spain, Greece & Portugal latest FCDO advice [ADVICE]
Flights: Jet2, TUI, easyJet, British Airways, Virgin & Ryanair updates [COMMENT]
Package holidays: Latest updates for easyJet, Jet2, TUI and BA [INSIGHT]
George Vessey, UK currency strategist for Western Union Business Solutions said: "The Bank of England's (BOE) rejection of early implementation of negative interest rates gave the British Pound a boost last week and sent GBP/EUR to its highest level since May last year.
"The rapid vaccine rollout in the UK is also deemed GBP positive along with overall improved global risk appetite."
"It remains to be seen whether the rapid distribution of vaccines will continue to protect the pound from the UK's negative current account and trade uncertainties, but so far GBP/USD has consolidated above $1.37, potentially primed for a move above $1.38 this week, whilst GBP/EUR remains atop €1.14 this morning.
"Speculators are increasing their exposure to the pound too, with the amount of traders betting on GBP appreciating, jumping to a 10-month high last week, although the amount of traders betting on GBP depreciating also rose.
"This week, attention turns to Friday's influx of key macroeconomic data – fourth-quarter GDP results along with manufacturing and industrial production. However, given the data is related to the lockdown period, investors may overlook as focus shifts to recovery prospects."
Though leisure travel is off the cards during the ongoing third national lockdown in the UK, there are "essential" reasons why some Britons may travel, including for business.
Furthermore, with many airlines and package holiday providers now cancelling itineraries into the spring, some would-be holidaymakers may need to convert their travel money back to pounds.
As a result, some travellers may still need to exchange their travel money.
For those looking to exchange, many high street travel money shops are still open for business online.
The Post Office Travel Money is allowing click and collect travel money services.
On its website, the travel money service explains customers can "order euros online" and "collect in two hours from your nearest branch or get next-day delivery."
Currently, the Post Office is offering a rate of €1.0993 for amounts of £400 or more, €1.1153 for amounts of £500 or more, and €1.1210 for amounts of £1,000 or more.
Source: Read Full Article