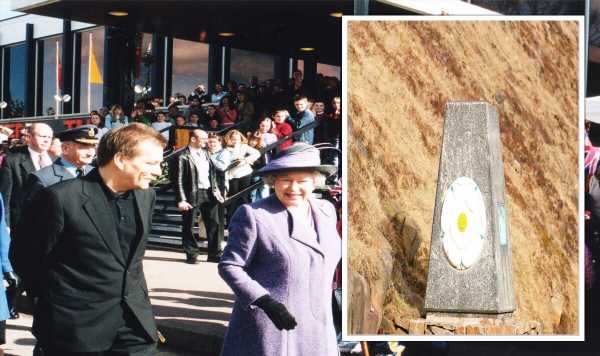 Rip Off Britain: Simon Calder issues advice about passports
We use your sign-up to provide content in ways you've consented to and to improve our understanding of you. This may include adverts from us and 3rd parties based on our understanding. You can unsubscribe at any time. More info
All six new sites were listed by the Government's Department for Digital, Culture, Media and Sport (DCMS) on Historic England's advice. Some of the most important sites of Queen Elizabeth's reign will be highlighted.
Platinum Jubilee listed sites
Imperial Hotel, Stroud, Gloucestershire (Grade II)
All Saints' Church, Shard End, Birmingham (Grade II)
Queen's Theatre, Hornchurch, Greater London (Grade II)
Hampshire Archives, Winchester, Hampshire (Grade II)
Sun Pavilion and Colonnade, Harrogate, North Yorkshire (Grade II)
M62 motorway Yorkshire/Lancashire commemorative markers and plaques (Grade II)
Imperial Hotel
The Imperial Hotel was constructed in 1863 and designed by local Stroud architect Benjamin Bucknall.
The hotel was popular with train travellers between London and the Midlands and contributed to the area's growing tourism industry.
In 1950, Princess Elizabeth, now her Majesty The Queen, visited the hotel as part of a tour of Stroud.
All Saints' Church
All Saints' Church was the first church built in Birmingham following the Second World War and was named after another church that was destroyed by German bombs.
It was consecrated on All Saints' Day, November 1 1955 and then received a special visit from The Queen.
Her Majesty visited the church with the Duke of Edinburgh during a royal tour of Birmingham. The Queen reportedly expressed pleasure at the first achievement of the Diocesan Building Programme for the new estates.
The Queen's Theatre
The Queen's Theatre in Hornchurch was opened in 1975 and is a striking example of 1970s theatre design.
The Queen and the Duke of Edinburgh visited the theatre in 2003 to commemorate the 50th anniversary of its founding.
The theatre was founded on the 50th anniversary of Queen Elizabeth's coronation which is where it found its name.
The Hampshire Archives
The Hampshire Archives are houses in the Hampshire Record Office which was completed in 1993.
Queen Elizabeth formally opened the archive on November 19 1993, during which she unveiled a plaque on display in the main entrance.
Prince Philip accompanied The Queen and remarked that the building looked like a cruise liner.
The Sun Pavilion and Colonnades
The Sun Pavilion and Colonnades were constructed in 1933 as part of a £60,000 spa development scheme.
After a period of decline, the site was restored following a local campaign. Queen Elizabeth reopened the Sun Pavilion in 1998.
M62 motorway commemorative markers
Perhaps the most unusual of the new listings, the M62 motorway commemorative markers were placed in 1971 when the motorway was officially opened by The Queen.
The markers display the historic symbols of the House of Lancaster and the House of York to remember their rivalry and how the two houses came together.
Duncan Wilson, chief executive of Historic England, said: "These new listings celebrate the diversity and richness of our heritage overseen by Her Majesty during her 70 year reign, showing how the fabric of the nation has changed and developed. These sites cover the length and breadth of the country."
Nigel Huddleston, Heritage Minister, said: "These historic sites provide a fantastic opportunity to reflect on how much life in the UK has changed during Her Majesty the Queen's 70-year reign. Listing them as part of the Platinum Jubilee celebrations is a fitting way to pay tribute to the longevity of her service."
Source: Read Full Article