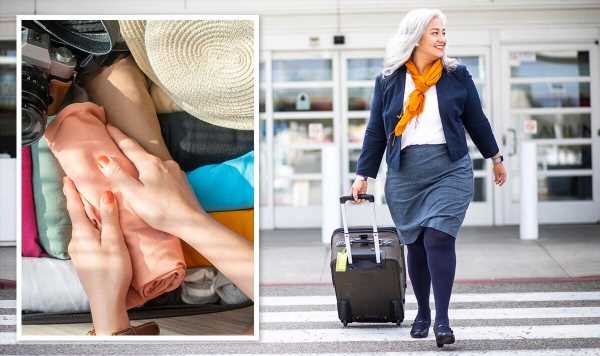 Flight attendant explains how to properly pack a bag
We use your sign-up to provide content in ways you've consented to and to improve our understanding of you. This may include adverts from us and 3rd parties based on our understanding. You can unsubscribe at any time. More info
For flight attendants, packing their suitcases is just part of going to work, so they know a thing or two about making the most of the space. One crew member revealed to a passenger their top tip to fit up to two weeks of clothes in hand luggage.
Posting to a Reddit forum under the username Phxflyer, the passenger said the flight attendant had told them to always roll their clothes.
They explained: "Definitely roll your clothes.
"I can get between 12 to 14 days' worth of clothes in a carry-on rolling bag if I roll, slightly less in the winter.
"A flight attendant told me about it and I've been doing it for a while now."
The rolling method has long been touted as the ultimate way to get more into your bags.
This tried and tested packing technique has even been referred to as a "life hack for packing a suitcase" by Reddit users.
One user posting under the named Frecklesfunn said: "Roll up everything, in full outfits.
"I put a full outfit on the bed from longest to shortest article of clothing and then roll it up.
"I only pack one extra outfit for how many days we will be gone in addition to a few extra underwear/socks/shirts. With kids especially – this makes life so much easier." [SIC]
A second user, posting under the name Jarvicious, said the rolling method "takes up far less space".
However, they also warned those faced with weight restrictions to be cautious of how much their bag does end up weighing.
The user said: "The space it does take up is far less 'spongy'.
"It can make for a heavy suitcase, but you fit a lot more in, far more neatly."
The key to getting as much into the bag as possible is by ensuring you are strategically rolling every item, and paying attention to unused space within your suitcase.
DON'T MISS
Hand luggage rules: 5 common foods banned from flights [EXPLAINER]
Residents fume as tiny village 'swallowed' by thousands of tourists [COMMENT]
'Judging you': Why Flight attendants 'stand at entrance of the plane' [REVEALED]
How to properly roll clothes for packing
Experts from Travel and Leisure say the key is to practise something called "Ranger Rolling".
They explained: "To properly roll your clothes, lay the item of clothing out flat.
"Then fold the bottom two inches of the item inside out so it creates a type of pocket along one side of the clothing.
"From the opposite end, roll the item tightly until you get to the pocket you've created.
"Fold one side of the pocket over the roll, securing it tightly."
Source: Read Full Article