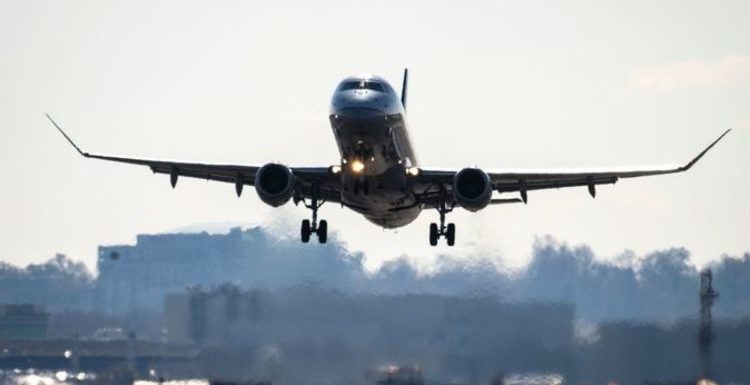 EU Commission taking new Covid variant 'very seriously'
We use your sign-up to provide content in ways you've consented to and to improve our understanding of you. This may include adverts from us and 3rd parties based on our understanding. You can unsubscribe at any time. More info
Flights from South Africa, Namibia, Lesotho, Botswana, Eswatini and Zimbabwe were suspended from 12pm yesterday and are not set to resume until 4am on Sunday.
The new B.1.1.529 variant, Omicron, is the "worst one we've seen so far", according to the UKHSA.
Health Secretary Sajid Javid warned in a tweet that it "may be more transmissible" than the Delta variant which has caused chaos across the globe.
Only hours ago, BBC News announced that two people in the UK are infected with the new variant.
After Sunday, new arrivals in the UK will be required to spend time in quarantine hotels.
Chris Whitty, Chief Medical Officer for England, said it is "virtually inevitable" that cases of Omicron will rise, with Hong Kong, Belgium and Germany also reporting cases.
The new restriction has throw a huge spanner in the works for many.
Sky News reported: "About 500 to 700 people are travelling to the UK from South Africa each day at the moment.
"But it is expected this figure could increase in the run up to Christmas."
Clive Wratten, CEO of the Business Travel Association (BTA) responded to the new rules, and said: "Public health must be a priority. However, Governments from around the world are acting without taking lessons from the last two years."
"Business travellers delivering vital aid, boosting the UK economy and helping the reputation of global Britain are being left abroad due to the speed of these restrictions."
Mr Wratten has expressed there is a great deal at stake when it comes to the next decisions made concerning the matter.
He added: "The introduction of costly PCR tests and mandatory self-isolation for all travellers until results are returned, will have a significant impact on business travel. It's urgent that international protocols are introduced without delay to save lives, save economies and save our futures."
Thousands of people took to social media to voice their concerns over the new variant and subsequent restrictions.
@jacko872204 stated the problem now lies at the door of Number 10.
He said: "The costs of PCR tests are an outrage. Can someone PLEASE question @BorisJohnson on this?"
The user @pierogi61, stated: "We got vaccinated and got boosters but still have to be completely controlled and treated by the Governments like the unvaccinated, so what is the point?"
Many are fearful this news will result in panic buying amid fears of yet another national lockdown – which, if coming to fruition, would be Britain's fourth.
Twitter user @Egyptiankingsaa said: "Stock up on toilet roll, panic buyers out tomorrow."
The Prime Minister explained it is "more vital than ever" to get a booster jab as he delivered his press conference this evening.
However, user Daniel Bayliss said: "They're actually screaming desperate for people to be vaccinated now, it's honestly pathetic."
Source: Read Full Article