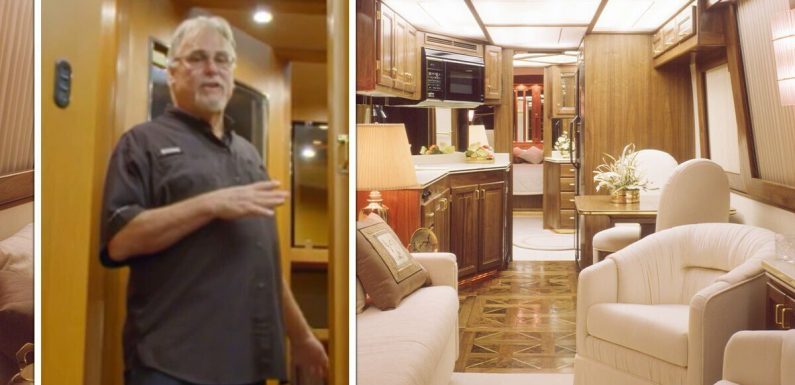 Million Pound Motorhomes: A look at luxury RV
We use your sign-up to provide content in ways you've consented to and to improve our understanding of you. This may include adverts from us and 3rd parties based on our understanding. You can unsubscribe at any time. More info
This week, Million Pound Motorhomes took viewers inside an impressive £12million motorhome "where celebrities stay" in the United States.
The Channel 5 show revealed celebrities, including Will Smith and Jennifer Lopez, have stayed in the glamorous 1,400 square feet RV.
The motorhome interior featured white ostrich leather sofas and elegant wooden furniture.
Guests could find an impressive bathroom with a steam shower, a full-size kitchen and a massive dining room downstairs.
According to the owner, it cost 12,000 dollars to make the luxurious dining table.
Motorhome guests can head to the first floor through automated doors and black granite stairs.
Upstairs there is a cinema screen and fully automated blinds are installed in all the rooms.
The caravan's roof rises to create another storey.
But there is more, as the luxury RV has a make-up mirror which turns into a TV.
This is one of the 14 TVs on the magnificent celebrity campervan.
The owner explained this is very useful for the movie stars who stay there as they don't need to go outside to get ready.
He explained in total, it cost him 2.5million dollars to build the motorhome.
"It's pretty impressive," he said.
People can rent the motorhome for 9,000 dollars a week.
Campervan lovers could spend the most luxurious camping holiday of their entire life.
"We want people to stay here and just relax.
"Take the time to stop and listen to the birds.
"The added bonus is that you are in the same bed as Mariah Carey, Jennifer Lopez…
"You are in the same environment.
"So now you are sharing that world," the owner explained.
Source: Read Full Article