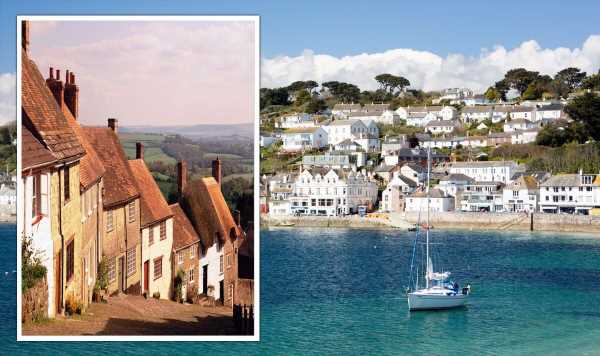 Simon Calder outlines five tips for booking a staycation online
We use your sign-up to provide content in ways you've consented to and to improve our understanding of you. This may include adverts from us and 3rd parties based on our understanding. You can unsubscribe at any time. More info
The Which? team shared their top money-saving tips for staycations with Express.co.uk. The tips could help British holidaymakers save "hundreds of pounds".
Choose the right destination
The team said: "Choosing the right destination can have a big impact on holiday budgets and accommodation prices, but Which? found top-rated destinations with hotels at reasonable prices."
Which? found that six top-rated seaside towns and villages all had an average hotel rate of £100 or less.
Llandudno, Conwy, Filey, North Yorkshire, Lynmouth, Devon, Berwick-upon-Tweed, Northumberland and Tynemouth and Tyne and Wear were all good value destinations.
A week's stay in a cottage in Yorkshire in August was £500 cheaper than a similar stay in Cornwall.
Try a nearby similar destination
Which? also found that holidaymakers could save by booking a holiday in a similar destination close to a well-known holiday spot.
Holidaymakers could even save over £50 per night by booking a less well-known holiday destination such as Dartmouth over Salcombe.
Use comparison sites to find the best deal
The team said: "It is worth browsing online comparison sites for longer stays in hotels, as the cumulative savings can be substantial.
"Trivago found the best prices most consistently, but Kayak, Skyscanner, TravelSupermarket and Tripadvisor also performed well."
Consider booking accommodation direct
Although travel comparison sites are a good place to start, Which? said that holidaymakers could get a better deal booking direct.
Tourists could even get better rates or perks by booking direct including free breakfast or champagne.
Book car hire through a broker
However, when it comes to hiring a car, Which? recommends tourists hire through a broker rather than going direct.
The best brokers even threw in extras for free. Zest Car Rental offered excess reimbursement insurance and a second driver free of charge.
Loyalty schemes
Another top staycation tip is to sign up to loyalty schemes. Which? said: "While it won't provide instant savings, it could be worth signing up to free loyalty schemes with hotel chains and booking websites to save money when booking trips away.
"Some supermarket reward schemes such as Tesco Clubcard and Nectar have partnerships with attractions and accommodation."
Share a holiday cottage
The team added: "Holidaymakers could save on holiday cottages, by planning to stay with friends or family and splitting the cost.
"Accommodation with room for four or more people often works out cheaper per adult than a similar option for two."
Last-minute bookings can work for staycations
Which? also found last-minute deals on holiday cottages for this year with a week's getaway in August 11 percent cheaper if booked in late July rather than three months earlier.
Guy Hobbs, editor of Which? Travel said: "After the ferry port and airport chaos of recent weeks – and the hot weather – it's no surprise that many of us are looking for a holiday in the UK this summer.
"Although the cost of living is adding pressure to household budgets, there's no need to pay over the odds for your staycation.
"Which? research has revealed fantastic bucket and spade resorts on the UK coast where a hotel room costs less than £100 a night on average.
"Reduced demand means you can also get a bargain on last-minute holiday cottages this summer. And we've also found great savings if you book directly with hotels, while the opposite is true for car hire – a trusted broker will help you save."
Source: Read Full Article