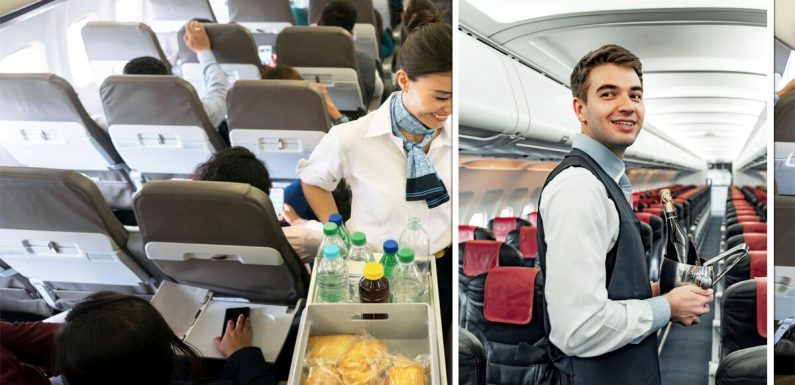 Flight attendant explains how to properly pack a bag
We use your sign-up to provide content in ways you've consented to and to improve our understanding of you. This may include adverts from us and 3rd parties based on our understanding. You can unsubscribe at any time. More info
A cramped flight can be a tricky start to a holiday, particularly if passengers are flying long-haul. A flight attendant has shared a tip to get better treatment from the crew.
TikToker @ceerakirk, shared a tip from her friend who works as a flight attendant.
She said: "Here's the best tip my friend gave me. Bring gifts for the flight attendants.
"Every single time my friend flies when he's not working, he brings goodies for the crew members.
"Like candy or Starbucks gift cards and includes a little thank you note with his name and seat number."
Some crew will have worked a long day and might be grateful to receive a little pick me up gift.
A Starbucks gift card could also be useful for crew to get a caffeine fix on a long-haul airport stop off.
She added: "Of course he does this because he appreciates the flight attendants but they also bring extra snacks for him.
"Sometimes they give him a glass of champagne or even a dessert from first class."
While this tip could be a great way to get better treatment from cabin crew, it's not guaranteed to work.
She said: "Obviously no one owes you anything so if you do this you should be doing it out of the kindness of your heart.
"But nine times out of 10 they will treat you special."
Cabin crew might sometimes be too busy to give a passenger special treatment or they may not be able to accept a gift.
However, showing appreciation for the hardworking flight attendants is a nice gesture which could boost their mood.
If passengers do score a special first class dessert, they could be in for a real treat on some airlines.
First class desserts on Emirates include an orange frangipane tart, chocolate mango tart or even a cheese board.
The airline also offers free luxury chocolates to its first class passengers as well as a cheese board option.
British Airways first class passengers might get to try a chocolate hazelnut slice with earl grey curd.
The airline also offers a selection of cheeses for first class passengers with options including stilton and brie.
Passengers on Virgin Atlantic in upper class could be offered the Eric Lanlard Mile High Tea which includes a scone with clotted cream and a selection of cakes.
Other options include a New York cheesecake or a special lemon and coconut dome with coconut cream.
Source: Read Full Article