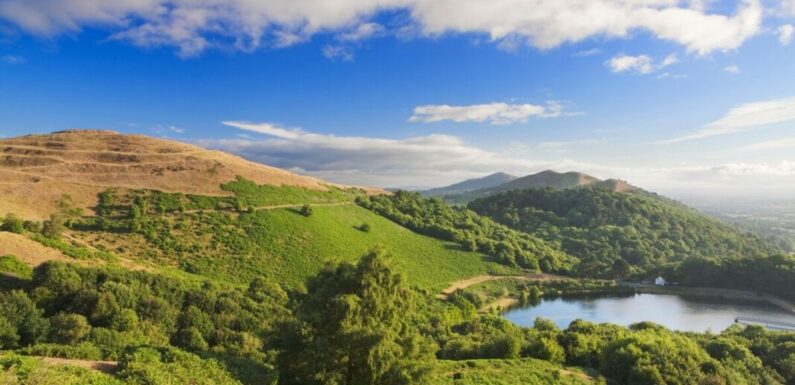 Although Cornwall and the Lake District are some of the UK's most popular staycation destinations for a reason, tourists looking to escape the crowds might prefer a quieter hidden gem.
According to the road trip experts at LeaseCar.uk , the Malvern Hills are this year's must-see hidden gem on a British road trip.
A spokesperson said: "Stretching over Worcestershire, Herefordshire and Gloucestershire, the Malvern Hills were formed out of some of the oldest rock in England.
"The stunning panoramic views along the 13 km stretch of hills and the natural mineral water springs for walkers to explore, makes the Malvern Hills a great place to explore the rural countryside."
The Malvern Hills are formed from some of England's most ancient rocks and are a designated a Site of Special Scientific Interest (SSSI).
READ MORE Tourists warned of new £170 fine in Spain's Costa Blanca
A tourist wrote on Tripadvisor: "Hill walking heaven. I love the Malvern Hills. You have such a diverse option of routes up over the ridges or easier walks around the tree covered paths."
'Geoff H' said: "The Malvern Hills are well worth visiting. From a distance they look interesting, but close up, they're magnificent."
'Stellafan' said: "Really surprised the Malverns don't get more publicity, but on the plus that means they are not overcrowded. Definitely worth a visit."
Don't miss…
Europe's best seaside town has 'pretty much everything you could want'[SEASIDE]
Expats claim that Italy is 'stuck in the past'[EXPAT]
Cruise guests warned to avoid last-minute excursions[WARNING]
We use your sign-up to provide content in ways you've consented to and to improve our understanding of you. This may include adverts from us and 3rd parties based on our understanding. You can unsubscribe at any time. More info
Second on the hidden gem list was Lundy Island in Devon. Just 10 miles from Devon, the small but exciting destination has a wealth of flora and fauna.
The unspoilt island is the largest in the Bristol Channel and has Bronze Age settlements and a disused lighthouse to explore.
Cornwall did find a place on the list with the region's Minack Theatre named one of the country's "most unique places". Tourists can watch plays from the theatre which juts out over the sea.
UK's best hidden gems:
Malvern Hills, West Midlands
Lundy Island, Devon
St Kilda, Scotland
Glenariff Waterfall, Northern Ireland
Minack Theatre, Cornwall
Teesdale Way, Cumbria
Dewstow Gardens, Wales
Ladybower Reservoir, Derbyshire
Robin Hood's Bay, Yorkshire
Aberlady Bay, Scotland
Source: Read Full Article