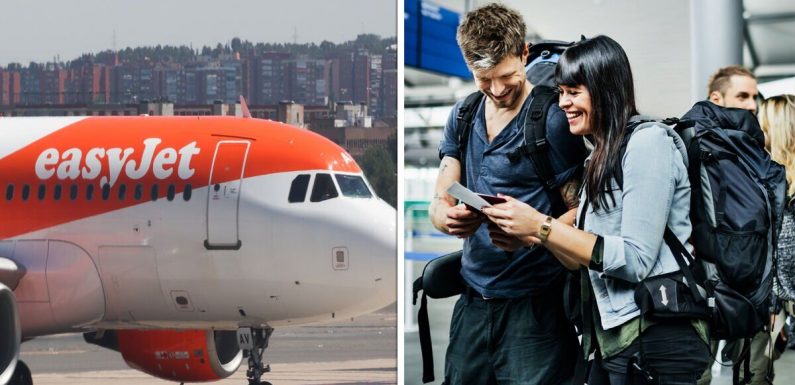 Eamonn Holmes praises airport staff amid travel chaos
We use your sign-up to provide content in ways you've consented to and to improve our understanding of you. This may include adverts from us and 3rd parties based on our understanding. You can unsubscribe at any time. More info
The budget airline, easyJet, has issued a travel checklist for passengers. Britons could face some disruption at UK airports this summer due to staff shortages.
easyJet tweeted: "We've worked with EASA to put together some handy tips to make sure you take off as smoothly as possible when you get on your flight."
EASA is the European Union Aviation Safety Agency (EASA) and has put together tips to help passengers this summer.
However, easyJet shared some of its own tips on Twitter, including a couple of things that passengers do all the time.
It tweeted: "Check your seat number matches your boarding pass – we've all been there."
Passengers that sit in the wrong seat could cause delays if they have to then switch with another person.
easyJet added: "Know where your nearest exit is by listening to the crew instructions.
"Think about how your behaviour could affect crew and other passengers. We all love a tipple at the airport, but please know your limits before boarding the flight.
"Go and enjoy your trip!"
UK passengers will be able to buy drinks at the airport but drunk passengers can upset other travellers.
There have been several incidents where British passengers have had to be removed from the plane for drunken behaviour.
EASA posted its tips for tourists on its website and worked with airlines and airports to create the list.
It said: "Please be kind to all staff and fellow passengers. Wearing medical masks is still the best way to protect you and others from catching Covid and some countries and airlines therefore require you to wear a mask on the aircraft and other forms of transport.
"Please check the rules in place at all steps of your journey to make sure you are prepared."
EASA tips
On the way – Check the latest information and help to minimise disruption
At the airport – Be ready for each step in your journey through the airport
On the aircraft – Crews are well trained professionals who are there for your safety, please follow their instructions
Check to see what travel requirements are in place in the country you intend to visit
Know what you need to prepare and carry with you before you leave
Think about how you are going to get to the airport
Check in ahead of your arrival at the airport if you can
Know what time to arrive at the airport
Think and request airport assistance if you have a genuine disability or mobility issue
Think and listen to the safety briefing, the information you receive might save your life
Go ahead and enjoy your flight
Source: Read Full Article