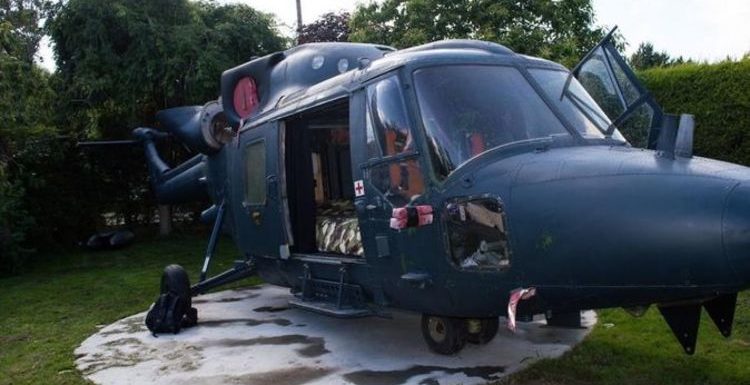 Fast and Furious Hobbs & Shaw: Dwayne Johnson stars in trailer
We use your sign-up to provide content in ways you've consented to and to improve our understanding of you. This may include adverts from us and 3rd parties based on our understanding. You can unsubscribe at any time. More info
Located in Kessingham on the Suffolk coast, the Army Air Corps Lynx AH9A Helicopter Glamping Pod is definitely a staycation you won't be forgetting in a hurry. Sleeping two guests, the former aircraft was also used in the 2019 American film Fast & Furious Presents: Hobbs & Shaw, starring Dwayne Johnson and Jason Statham.
Inside, the pilot and co-pilot seats are still intact, and there are even khaki sheets on the bed – talk about keeping in theme.
Originally built to be used as a utility craft, the Army Air Corps Lynx AH9A helicopter was a fully aerobatic craft meaning it had the ability to perform loops and rolls – ideal for stunts used in its starring film role.
The Royal Navy retired its Lynx helicopters from active service in March 2017.
Airbnb superhosts John and Katy own the unusual getaway and have a current rating of 4.88 stars out of five on the website.
Speaking about how he came about the chopper, John said: "I was looking for a woooden lodge, when the helicopter came up for sale from the studios of Fast and Furious. We wern't allowed to collect it until the film was released.
"The convertion was fairly straight forward as I have a good team of friends who help out.
"The hardest part was getting the Porta Loos posh but within keeping of the military feel. Also fitting the aircon to the helicopter."
One reviewer of the helicopter said: "It was a surprise birthday gift to my friend and we both had a great and very unique experience. It's one of a kind!
"The bed was very comfy and we got our basic needs provided. Really appreciate John's help for the surprise birthday banner as well! Everything about it is very creative. Would definitely recommend it."
Another review reads: "You don't come across many opportunities to sleep in a helicopter, so when we saw this chance we jumped at it.
"The facilities are nice and clean and the helicopter had electricity and heating, and was kitted out with cool led lights and black out curtains which helped with the light morning. The host was very accommodating and nothing was too much trouble."
Those interested in a weekend stay can visit the beach just a 15 minute walk away, that borders onto Norfolk – with popular tourist spot Africa Alive Zoo nearby too.
If that wasn't enough aviation enthusiasts can take a scenic walk around some former airfields or arrange a flying lesson at Beccles Airfield.
Two nights at the Army Air Corps Lynx AH9A Helicopter Glamping Pod will cost £80 per night, plus an additional service fee.
If helicopters are not your thing, there is also a tour bus on site that sleeps between six to eight people, and a former Airbus 320 for a quirky staycation.
September has plenty of slots available to book and throughout the rest of the year, visit their official site or Airbnb page to get your stay reserved.
Keep up to date with all our 2Chill-related news by following our social pages. As well as videos, tips and advice, we'll also be sharing some dreamy places where you can Eat, Drink, Do & Chill.


DON'T MISS:
Sleep in a 1940's railway carriage Airbnb [REPORT]
Flight attendant reveals tips to travel hygienically on a flight [VIDEO]
Jungle Cruise review: Blunt and Johnson take viewers on a wild ride [REVEAL]
Source: Read Full Article