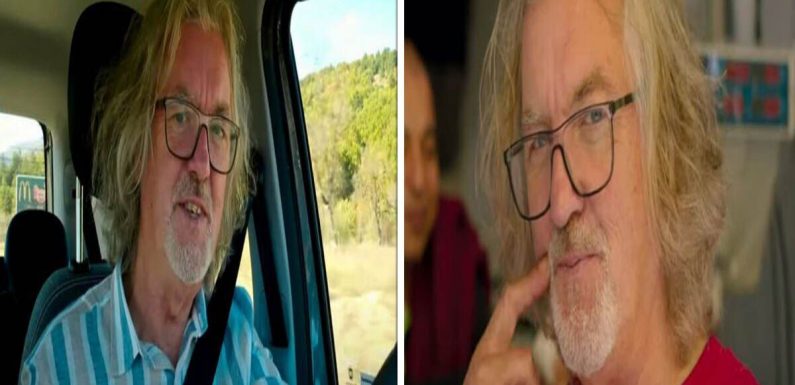 James May stars in Our Man In Italy Prime Video trailer
We use your sign-up to provide content in ways you've consented to and to improve our understanding of you. This may include adverts from us and 3rd parties based on our understanding. You can unsubscribe at any time. More info
Better known as part of the Top Gear trio, James May is hitting the road solo for his new travel series. The presenter explores Italy, kicking off with Sicily in episode one.
After enjoying some of Italy's culinary delights, James travelled to find out more about a unique Italian bargain.
He visited Mussomeli, a gorgeous Sicilian town, which is home to just a few thousand people.
The town has sadly fallen on hard times due to depopulation with James saying: "Residents were even prepared to move to Surrey in England."
Mussomeli has come up with a unique plan to bring new residents to the stunning Sicilian plot.
James was shown around one of the town's one euro homes, on offer to anyone who's willing to take on the challenge.
He said: "Now if I was a British estate agent, I would say that this is an ideal first time property with numerous period features, in need of some heavy renovation.
"I.e a bit of a craphole. But it is a house, it has services, it has water and electricity, they're not turned on."
James added: "Some of the wiring looks a bit dodgy but it's no worse than the Alfa Romeo 155 to be honest.
"This is very nice. Whichever way you look at it, it's a lot for one euro."
However, there is a catch as the new owner must restore the property to an agreed standard within three years.
James then jokingly encouraged his cameraman to buy the property in stunning Mussomeli.
He said: "The thing about that town is it is a one euro town." James said a slice of pizza and an espresso were also a euro in Mussomeli.
James also headed off to volcano Etna to get a little closer to the astounding natural attraction.
He said: "I have to say it is looking a bit smokey."
Once at the top, James said: "Silent, sleeping but we know despite the reassurances of the scientist, that could explode with an enormous crash."
James even had a go on an unusual Sicilian instrument which is extraordinarily similar to the bagpipes.
The former Top Gear star donned a costume and joined musicians in the town square to perform for residents.
In the trailer, James jokes: "I hope that was as enjoyable to you to watch as it was for me to experience. But I bet it wasn't."
James May, Our Man in Italy is released on Amazon Prime on July 15 and there are six episodes.
Over the six episodes, James will explore almost the whole of Italy as he seeks to discover the secret of the Dolce Vita.
Source: Read Full Article