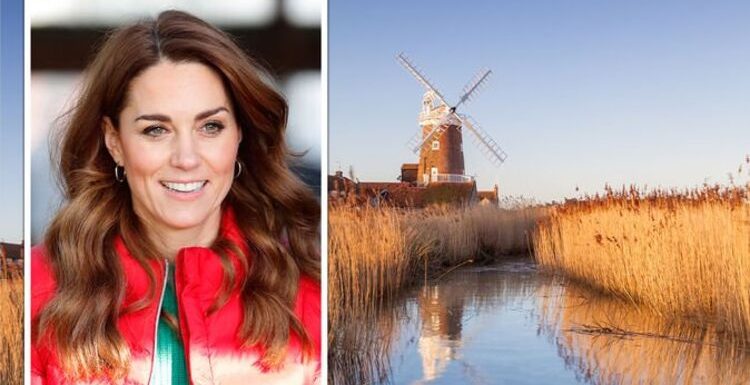 We use your sign-up to provide content in ways you've consented to and to improve our understanding of you. This may include adverts from us and 3rd parties based on our understanding. You can unsubscribe at any time. More info
The Duke and Duchess of Cambridge like to spend the summer holidays, as well as Easter and other school breaks, at their Anmer Hall residence, in Norfolk. The English holiday spot is famous for its stunning coastline and its charming villages.
The Norfolk coast is also a very affordable option for those holidaymakers who want to stay close to home.
Personal Finance Expert and Editor in Chief of travel insurance comparison site Quotegoat.com, Michael Foote, explained how Britons can visit the gorgeous spot on a budget.
He shared some of the best things to do in Norfolk for free this Easter.
Visit the Broads National Park
Michael explained: "Home to some of Britain's rarest animals and plants – the Broads is famous for its wildlife. The park boasts 125 miles of free waterways to explore alongside trails and pretty villages for keen walkers and budding cyclists."
Norwich Cathedral
Norwich Cathedral, which was built over 900 years ago, is a must-see in Norfolk. Accessing the cathedral is free for visitors.
Norfolk Coast Path
"The path runs through the Norfolk Coast Area of Outstanding Natural Beauty for 42 miles from Hunstanton to Cromer," Michael said.
Hunstanton Beach
Hunstanton is one of the most popular beaches in Norfolk. The beautiful spot is surrounded by pink and white striped cliffs.
On Tripadvisor, user @vanvandi also recommended visiting Hunstanton Beach. She said: "Beautiful seaside. Really interesting rocks, beautiful beach. You can have a good walk around. The town looks lovely too."
Wells Next The Sea Beach
Michael explained: "The beach is famous for its colourful beach huts and sweeping sands as far as the eye can see. Walk the dogs, build a sandcastle or play football – you can easily spend all day here."
The travel expert also shared his advice on how to save money when holidaying in the UK:
Be open-minded about where and when you go
He explained: "If you don't mind where you end up, you can get some really good last-minute deals on travel websites and hosting sites. The more flexible you are about dates, the more likely you'll find yourself a steal. "
Swap houses
Swapping houses is one of the cheapest ways to go on holiday and travellers can end up in some picturesque spots.
Make lunch your main meal of the day
Michael recommended: "Restaurants are well known for hiking their food prices after 5pm. Dinner menus are almost always more expensive than lunchtime menus, so feast at lunch and snack at dinner to save yourself a few pounds."
Research free attractions
Researching beforehand is key to finding the attractions that are free to visit. The UK also has beautiful beaches, parks and landscapes to explore that don't cost a penny.
Don't forget to use your loyalty points
He said: "If you use lots of loyalty cards for your weekly food shopping but haven't checked your balance on them for a while, you could be sitting on free tickets to many UK attractions. It's worth digging out your passwords and looking into what your loyalty cards have earned you. "
Mr Foote added: "As Brits want to make up for lost time, many are heading to the skies for a much-needed change of scenery.
"If the cost of living means your holiday needs to remain in the UK, you're in for a real treat. The UK has miles and miles of stunning coastline, beautiful parks and stunning landscapes to explore for free.
"With a little planning, you can holiday in the UK much cheaper than you think – you just need to be a little creative with your accommodation and remain flexible about where and when you go".
Source: Read Full Article