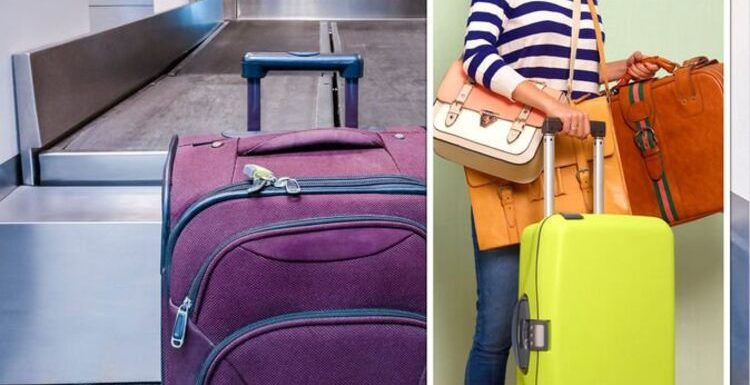 Manchester Airport: Eamonn Holmes on problems with travel
We use your sign-up to provide content in ways you've consented to and to improve our understanding of you. This may include adverts from us and 3rd parties based on our understanding. You can unsubscribe at any time. More info
UK airports are in a state of pandemonium due to a sudden influx of passengers travelling through the airports and a shortage of staff. Stansted Airport has come up with a unique solution to making the day of flying less chaotic.
Major airlines are cancelling flights due to this disruption, with British Airways and easyJet scrapping another 80 flights between them that were due to depart today.
Between March 28 and April 12, a total of 1,236 flights in the UK were cancelled by airlines.
In comparison, this is a 428 percent increase on the same period in 2019.
Stansted, Britain's fourth largest airport, said that passengers should arrive as soon as check-in opens.
This ranges between two and three hours before departure.
But Stansted Airport has taken its advice one step further.
Most recently, the airport encouraged passengers to check their luggage in a day before their flight.
This would involve passengers making a trip to the airport twice.
The airport told passengers that this may be a good way to avoid queues before early morning flights.
A spokesperson for the airport said: "Passengers should check with their airlines as some open bag-drop the day before early morning flights."
It is possible for passengers on British Airways, easyJet and TUI Airways flights to drop off their bags the evening before, as stated by Gatwick.
Heathrow Airport has also implemented this.
But why may this measure be necessary?
Over the Easter period, more people are maximising on travel opportunities due to the school holidays.
Because many families haven't been able to venture abroad for the past two years due to Covid measures, they are eager to get away now.
This sudden influx of flyers has only been compounded by a staff shortage across UK airports.
This is in light of the pandemic, with airports across the nation required to scale up to accommodate more flyers.
Indeed, Heathrow Airport alone is recruiting 12,000 new employees.
Covid cases continue to surge, leaving some airport staff ill and off work, despite rules stating that Covid cases no longer have to self-isolate.
Just this morning, @LovesTKandSP tweeted about the chaos at Stansted Airport: "Honestly never seen Stansted so busy, three busses from the mid-stay went past me before I could get on one.
"Thankfully got through security okay but man it's nuts."
Source: Read Full Article