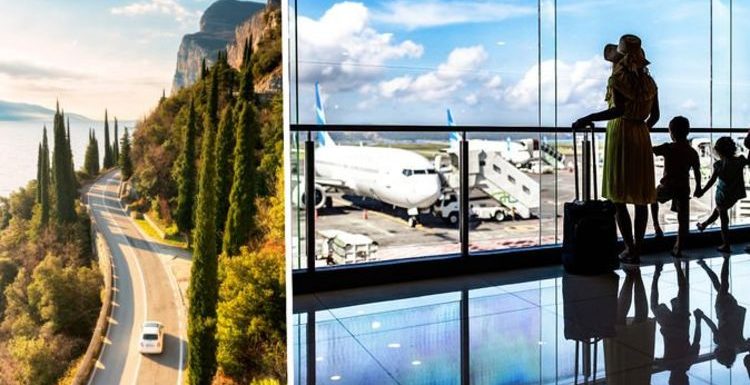 Italy: Restaurant in Rome stays open despite restrictions
Italy holidays have been dashed over the past year by the coronavirus pandemic. Both the UK's changing travel rules and those in Italy have made jet-setting very hard indeed. Today, the Foreign Commonwealth and Development Office (FCDO) updated its travel advice for Italy.
Italy travel advice
Britons are unable to enter Italy until March 5 at the earliest.
"Until March 5, entry into Italy is only permitted for those with official residency or those with absolute necessity, which must be declared in writing," detailed the FCDO in its ongoing advice for Italy.
Anyone who does travel to Italy must adhere to the strict entry requirements.
We will use your email address only for sending you newsletters. Please see our Privacy Notice for details of your data protection rights.
"Until March 5, those wishing to fly must present the airline with a negative COVID-19 rapid antigenic or molecular swab test taken no more than 72 hours before entry into Italy," said the FCDO.
"You must also take a COVID-19 rapid antigenic or molecular swab test within 48 hours of entering Italy – arrivals by air from the UK will take this test at the airport.
"Whatever the result of the two swab tests, those arriving in Italy from the UK must also report to their local health authorities on arrival and self-isolate for 14 days."
Further admin is also required.
The FCDO explained: "You will need to download and complete a self-declaration from the Ministry of Interior before you travel."
The authority also advises: " Consult the Italian Government's online questionnaire (in English) for more advice on entry requirements and travel to Italy."
The very latest update covered new information on what to do if you have a UK prescription in Italy.
"Unlike in the UK, you will need to go to a pharmacy ('farmacia') to get most over-the-counter medicines," the FCDO explained.
"Pharmacies are widely available and are usually identified by a green cross.
"UK prescriptions are not accepted though you may be able to buy an equivalent medication from the pharmacy.
"Alternatively you can visit an Italian GP or Guardia Medica Turistica (where available) to obtain a local prescription.
"Prescription medicines are not free in Italy but with an EHIC or GHIC, and an Italian prescription, you will pay a reduced rate."
The government advises getting a free UK Global Health Insurance Card (GHIC) or European Health Insurance Card (EHIC) before leaving the UK.
"If you already have an EHIC it will still be valid as long as it remains in date," the FCDO explained.
"The GHIC or EHIC entitles you to state-provided medical treatment that may become necessary during your trip. Any treatment provided is on the same terms as Italian nationals.
"If you don't have your EHIC with you or you've lost it, you can call the NHS Overseas Healthcare Team on +44 191 218 1999 to get a Provisional Replacement Certificate."
Travel insurance should also be taken out at the time you book your travel for full protection.
Source: Read Full Article