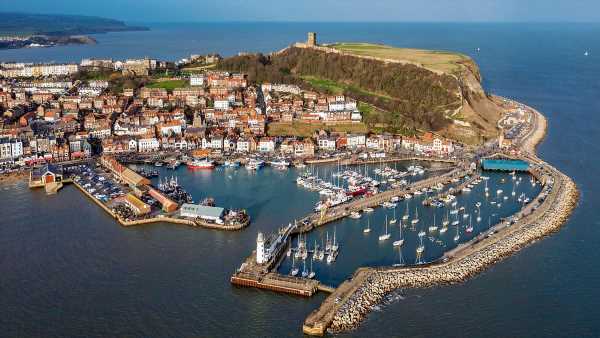 Kiss me quick… we're in Scarbados! Castle ruins, sandy beaches and surfing – this Yorkshire seaside town makes for a great British getaway
Will Hide reveals that Scarborough has been a 'holiday hub' since the mid-1800s
He stays at  The Bike & Boot Inn, a seafront hotel with 'colourful' rooms
READ MORE: How to holiday in the Maldives for A LOT less than you think
It must have been quite a sight the day 15 steam trains pulled up at Scarborough Station, bringing the entire workforce of Bass Brewery and their families from Burton upon Trent for an annual day trip by the Yorkshire coast.
During the 1860s, some 10,000 people would descend to paddle in South Bay – half a crown or a guinea's pocket money burning a hole in their pockets.
They weren't the first to benefit from Scarborough's bracing air: there's evidence of a Roman settlement as well as remnants of a 12th Century castle which lie on the town's headland.
A century on from the ale-makers, the famous fair began – as crooned about by Simon & Garfunkel. In the 1600s, a certain Mrs Thomasin Farrer boasted to her influential friends about the recuperative powers of the waters, attracting the first leisure visitors. But it was the arrival of the railway in 1845 that launched Scarborough as a holiday hub.
Arriving by train is still a good idea: with a quick change at York, it's about three hours from London, Birmingham or Liverpool. And, at this time of year, the summer crowds will have fled.
Old school: Will Hide visits Scarborough (above), the North Yorkshire seaside town that's dubbed 'Scarbados' 
The remnants of the 12th Century Scarborough Castle lie on Scarborough's headland 
'Scarbados' has long made for a fine traditional seaside break with its sandy beaches complete with candyfloss, donkeys and fairground rides. But these days you can also go paddle-boarding, take surfing lessons and visit the aquarium. There is also the Rotunda – a fine celebration of coastal heritage and geology.
I dined on fish and chips at the Golden Grid, gazing out to sea. Nearby, the Harbour Bar is the spot for a mountainous lemon-twist ice cream or knickerbocker glory. 
You might meet the owner, Giulian Alonzi, whose grandfather walked to Scarborough from Italy in 1905 to marry his Yorkshire fiancee and establish his gelato business.
Will says that Scarborough has 'long made for a fine traditional seaside break' 
Above is Scarborough Spa, which hosts Britain's last-remaining professional seaside orchestra
Will checks into The Bike & Boot Inn (pictured), which has rooms full of replica railway posters
The town's entertainment venues are also sure-fire hits: the Scarborough Spa, for example, hosts Britain's last-remaining professional seaside orchestra.
Where to stay: The Bike & Boot Inn is a dog-friendly, seafront hotel with 65 colourfully decorated rooms full of replica railway posters from the days of mass train travel. 
The name comes from its amenities galore for hikers and bikers.
The jolly bar and restaurant serves steaks, burgers and pizzas among great sea platters for two, vegan dishes and cocktails such as 'shifting sands', comprising bourbon, vermouth and lemon juice. B&B doubles from £71 (bikeandboot.com).
For more information, see visitscarborough.com.
Source: Read Full Article