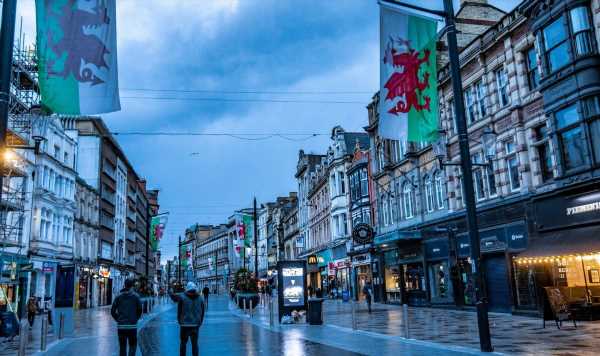 With a historical centre-point, buzzing arts and food scene and independent shops, Cardiff is a gateway to all that's wonderful about Wales.
Cardiff was officially recognised as the capital of Wales in 1955 and is the UK's 11th largest city, with a population of around 362,300, according to the 2021 Census.
When walking through the city centre, you can instantly spot 2000 years of history in the heart of the city, as you note the castle walls.
The first Roman fort at Cardiff was probably established at the end of the 50s AD, on a strategic site that afforded easy access to the sea. Archaeological excavations have indicated that a series of four forts, each a different size, occupied the present site at different times, according to Cardiff Castle's history.
The final fort was built in stone and the remains of these Roman walls are still visible. During World War II the walls which surround the Castle were used as air raid shelters and a place of safety for thousands of Cardiff citizens.
Over its history of 2000 years, it was home to Roman soldiers, noble knights held court there, and the Bute family, with extraordinary wealth, transformed the castle into a Victorian fantasy.
READ MORE: The underrated UK town surging in popularity and now dubbed 'new Berlin'
Condé Nast Traveller, recently awarded Cardiff as the number one destination to visit in 2023, highlighting its "exciting independent restaurants, buzzy bars and up-and-coming neighbourhoods".
The food scene is thriving, with many independent restaurants gaining traction. The Potted Pig is a popular eatery located in a former bank vault beneath the city, and shares its passion for modern British food through changing seasonal menus.
If you would like to try the local Welsh cuisine, Milkwood, is a small neighbourhood restaurant in Pontcanna, which offers contemporary Welsh dishes using fresh and locally sourced produce.
While you explore the streets of Cardiff city centre, it is worth visiting the city's oldest arcade, the Royal Arcade, which dates back to 1858.
The arcade has a variety of alternative coffee shops, cafés and delicatessens, alongside several quirky independent clothes stores, jewellers and photography shops.
Just a short bus, train ride, or 30 minute walk from the city centre is Cardiff Bay, the coastal corner of Wales' capital.
Formerly a thriving tidal dockland, famous for exporting Welsh coal to the world, the area is now a vibrant waterfront surrounding the shore of a stunning freshwater lake.
The Millennium Centre, famous for performing arts, has its home in the Bay and stages musicals, opera, ballet and contemporary dance performances – and it could be worth booking in a show during your stay.
Also located in Cardiff Bay is The Senedd, built by architect Lord Richard Rogers, which houses the Welsh Parliament. It was opened on St David's Day in 2006 by the late Queen Elizabeth II.
All committee rooms have a public gallery to allow members of the public free access inside to take an interest in the discussions that help shape their lives.
We use your sign-up to provide content in ways you've consented to and to improve our understanding of you. This may include adverts from us and 3rd parties based on our understanding. You can unsubscribe at any time. More info
Don't miss…
Eerie pictures show inside Spanish ghost town that was submerged for 30 years[LATEST]
Pretty village inside one of Britain's biggest cities is 'an oasis of calm'[LATEST]
UK village so swamped in drugs and deprivation locals say it is a disgrace[LATEST]
Cardiff locals often pop over to Barry Island, a golden beach with a pleasure park, leafy gardens and attractions.
If you have seen the BBC TV series, Gavin and Stacey, you will be familiar with Barry being the backdrop to many of the iconic scenes.
Right at the front of the Island, Whitmore Bay is a crescent of golden sand and there is a promenade with busy cafes, fish and chip shops, and is an ideal seaside day out.
For those who love hiking, the Wales Coast Path runs right around the coastline at Barry and offers perfect views across the sparkling waters.
The Welsh capital has excellent links to the rest of the UK with direct train services to London Paddington, Bristol, Bath, Birmingham and Manchester.
Source: Read Full Article