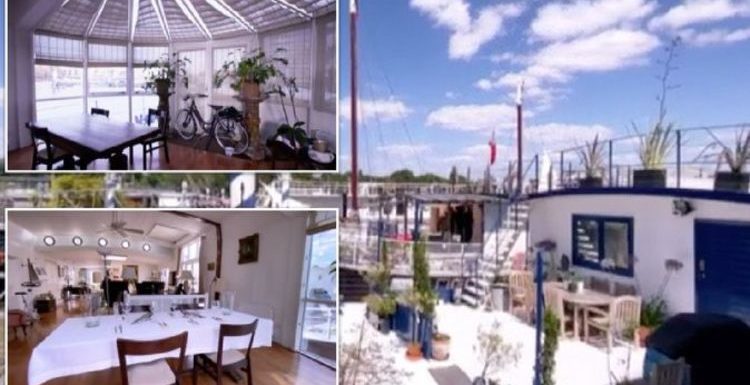 Million Pound Barges: Auctioneer reveals gift from Prince Charles
When you subscribe we will use the information you provide to send you these newsletters.Sometimes they'll include recommendations for other related newsletters or services we offer.Our Privacy Notice explains more about how we use your data, and your rights.You can unsubscribe at any time.
Barges are long boats which have become popular for canal holidays. They are also often renovated into small homes, giving residents the ability to relocate and dock up all across the UK.
While your typical barge or canal boat may be a fairly modest affair, there are some lucky boaters who have taken life on the water to the next level.
In a new Channel 5 documentary "Million Pound Barges" set to air this evening, viewers will be given an insight into the world of luxury barges.
One opulent barge, in particular, is so regal, it has even welcomed members of the British and European Royal Family on board.
Harboured in one of "Britain's most desirable moorings" Prospect Quay on the Thames, it a houseboat belonging to former managing director of Bonham's Auction House, Nick Bonham.
Worth £1.8 million, Mr Bonham's affluent home boasts five bedrooms, 3,000 square feet of living space, as well as a roof terrace ideal for entertaining his many celebrity friends.
According to Mr Bonham, he has entertained the likes of Princess Anne, Prince Edward and Prince Charles, along with an array of "actors and musicians".
"These are some thank you letters that I've had from various members of the Royal Family; Princess Anne and Prince Edward, all of the siblings," he explained as he showed cameras some of his notable trinkets.
"That was a thank you present for me from Prince Charles for doing a number of auction sales for his charities.
DON'T MISS
Portugal holidays: FCDO issues new update on 'risk levels' [UPDATE]
Cruise holidays: When will cruises start again? Latest FCDO advice [ADVICE]
Vaccine passport: WHO warns against proof of jab for foreign travel [WARNING]
"He gave me this very, very pretty little solid silver pillbox, I apologise to Prince Charles for not keeping clean."
In footage from the documentary, the barge is flooded with light thanks to floor to ceiling glass windows showing views of the surrounding Thames.
The space is so vast Mr Bonham is able to fit in all of the typical amenities one might find at home, including comfortable chairs, a television and a dining area.
"For the £1.8million price tag, you could buy five three-bedroom houses in some parts of Britain with a nice garden," states the documentary.
Some of Mr Bonham's favourite items, all located at auction, include many Maritime themed pieces of furniture.
His table, for example, "is the shape of a Spinnaker, which is the front sail on a boat".
Other features include a "ship's whistle" and a "basin shaped like a urinal" which the auctioneer admits he "paid far too much money for".
Of course, his boat is also home to multiple pieces of fine art, the least valuable of which costs just under £10,000.
Yet, the luxurious lifestyle doesn't end at the house boat's deck.
Prospect Quay, where the houseboat has spent much of its life, also boasts an array of amenities for its guests.
"Just upriver of Buckingham Palace and with Harrods as a local corner shop this harbour complete with gym and swimming pool is fit for a millionaire," explains the documentary.
Located at the east of Wandsworth Park, according to the Thames Festival Trust, Prospect Quay boasts a "close community where everyone knows one another".
Some of the houseboats are navigable, while others remain stationary as purpose-built houseboats.
"In August 2016, the most expensive houseboat on the tidal Thames was for sale at Prospect Quay, the asking price on River Homes was £1,795,000," explains the Thames Festival Trust.
Other amenities available to guests include a sauna, steam room and secure car park.
The mooring and maintenance levy is approximately £5,000 per annum.
Million Pound Barges is on Channel 5 tonight at 8pm.
Source: Read Full Article