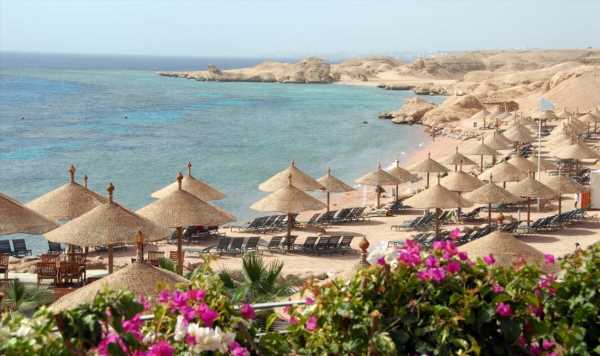 A dramatic fall in the value of the Egyptian pound could make Sharm el-Sheikh and other Red Sea resorts the bargain choice for a 2023 beach holiday. According to the Post Office Travel Money Holiday Money Index, tourists travelling to Egypt will get nearly 73 percent more for their pounds than a year ago.
Britons visiting Sharm el-Sheikh for a holiday can expect to pay just £48 for a three course meal for two with a bottle of wine.
Sometimes known as Sharm, the popular Egyptian city sits on the southern tip of the Sinai Peninsula, right on the Red Sea.
Tourists can visit Ras Mohammed National Park which is home to some of the world's more incredible dive sites.
Experienced divers can even explore the Thistlegorm, one of the world's most impressive wreck dives.
The white sand and palm trees at Naama Bay are backed by a pedestrian only promenade making the beach the perfect spot for a family break.
Tourists can also learn more about the region's history on a day trip to Saint Catherine's Monastery, one of the world's oldest working monasteries.
Although Sharm el-Sheikh might be Egypt's best known Red Sea resort, tourists could also find a bargain in Hurghada.
Dahab is a smaller Egyptian resort area which might be the ideal spot for tourists looking for a relaxing break.
But if Egypt is the best spot for a bargain, tourists might want to avoid some of the world's top Caribbean destinations.
According to the Holiday Money Index, tourists will pay almost double for a meal in Barbados or Antigua.
A three course meal for two with a bottle of wine will come to around £100 in Antigua and £105 in Barbados.
The pound has also fallen against the Costa Rican colon, Mexican peso and Jamaican dollar, according to the index.
Budapest, a popular city break destination, has also risen in price for Brits as the pound dropped 9.5 percent against the forint.
The pound has also fallen against the euro and is five percent weaker than it was last August.
However, Britons considering a break in Africa could get more for their money than they could last August.
Tourists visiting Kenya for a beach holiday or safari will get five percent more for their money than they could last August while tourists will get nearly 10 percent more in South Africa.
Ed Dutton, Portfolio Director, Financial Services at Post Office, said: "The fairest measure of demand is to compare currency sales now with the busy period before the Covid-19 pandemic.
"Sales of Caribbean and Latin-American currencies were particularly strong then, so it is encouraging that they are even more buoyant now.
"However, sterling has fallen in value against many of these currencies so holidaymakers should factor this into their holiday budgeting.
"A destination like Sharm el-Sheikh may prove cheaper because of the Egyptian pound's steep fall in value against sterling."
Source: Read Full Article