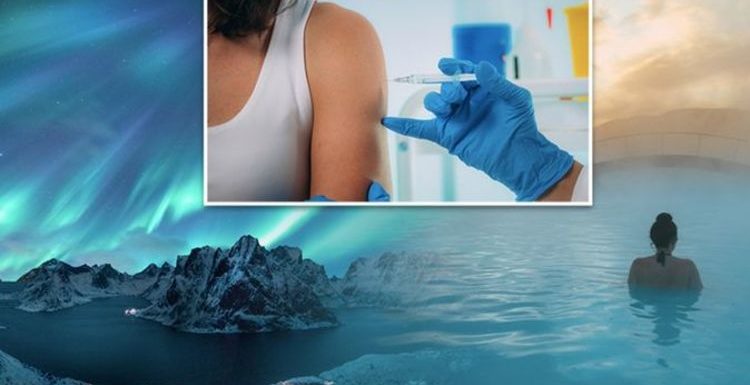 Boris Johnson: EU expected to honour vaccine exports to UK
Iceland has laid out a plan to welcome back holidaymakers from the European Union without the need for a mandatory period of quarantine. Under the new ruling, arrivals who have received the coronavirus vaccination will be allowed to enter the country without self-isolating.
However, British travellers have been left off the list following Brexit.
At the time of writing, visitors to Iceland must take a PCR test upon arrival.
They will be required to undertake up to six days in quarantine, with a second coronavirus test taken at the end of this period.
This could be set to change though, with the arrival of new guidelines set to allow visitors to use World Health Organisation (WHO) accredited vaccination certificates to side-step the quarantine and testing process.
The certificates must also meet a certain list of criteria, which includes being issued within a EEA/EFTA state.
We will use your email address only for sending you newsletters. Please see our Privacy Notice for details of your data protection rights.
Following the UK's departure from the EU, it no longer qualifies.
"Certificates from the World Health Organisation (WHO) will be accepted once WHO has authorised their use for COVID-19 vaccinations and set the required criteria for which vaccines can be listed in their certificate," explained a spokesperson for the Ministry of Foreign Affairs of Iceland.
"Currently, only certificates from the EEA/EFTA-area which fulfil the Chief Epidemiologist's requirements are accepted at the Icelandic border.
"This does not include the UK at this time, but as soon as the UK vaccine certificates are validated by the WHO, we will be looking at whether we can accept them at our borders."
DON'T MISS
Spain, France, Italy & Portugal lockdowns – latest FCDO advice [ADVICE]
Royal Family have flown commercially with Ryanair & BA [INSIDER]
Inside influencer's 'essential' Dubai trip that has left Britons angry [INSIGHT]
Currently, UK travellers are banned from entering Iceland due to concerns over new variants of COVID-19 first detected within England.
The Foreign, Commonwealth and Development Office (FCDO) states: "Due to COVID-19 restrictions, from 1 January all non-essential travel by British citizens from the UK/other non EU/EEA country to Iceland is not permitted, unless you are resident in Iceland or fall under their exempt category of traveller.
"Everyone flying into Iceland must do two COVID-19 tests, one on arrival and another 5-6 days later upon arrival.
"Children born in 2005 or later are exempt from testing but will be required to self-isolate along with their parents or guardians on arrival."
Iceland is currently working through a vaccination programme within the country.
On January 26, Iceland's authorities said they were set to receive enough doses of vaccine to inoculate at least 38,000 people before the end of March."
At the time of writing, Iceland has seen 5,992 cases of coronavirus throughout the pandemic.
As a result, there have been 29 fatalities.
By comparison, the UK's figures are much higher.
The UK has detected 3,689,746 cases since the beginning of the pandemic and 100,162 fatalities as a result.
However, Prime Minister Boris Johnson remains hopeful the vaccination effort could bring light at the end of the tunnel.
In the week ending January 17, an additional 1,560,543 people were reported to
have received an NHS vaccination for COVID-19 in England.
This took the total number of people vaccinated since vaccinations began on December 8 to
3,557,847 and the total vaccinations given to 3,981,445.
Source: Read Full Article