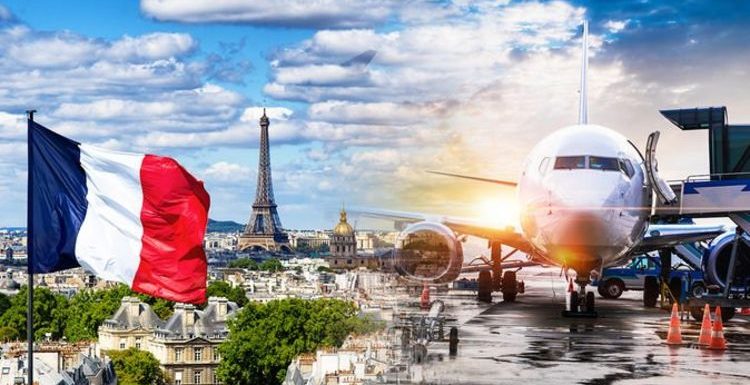 Grant Shapps discusses France's Covid-19 vaccine
France travel comes with numerous rules and restrictions these days. Yesterday a new update was issued as the Foreign, Commonwealth and Development Office (FCDO) shared new travel advice. The fresh guidance concerned an update to information on restrictions in place for travellers to France from both outside and within the European area.
France travel advice
Britons are currently not allowed to enter France, although there some exemptions to this.
"France announced they would be restricting travel from the UK from December 20," said the FCDO.
"Travel restrictions apply to all air, car, ferry and train passengers.
We will use your email address only for sending you newsletters. Please see our Privacy Notice for details of your data protection rights.
"Only the following categories of people are authorised to travel to France from the UK:
– French nationals and nationals of the European Area and their spouses and children.
– British and/or third-country nationals who are either habitually resident in France, the European Union or the European Area, or who must travel for certain essential reasons.
"For further details, please see the French Embassy London's website."
Anyone entering France needs to show proof that they have tested negative for Covid.
"All travellers from the UK, including children aged 11 and above, will need to present a negative COVID-19 test result, carried out less than 72 hours before departure," the FCDO detailed.
"From January 18, only PCR tests will be accepted for passengers."
The authority continued: "Passengers arriving in France from the UK will also be required to self-isolate for seven days on arrival, before taking another PCR test.
"Exit from this self-isolation period is subject to a negative test result."
All arrivals from the European area (defined by the French Ministry of the Interior as EU Member States, Andorra, Holy See, Iceland, Liechtenstein, Monaco, Norway, San Marino and Switzerland) are allowed to enter France.
However, they will need to present a negative COVID-19 PCR test result, carried out less than 72 hours before departure.
"Travellers should then self-isolate for seven days on arrival, before taking another PCR test," said the FCDO.
However, expats can still safely get home.
"These restrictions do not apply to UK nationals who are legally resident in France," said the Foreign Office.
"You will be allowed to re-enter the country, but may need to show proof of residence."
If you do travel to France, further admin will be needed.
"Arrivals from the UK will need to complete both a 'sworn statement' (déclaration sur l'honneur) form self-certifying they are not suffering from symptoms associated with coronavirus and have not been in contact with confirmed cases in the preceding fortnight, and a signed 'travel certificate' (attestation), confirming their reason for travel," the FCDO explained.
Source: Read Full Article