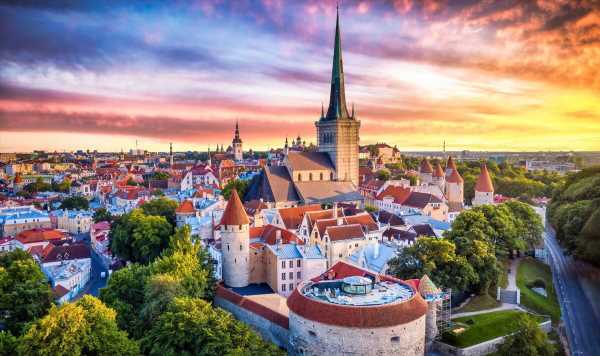 Tallinn, the capital of Estonia, is a jewel on the crown of the Baltic states. Famed for its UNESCO World Heritage Old Town, the city is a charming destination for a quick and affordable getaway.
The mesmerising Old Town is one of the best preserved medieval structures on the planet, staying true to its initial 13th century city plan.
Viru Gate is an historic opening of the Tallinn City Wall built in the 14th century. The impressive stone corner towers are topped by copper coned-roofs and stand as the authentic gateway to one of the busiest pedestrian streets in Tallinn. 
Transport yourself back to the Middle Ages as you stroll around the pristine cobbled streets of 'Tallinna vanalinn' that used to be roamed by wealthy European merchants, discovering the treasures that this gorgeous city has to offer.
Tallinn Town Hall Square is one of the finest market squares in Europe. It's spacious, yet cosy, flanked by traditional bars and eateries, and overlooked by the subtly spectacular Tallinn Town Hall – the oldest surviving town hall in Northern Europe.
READ MORE: Europe's prettiest winter destination looks straight out of a fairytale
Around Christmas time, the Town Hall Square is thought to be home to an iconic piece of festive history. It's believed that the very first Christmas tree was erected in Tallinn back in the 1400s by the Brotherhood of the Blackheads. 
Nowadays a splendid Christmas market takes place in the square every winter, complete with a huge Christmas tree at the centre as a nod to where the tradition began.
Keep an eye out for Old Thomas (Vana Toomas) when visiting the Town Hall Square – he's been watching over Tallinn for hundreds of years. Legend has it that Thomas was a peasant boy with a knack for archery who won a local contest in which he had to shoot a wooden parrot with a crossbow. However, due to his social status, Thomas was not afforded the advertised prize and was instead given the title of town guard for life.
An honourable position for an honourable man, Thomas served his city the best he could. According to local folklore he would hand out sweets to the children of Tallinn in the town square. 
Unfortunately when he passed away, the children would ask 'where's Old Thomas?', so the adults decided to immortalise Old Thomas in bronze on top of the weather vane attached to the Town Hall. This way they could tell the children that Old Thomas was watching over them and how they acted. Well-behaved children were rewarded with sweets under the pillow from 'Old Thomas'.
Don't miss…
'Lovely' Eastern European city is a perfect autumn mini break[INSIGHT]
'Beautiful' European city is one of this year's cheapest autumn city breaks[LATEST]
'Charming' European city perfect for an autumn getaway – 10 things to do[INSIGHT]
Advert-free experience without interruptions.
Rocket-fast speedy loading pages.
Exclusive & Unlimited access to all our content.
When you visit the Town Hall Square, make sure to look up at the Town Hall – you might just see Old Thomas looking back at you.
A real gem of the Old Town is St. Catherine's passage, a charming street dating back 700 years and lined with craft shops where you can watch artists working on their projects. An evening stroll down this secluded street is breathtaking under the glittering fairy lights overhead.
To get a stunning view of the city and the Gulf of Finland, it is worth taking the gentle ascent up Toompea Hill. It is worth taking a few moments to appreciate this breathtaking viewpoint, and it's a perfect photo opportunity.
Atop Toompea Hill is Toompea Castle, the modern day home of Riigikogu (the Estonian Parliament). The fortress walls are seriously impressive, notably the Pikk Hermann tower that stands over 45 metres tall – proudly flying the flag of Estonia.
A brief walk away is one of the most stunning buildings in Tallinn – The Alexander Nevsky Cathedral. The five onion-domed Eastern Orthodox cathedral is spectacularly designed in Russian Revival fashion and is truly a triumph of late 19th century architecture.
The building is somewhat controversial in Estonia, as many natives find it to be a symbol of former Russian oppression. However, since Estonia regained its independence in 1991, efforts were made by the local government to restore the cathedral. 
Outside of the Old Town and Toompea Hill, Tallinn is a modern and vibrant city fast becoming a hub for digital nomads and creatives. 
Kalamaja is a neighbourhood worth visiting – the former fishing village is now home to colourful houses and expressive street art. Stumble across Telliskivi Creative City to explore some trendy galleries, museums and restaurants.
Located by the waterfront is the Lennusadam Seaplane Harbour – a museum dedicated to Estonia's maritime history and culture. One of the most popular museums in Estonia, the setting inside of an old seaplane hangar really adds to the spirit of adventure that the museum promotes. A standard adult ticket costs €15, but it is worth noting that the Seaplane Harbour will be closed from January – May 2024 as it 'prepares for an updated and fully engaging exhibition'.
Source: Read Full Article