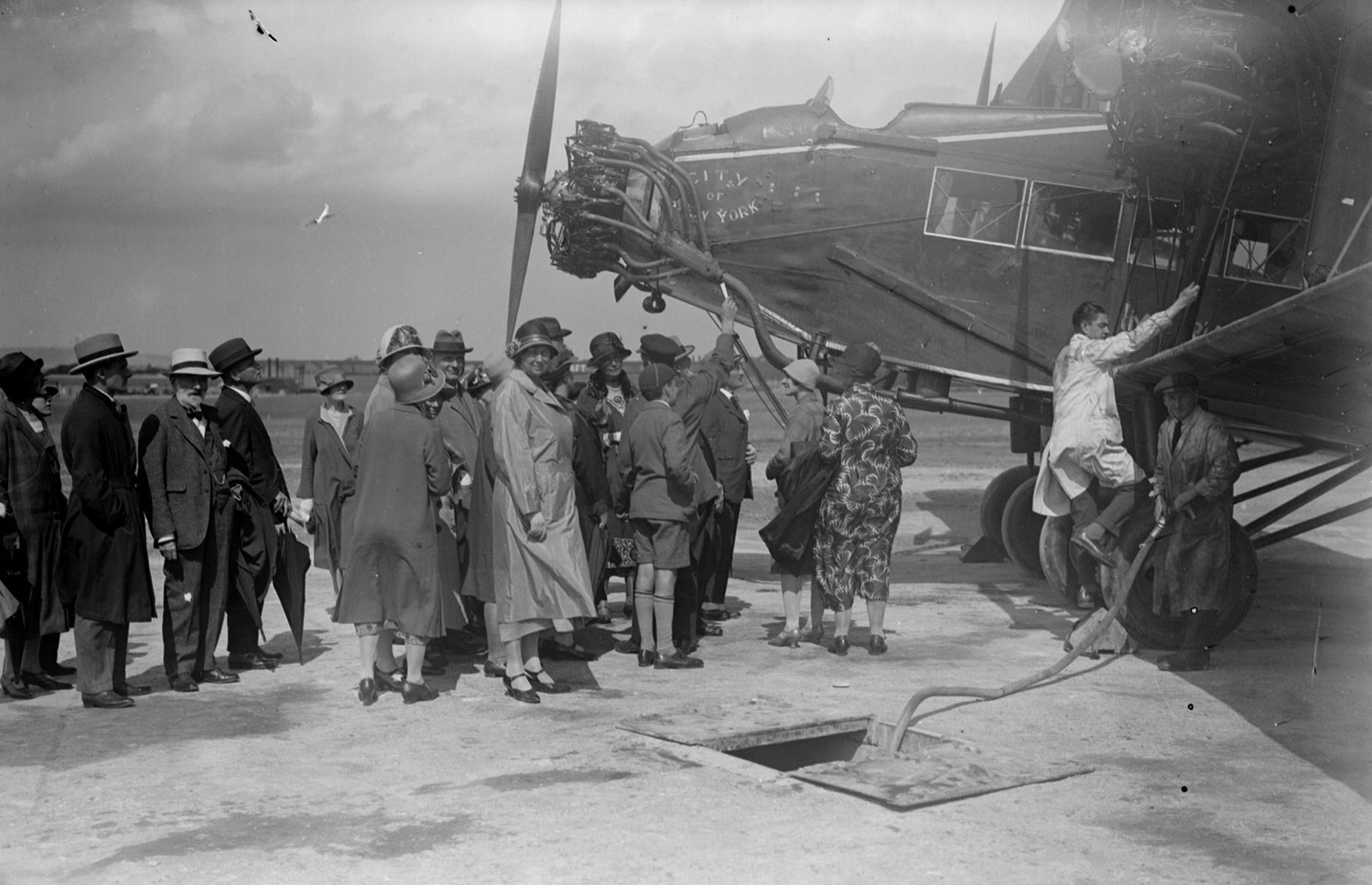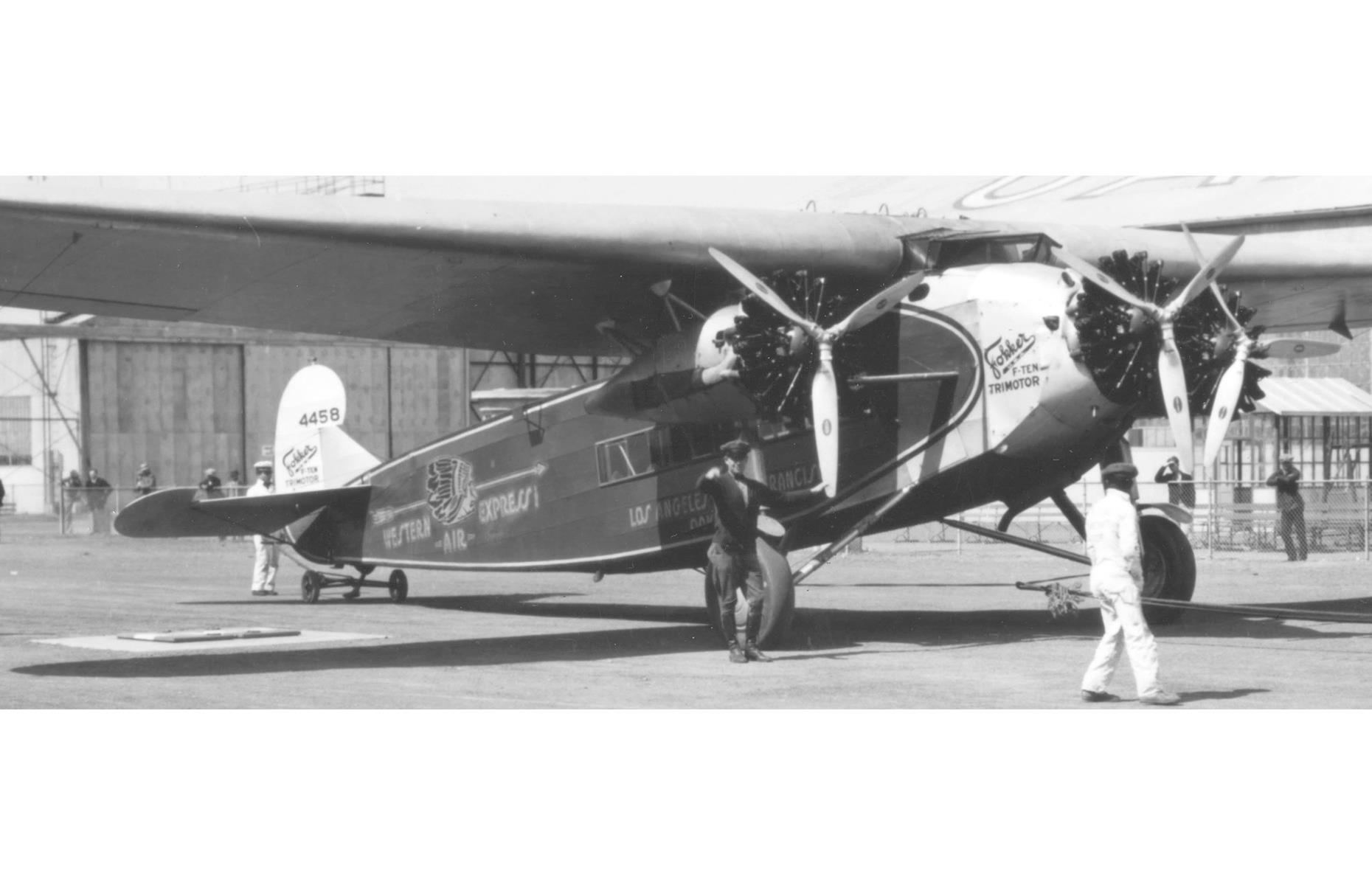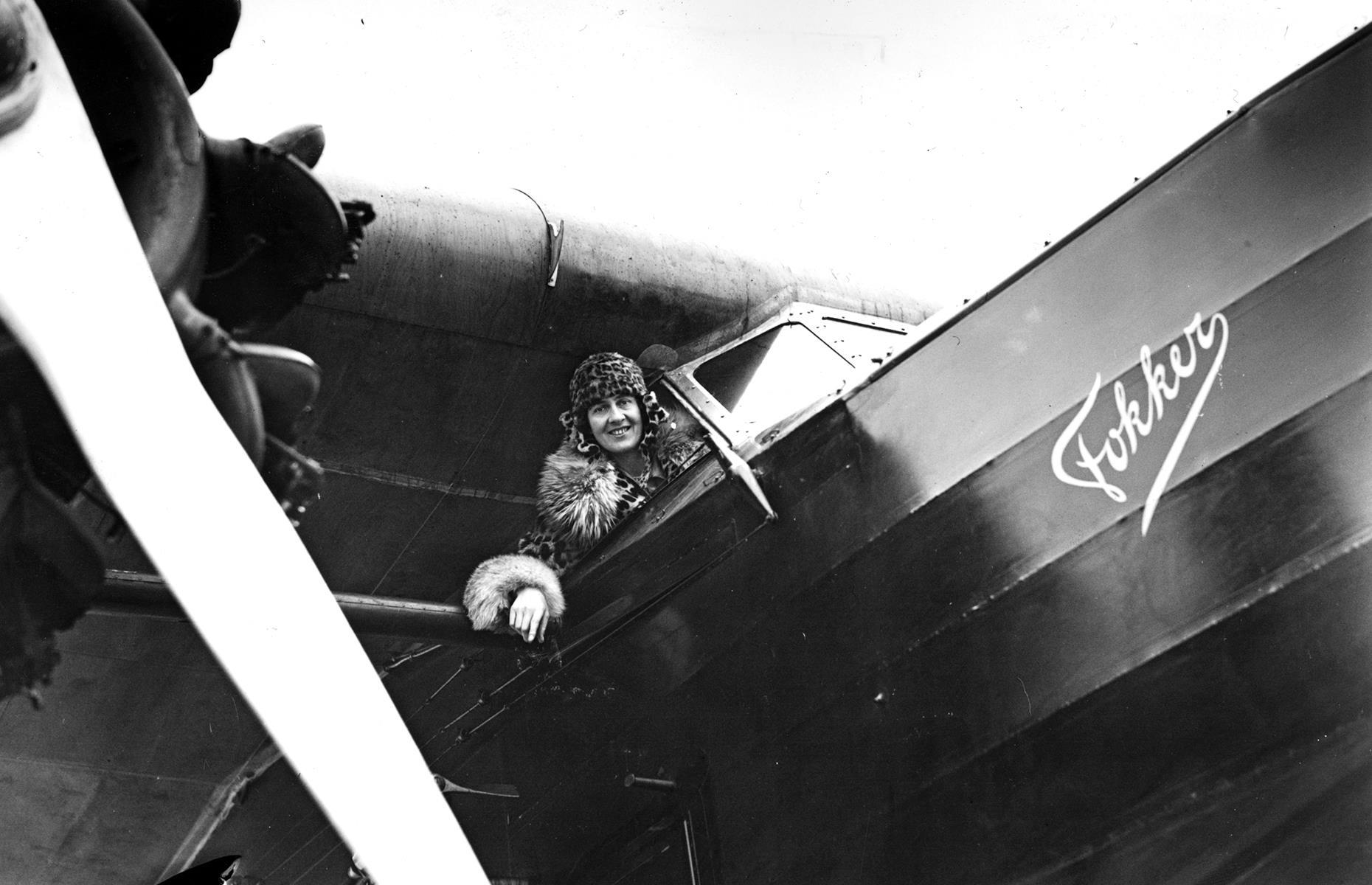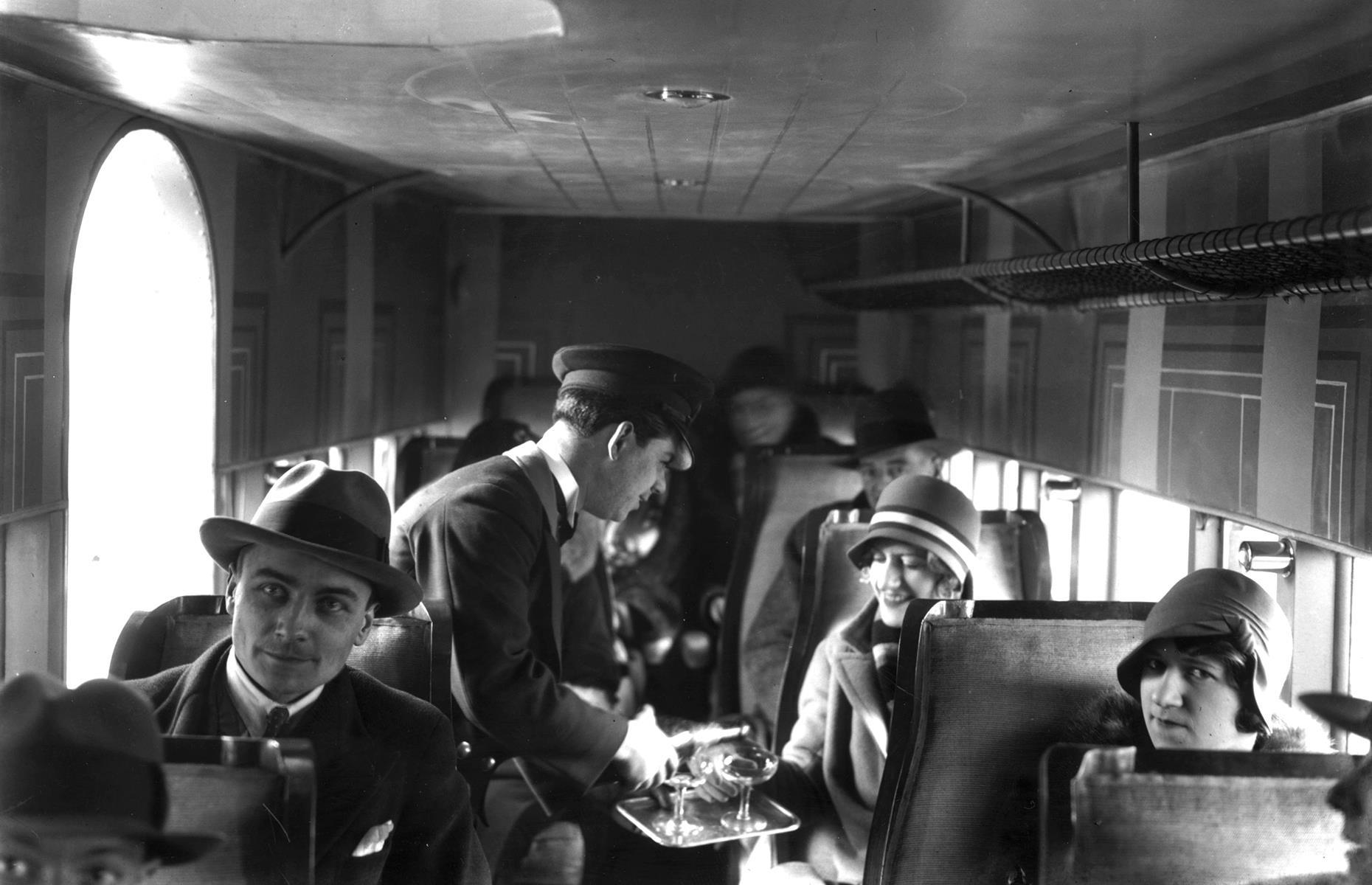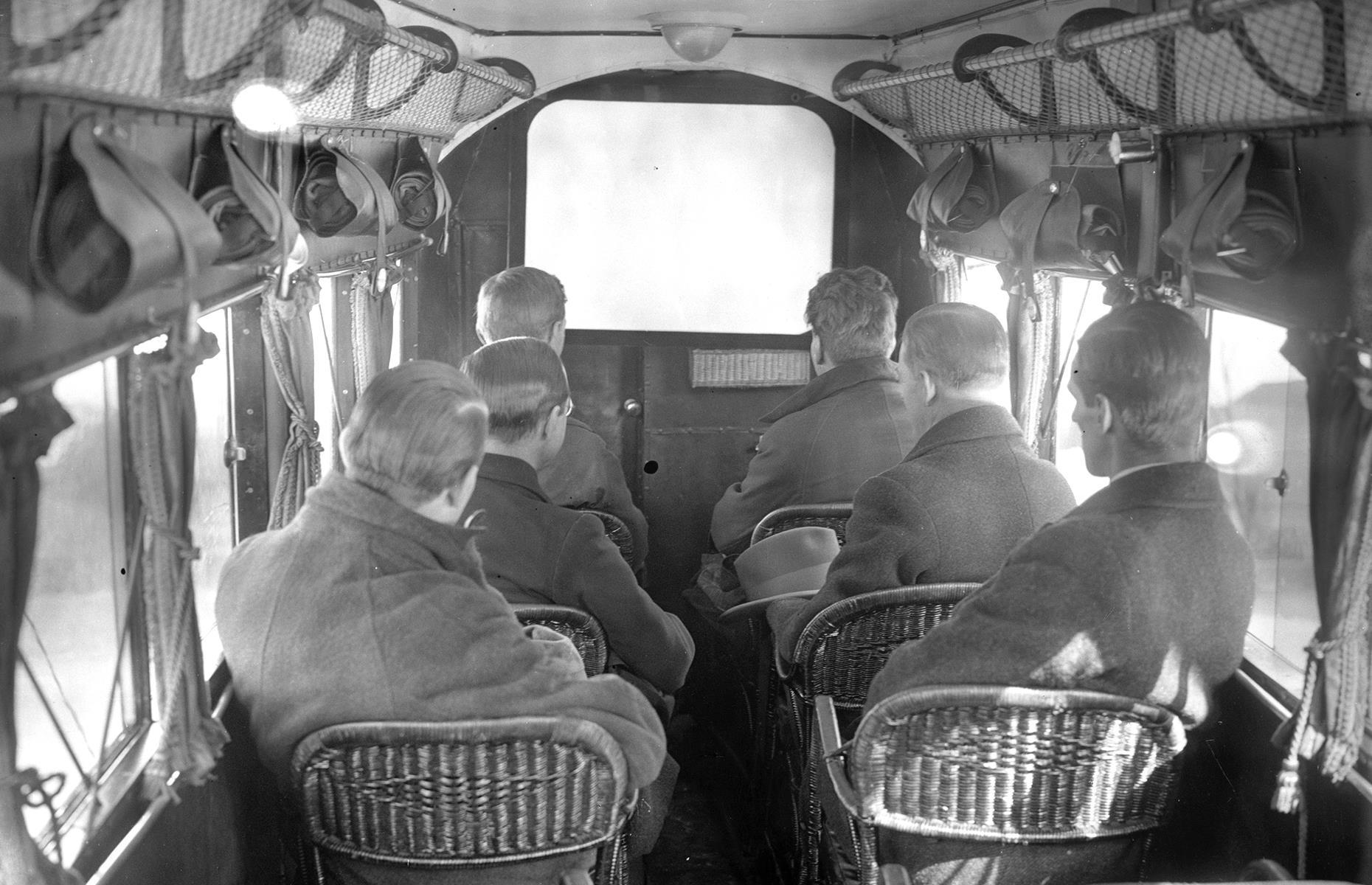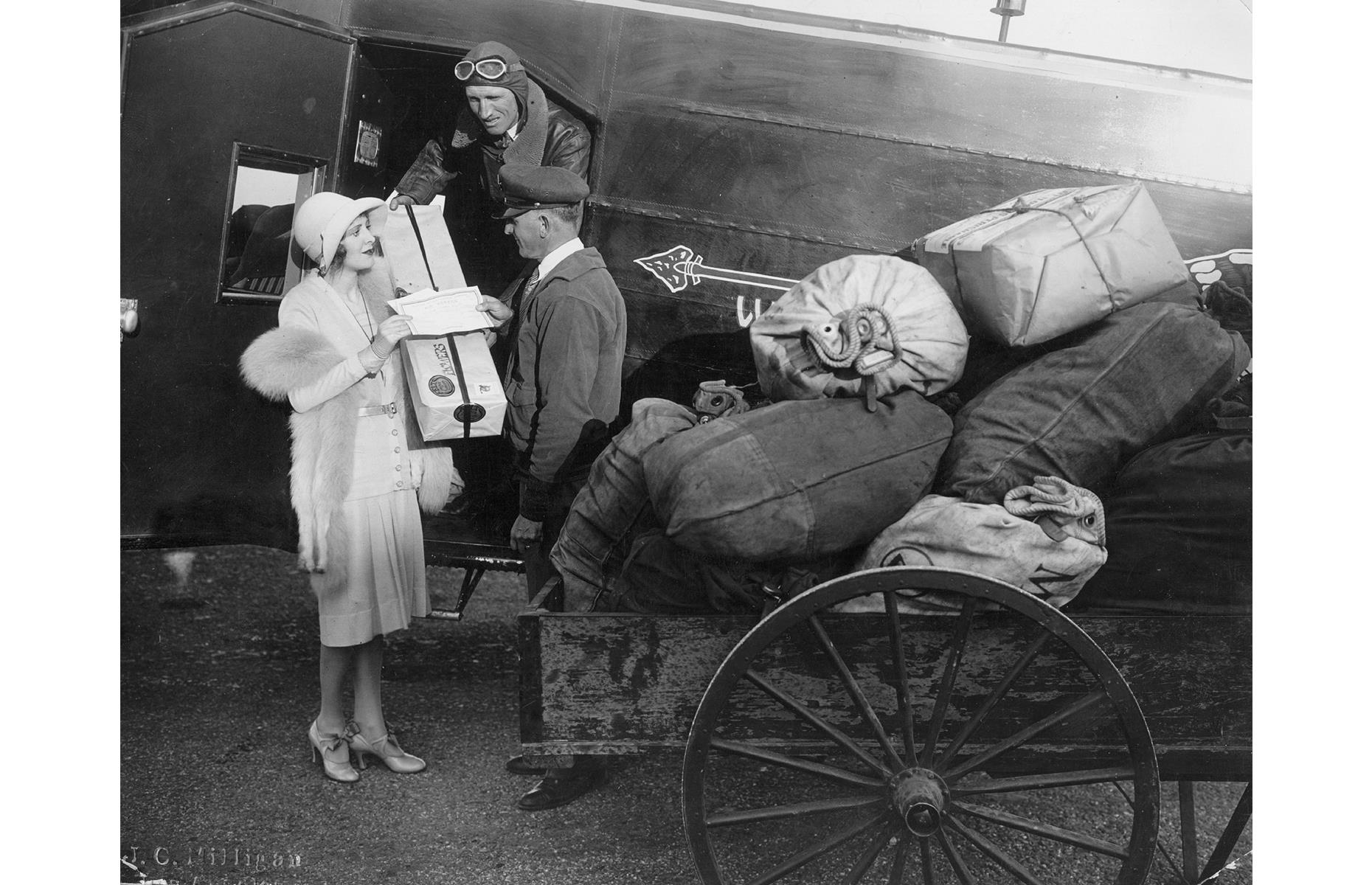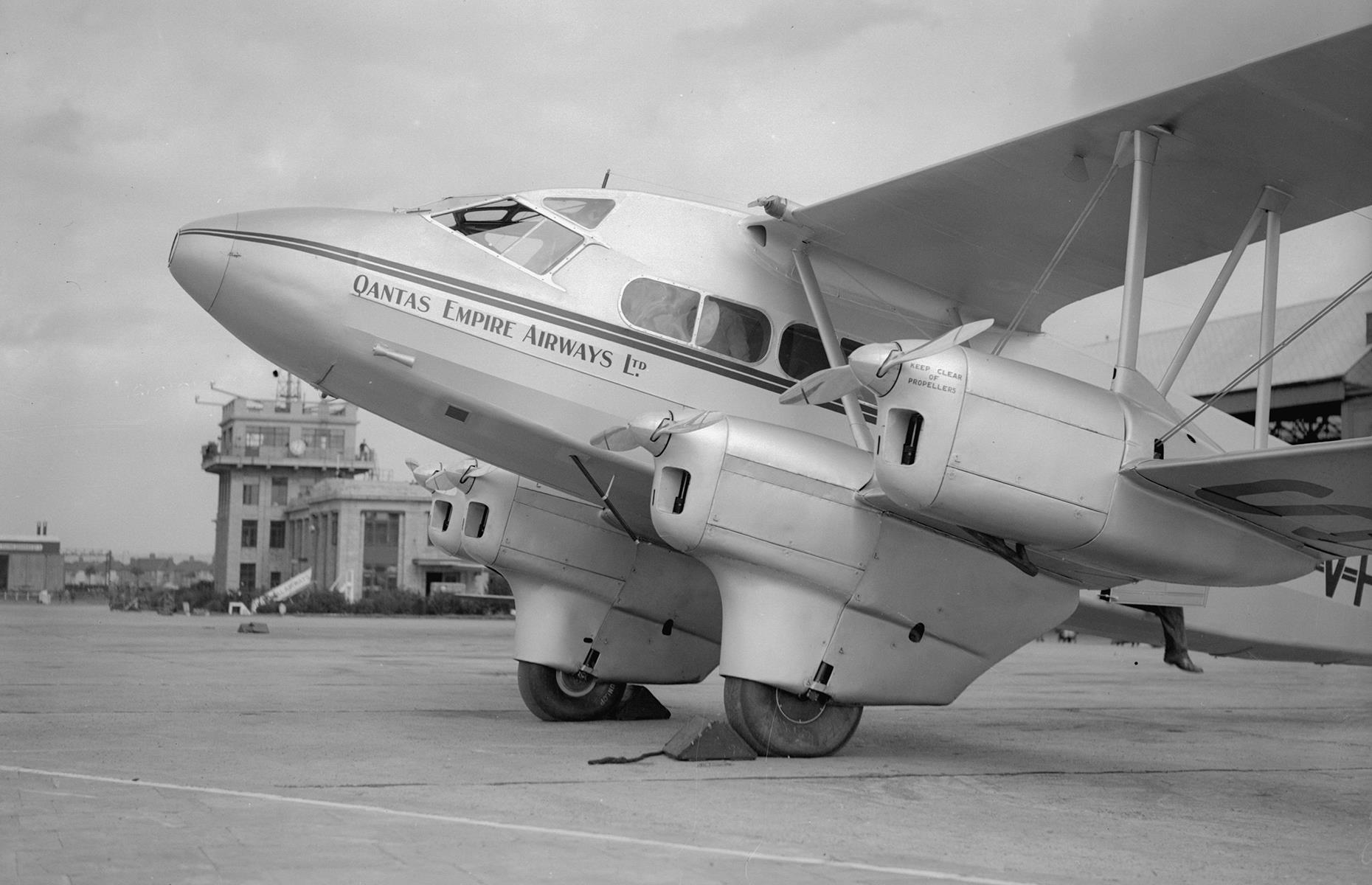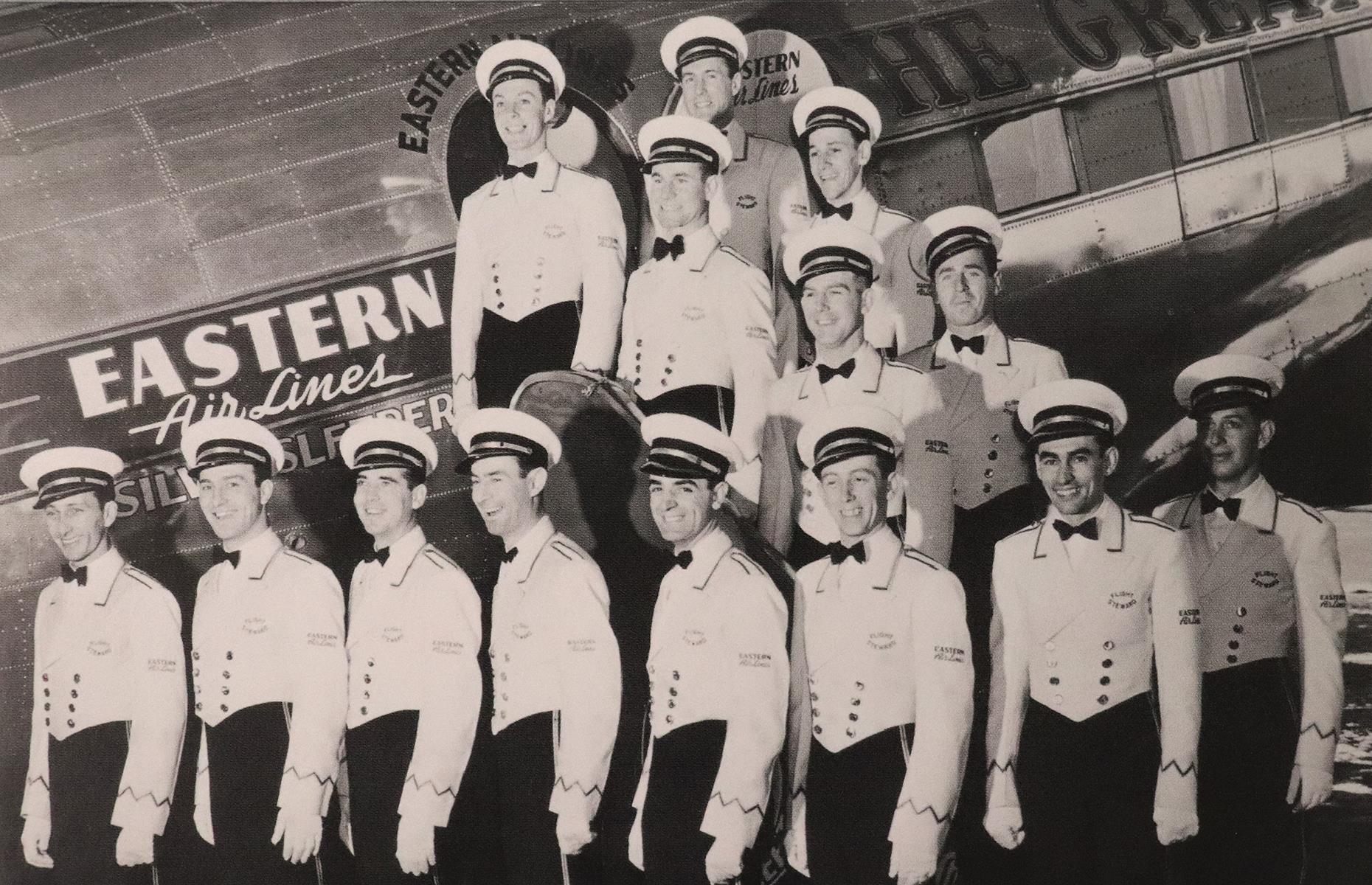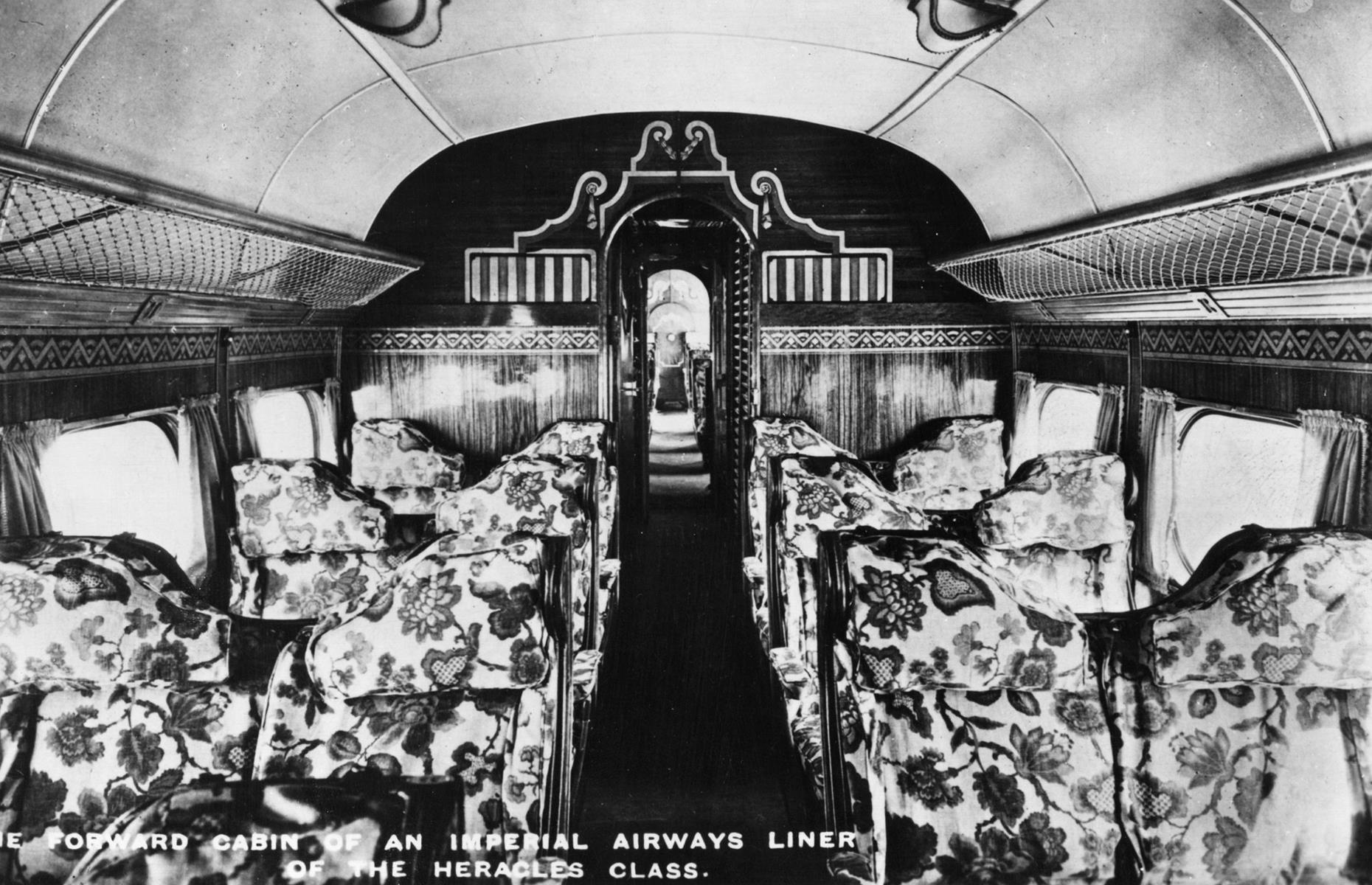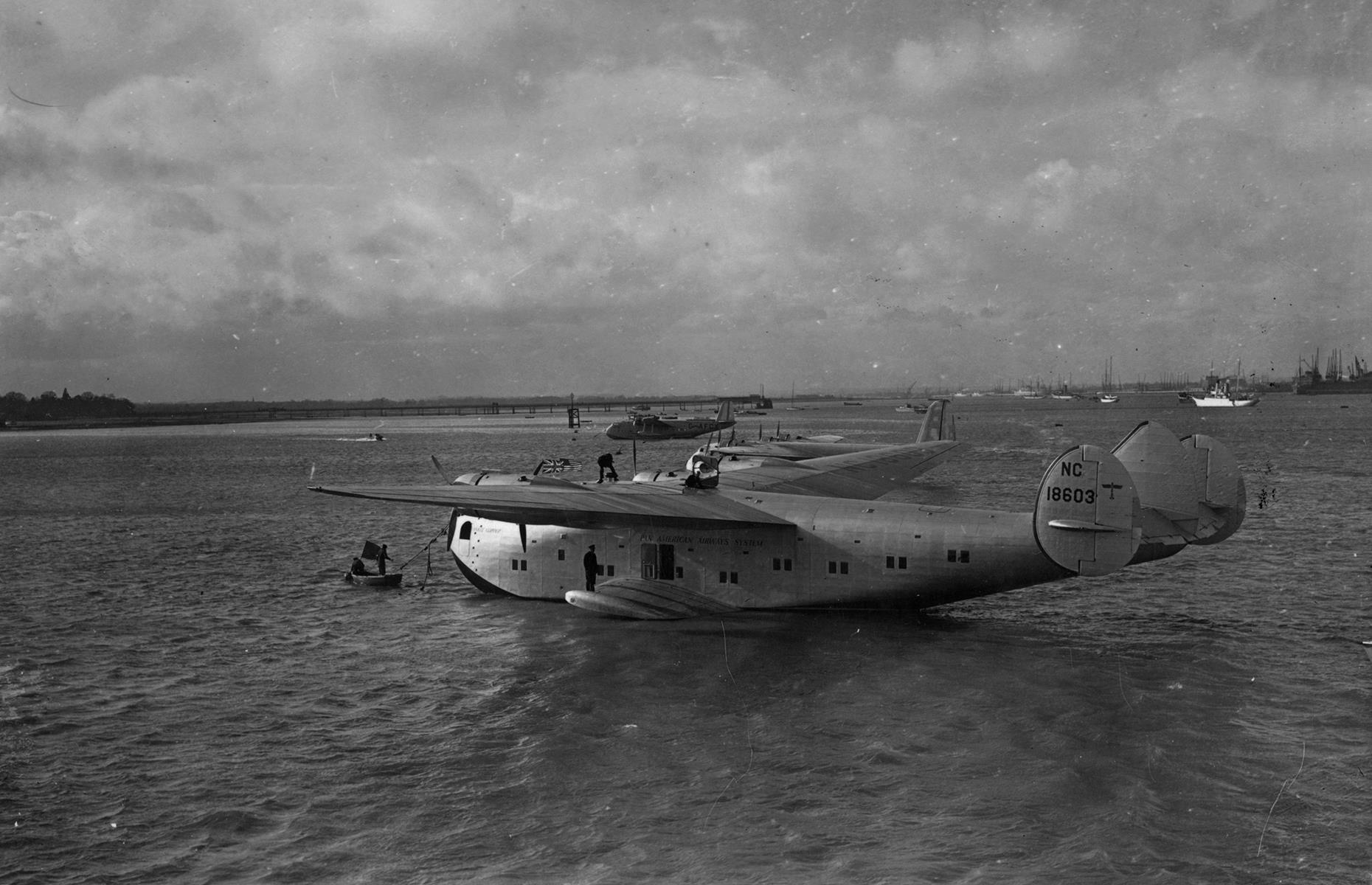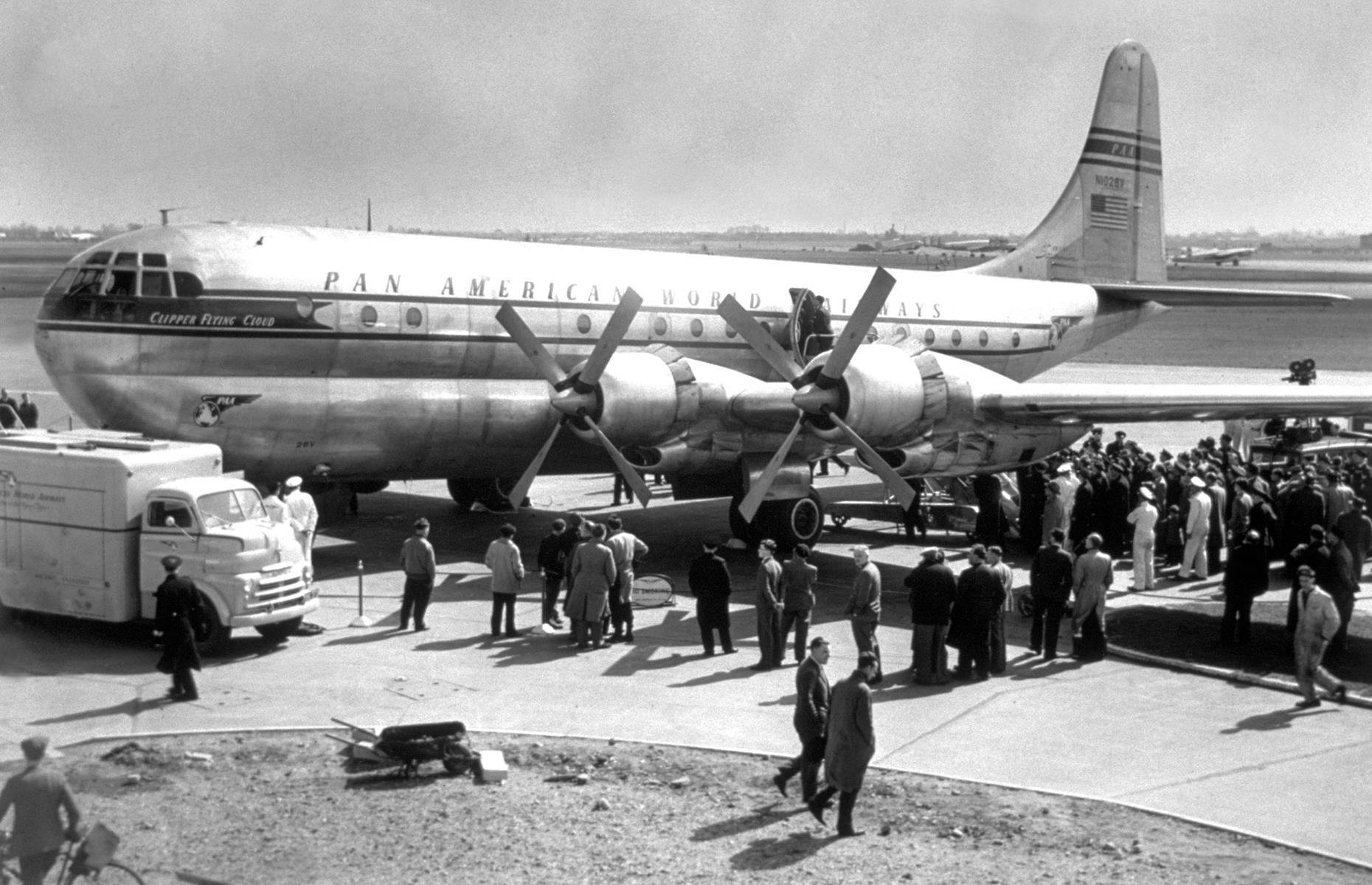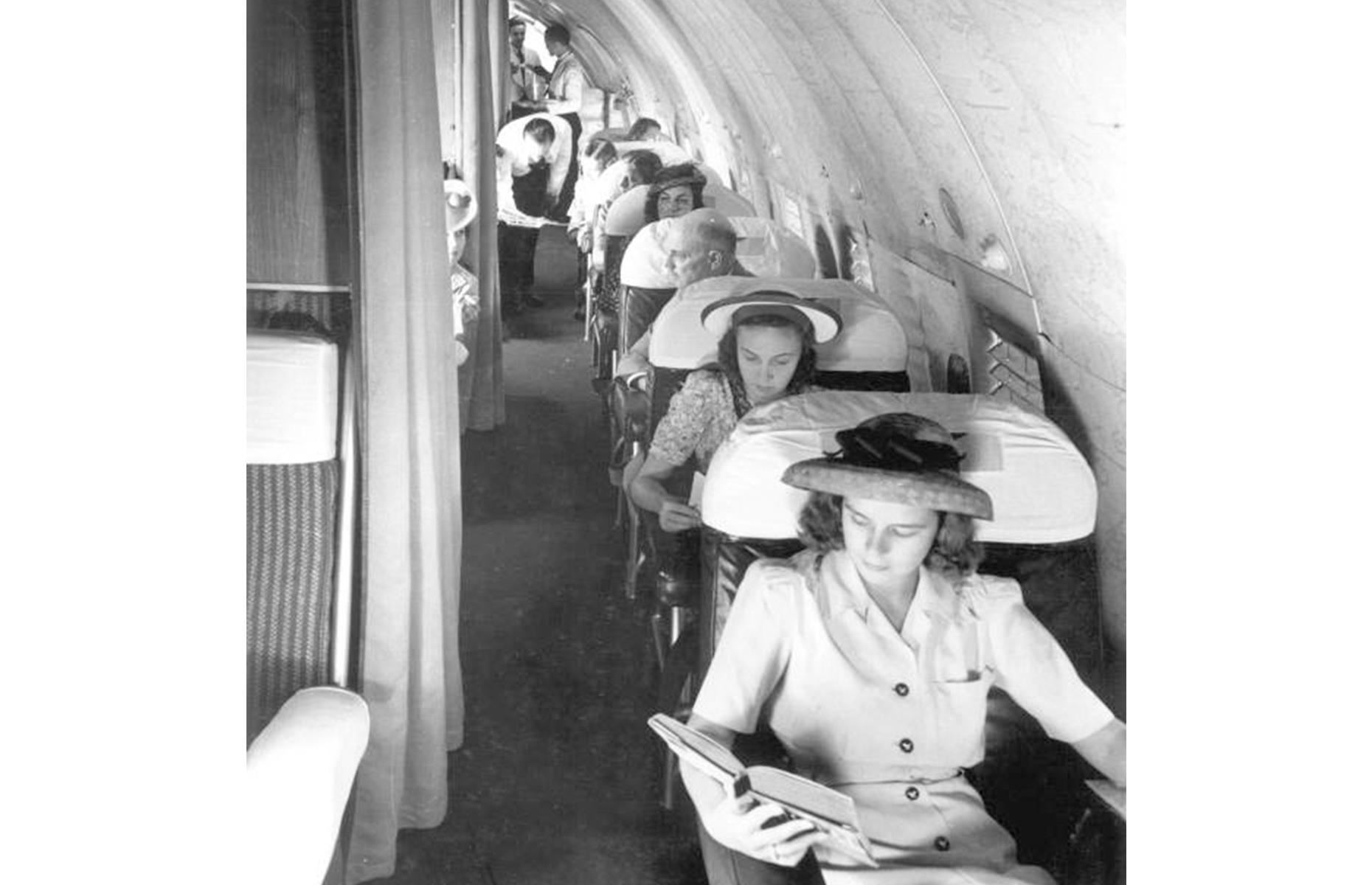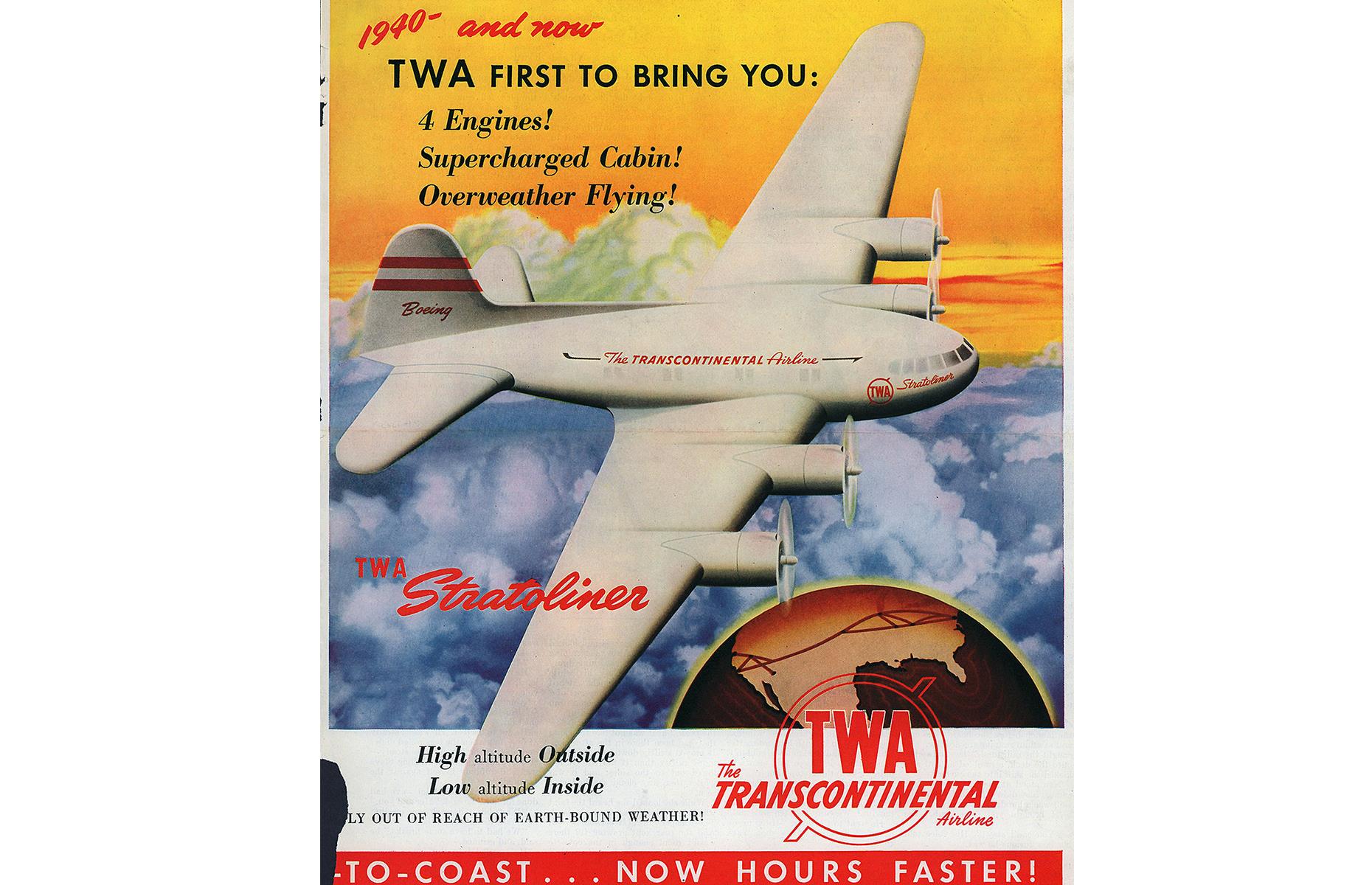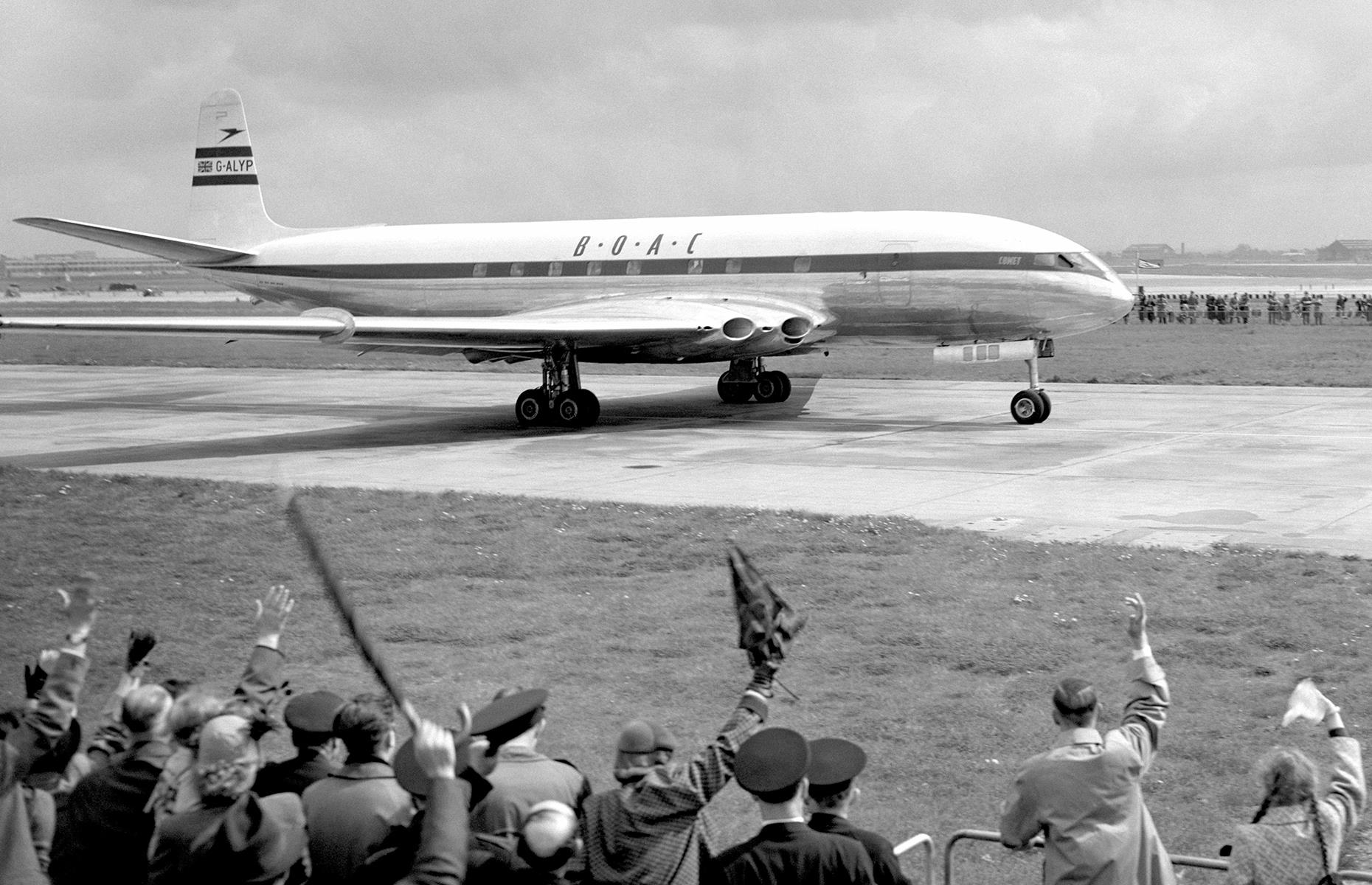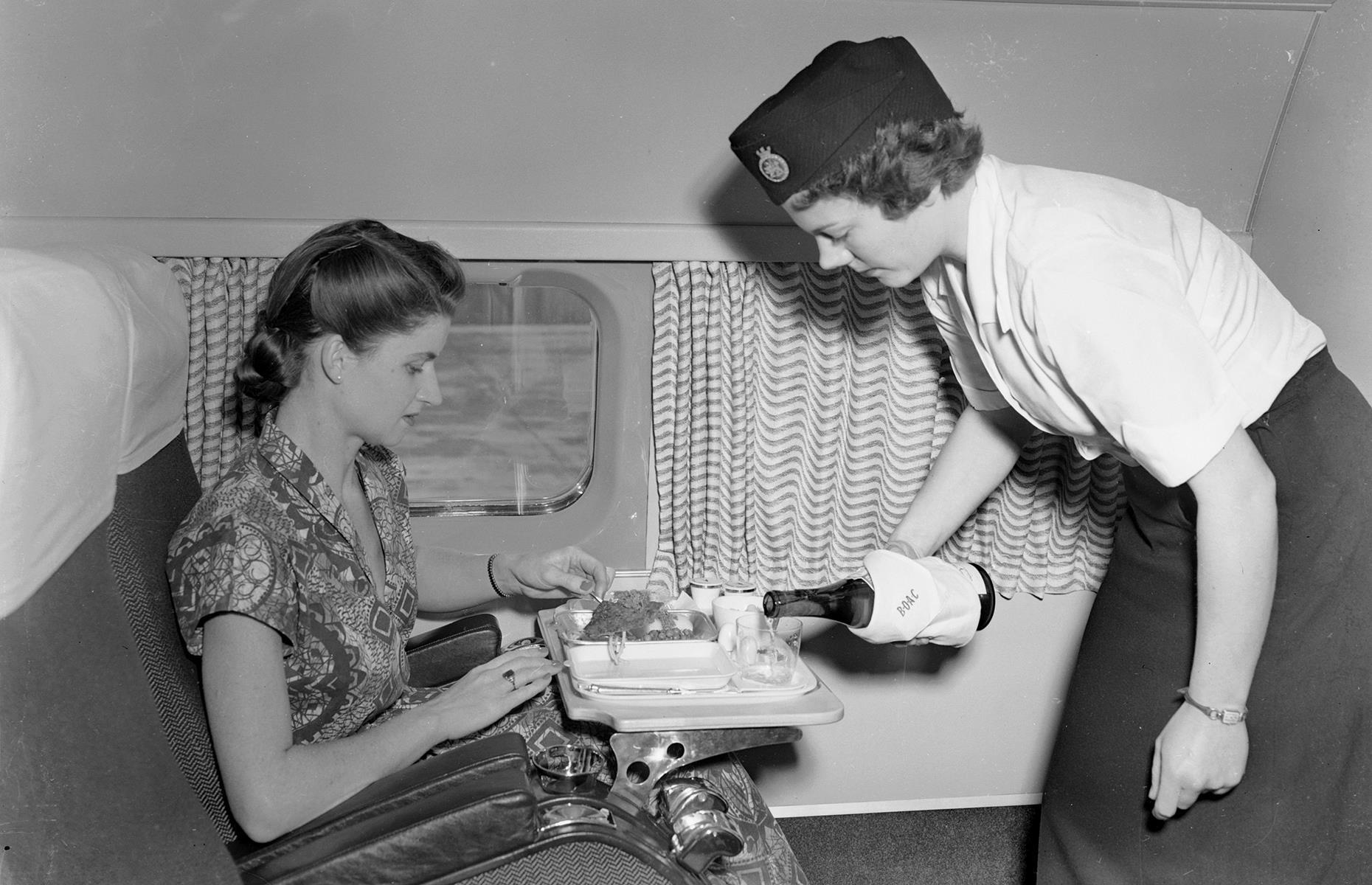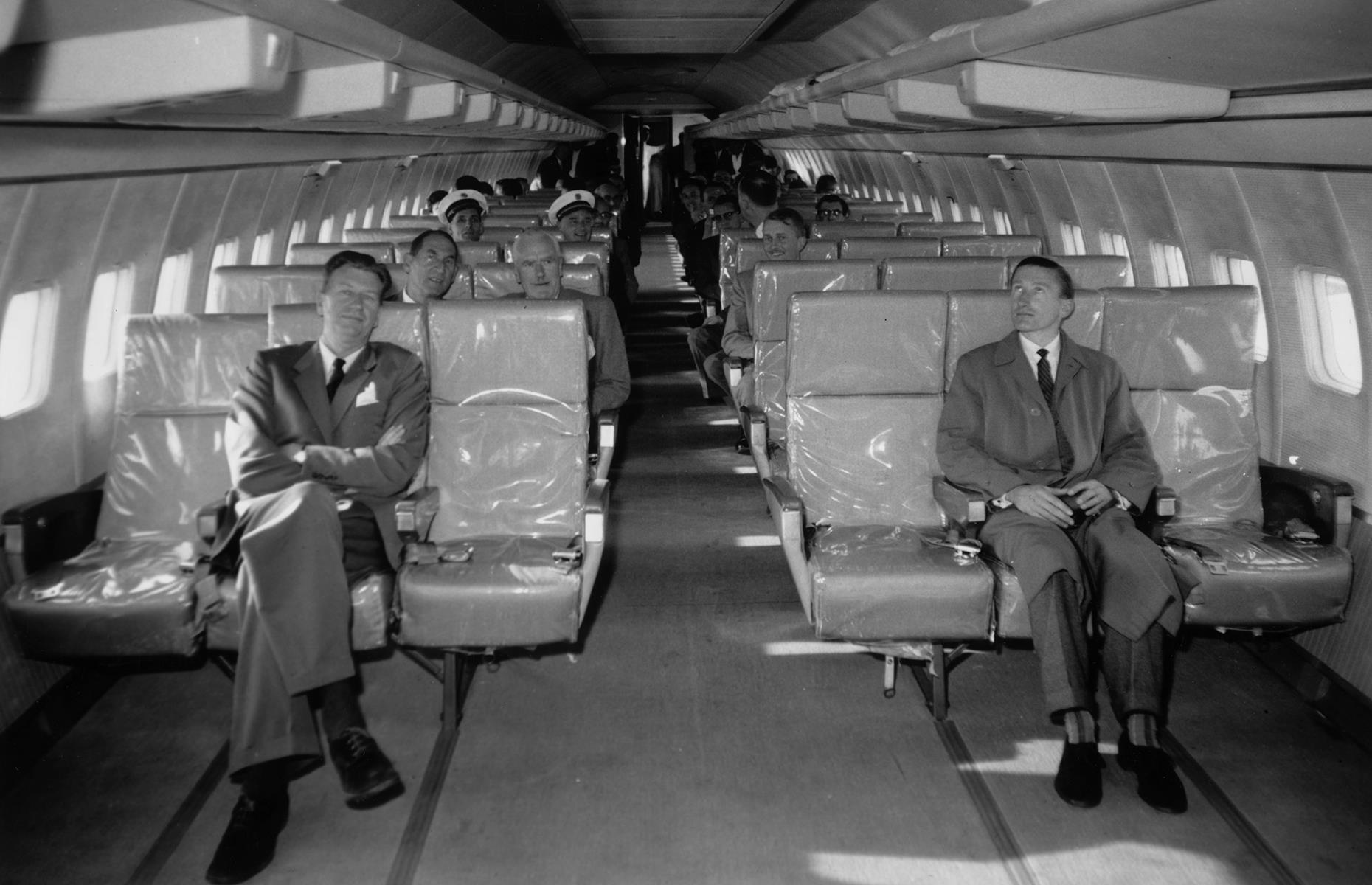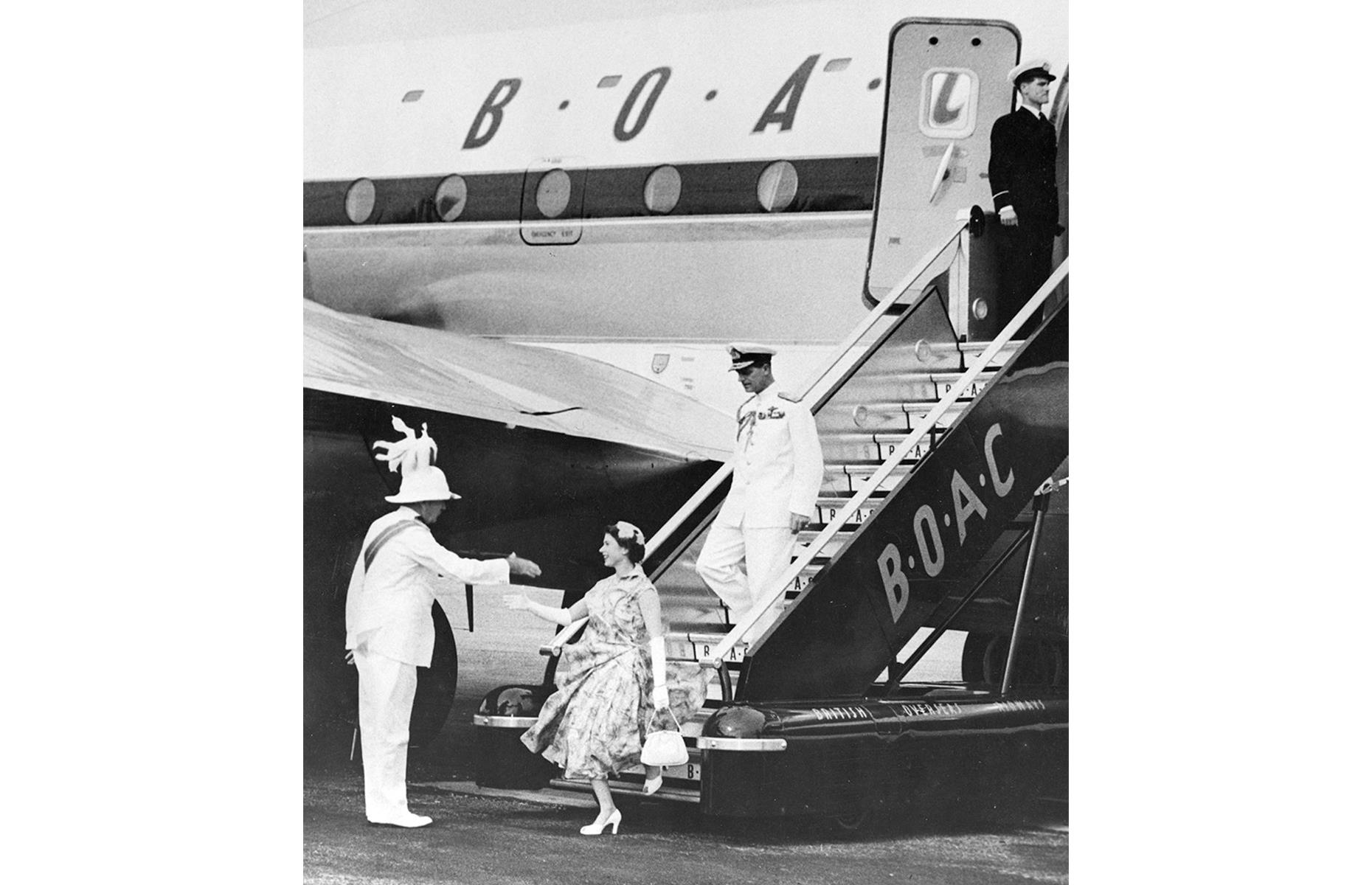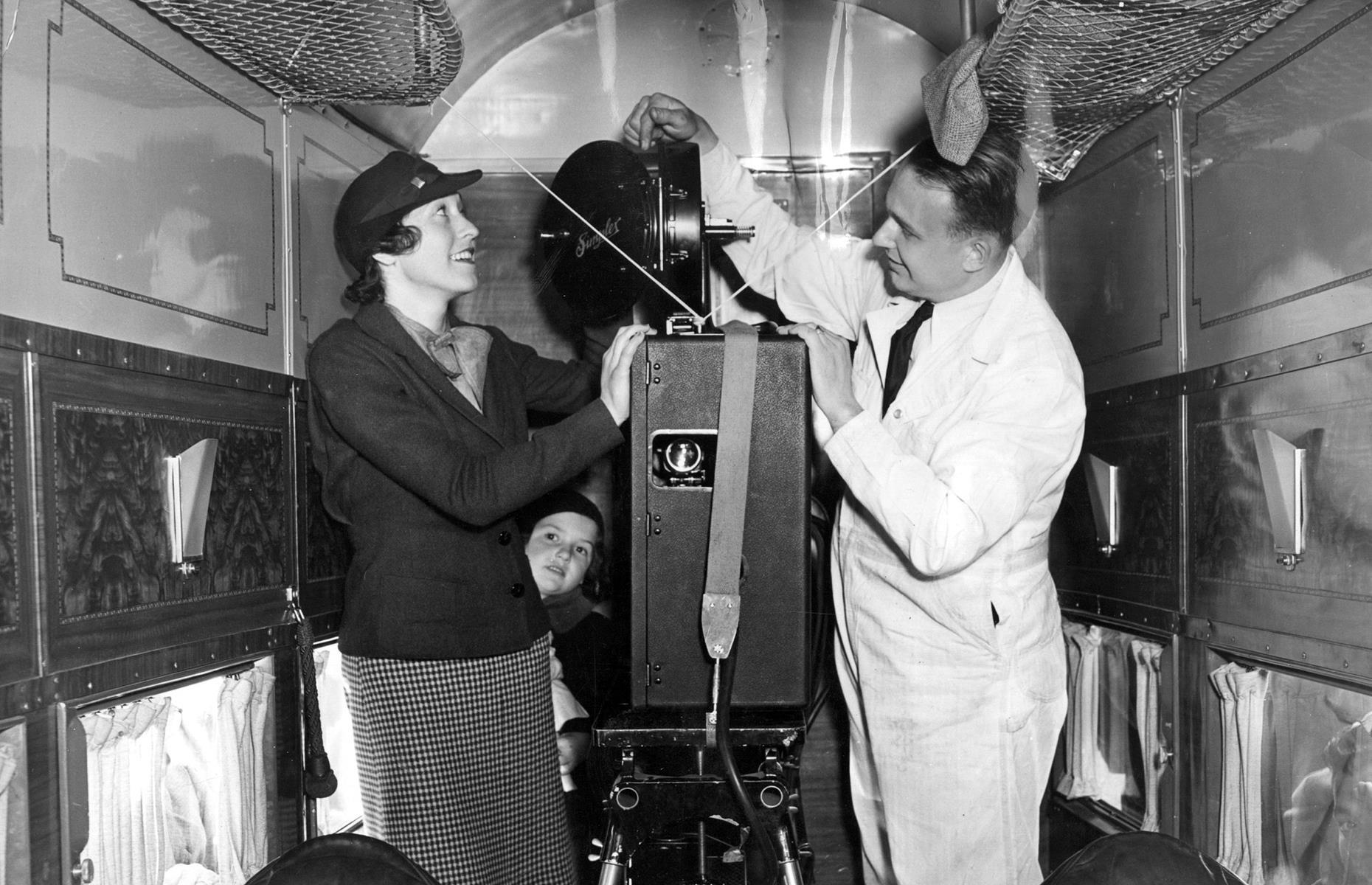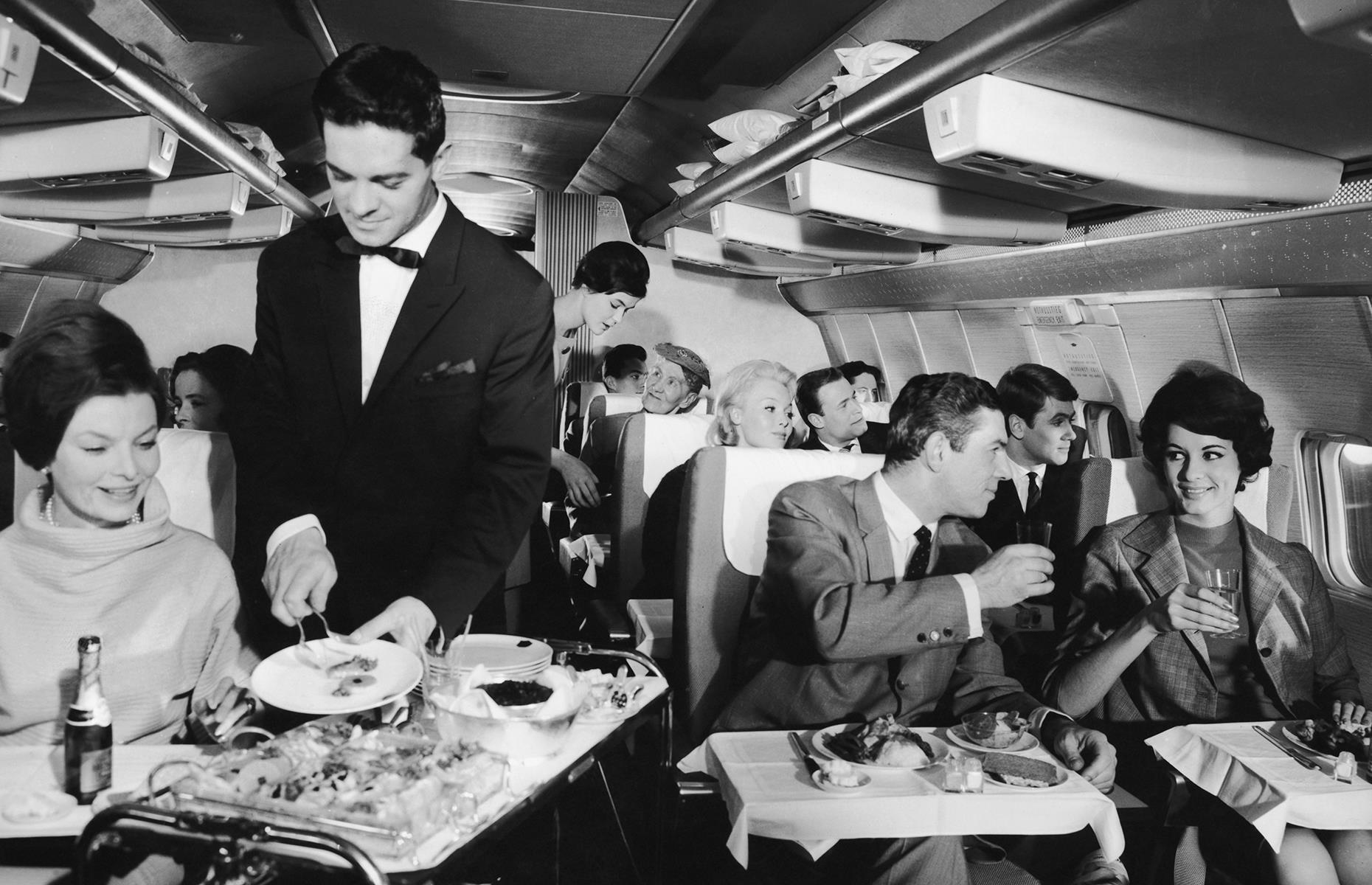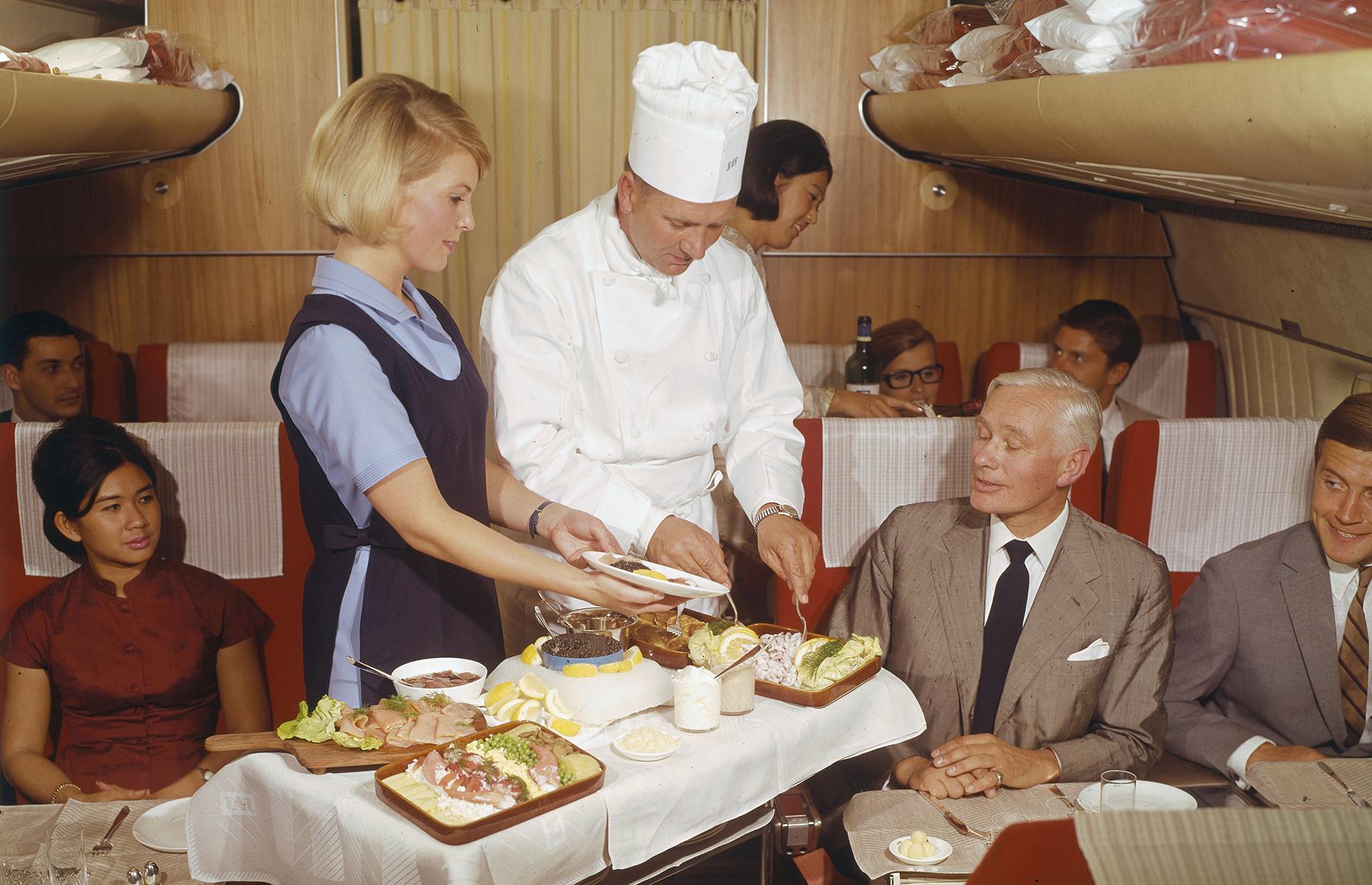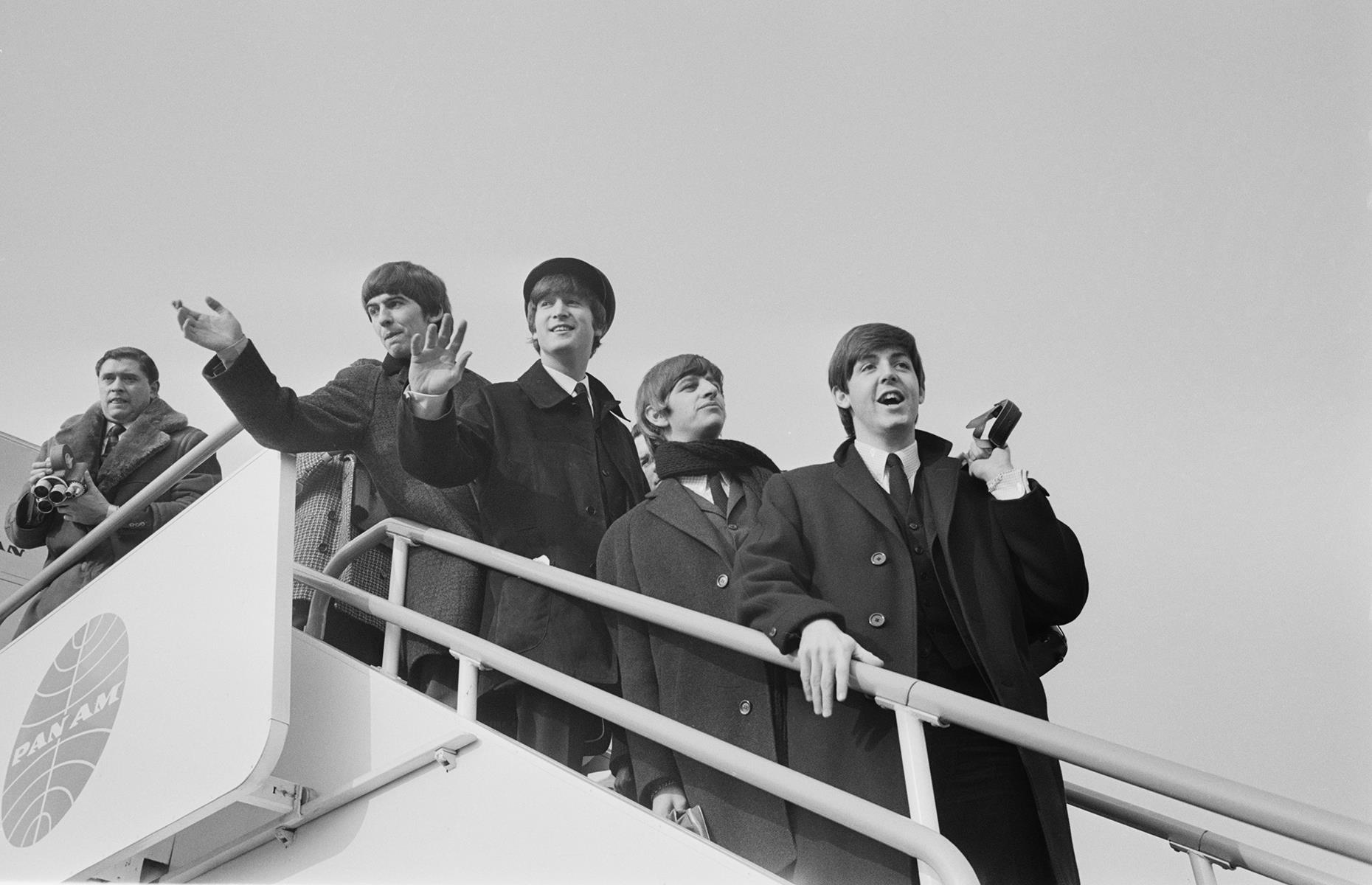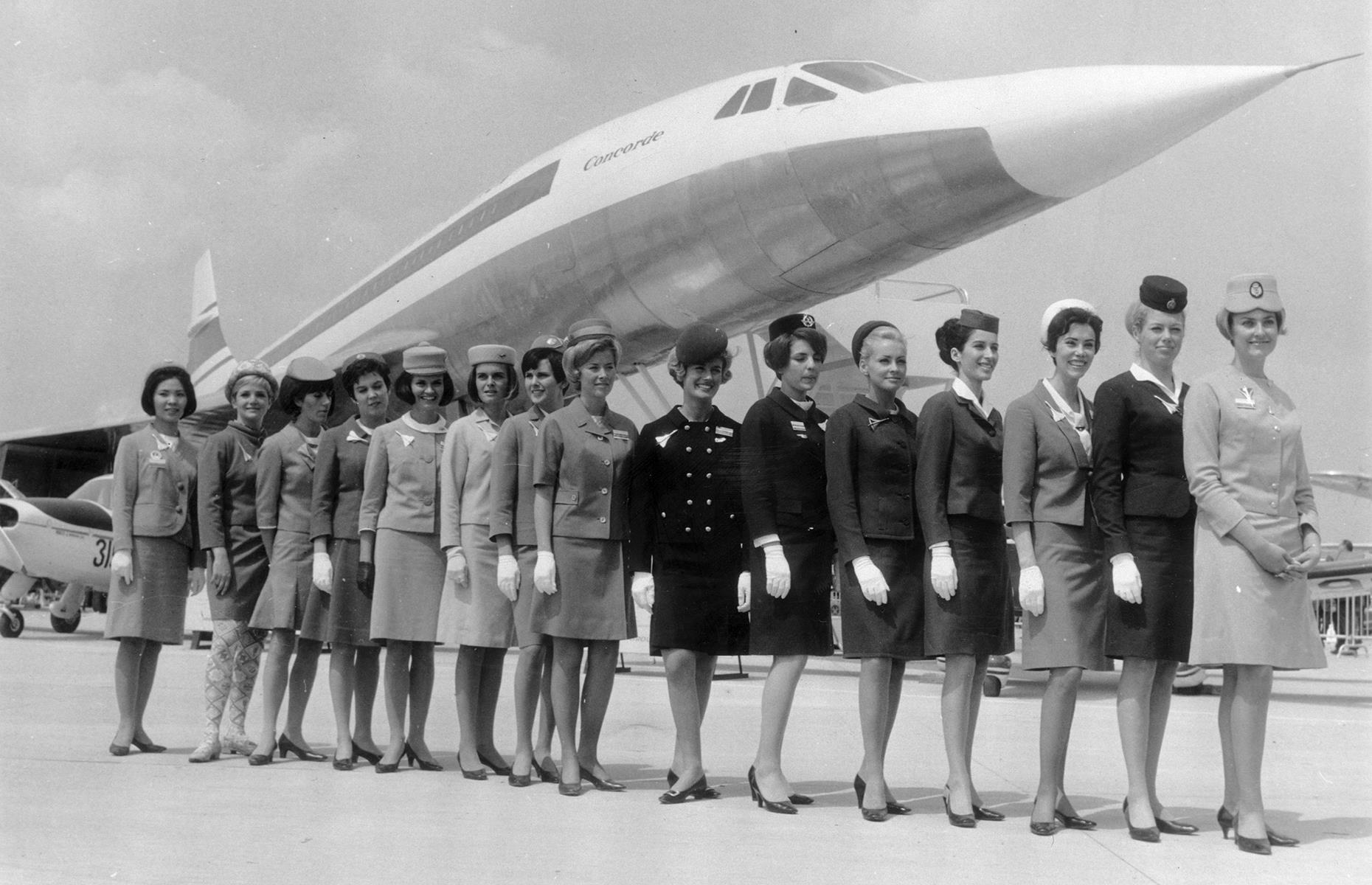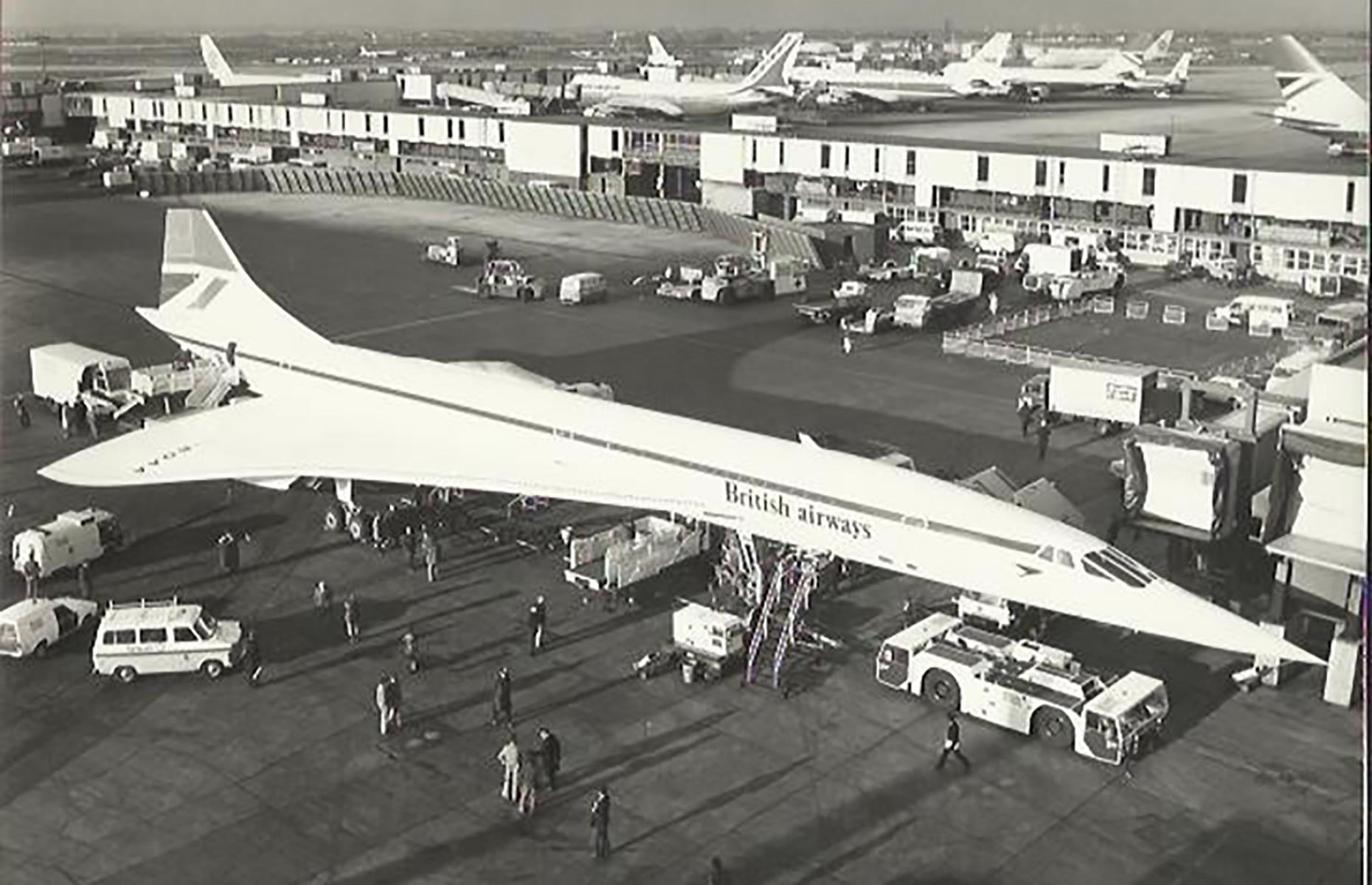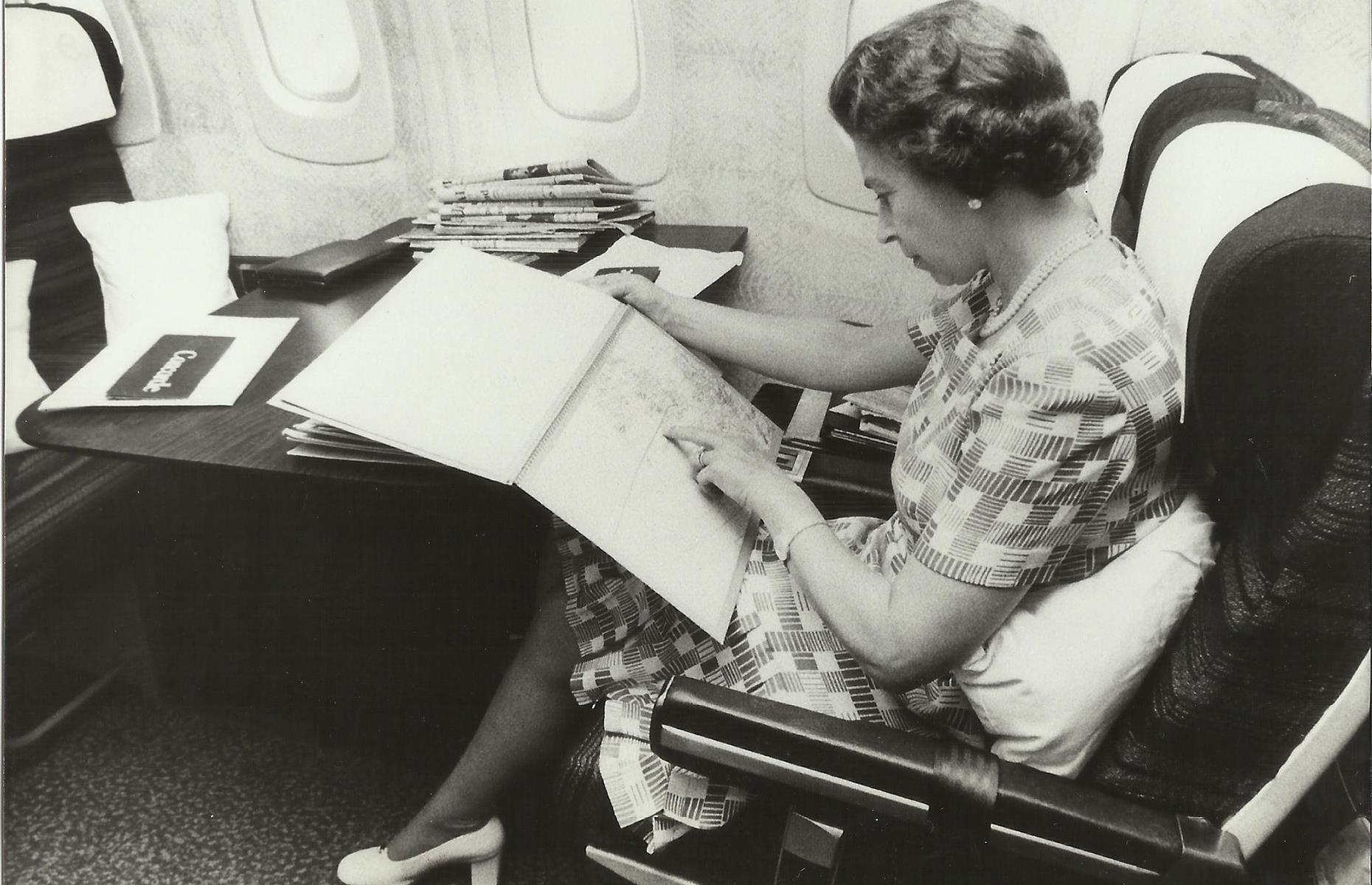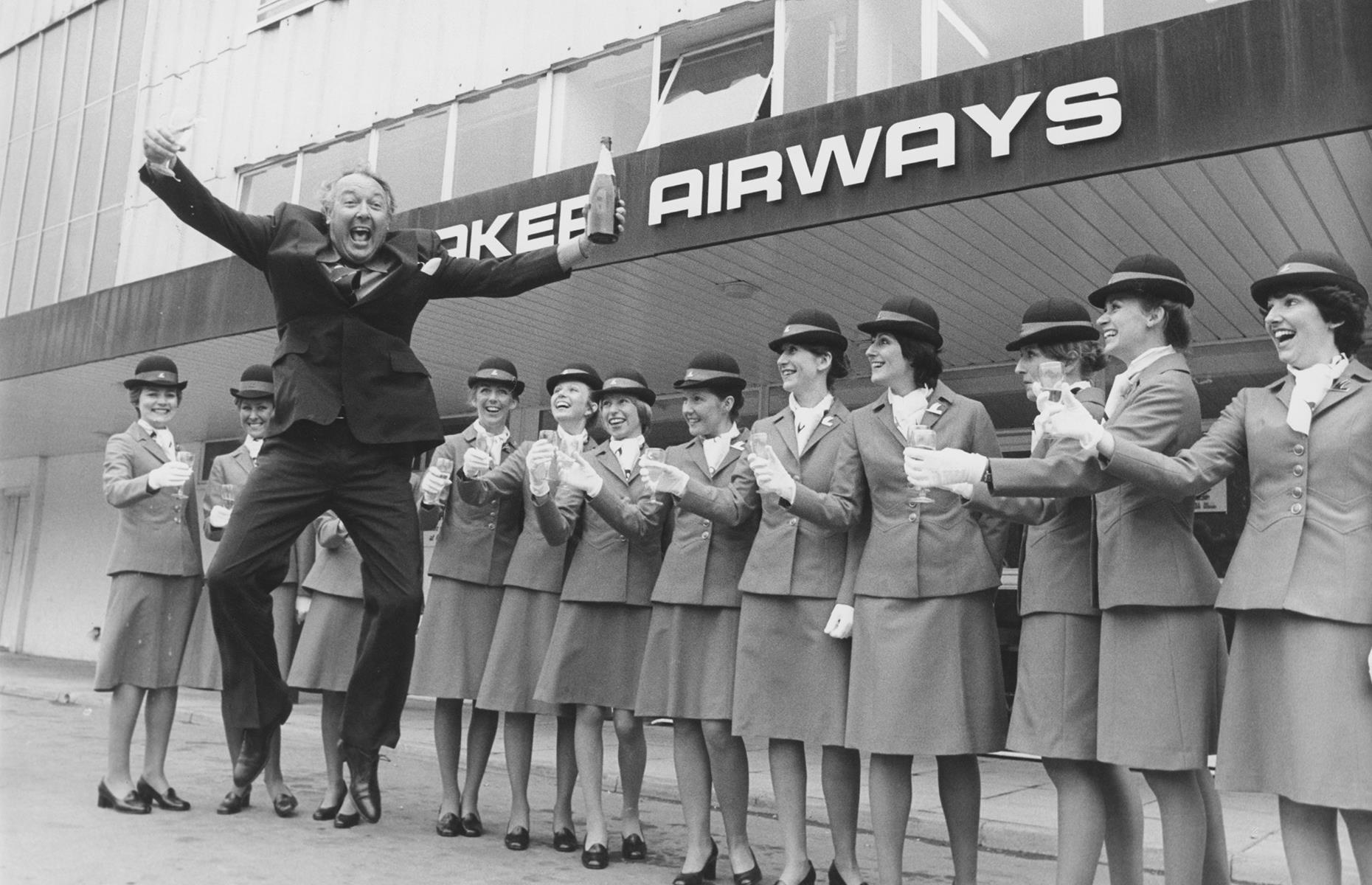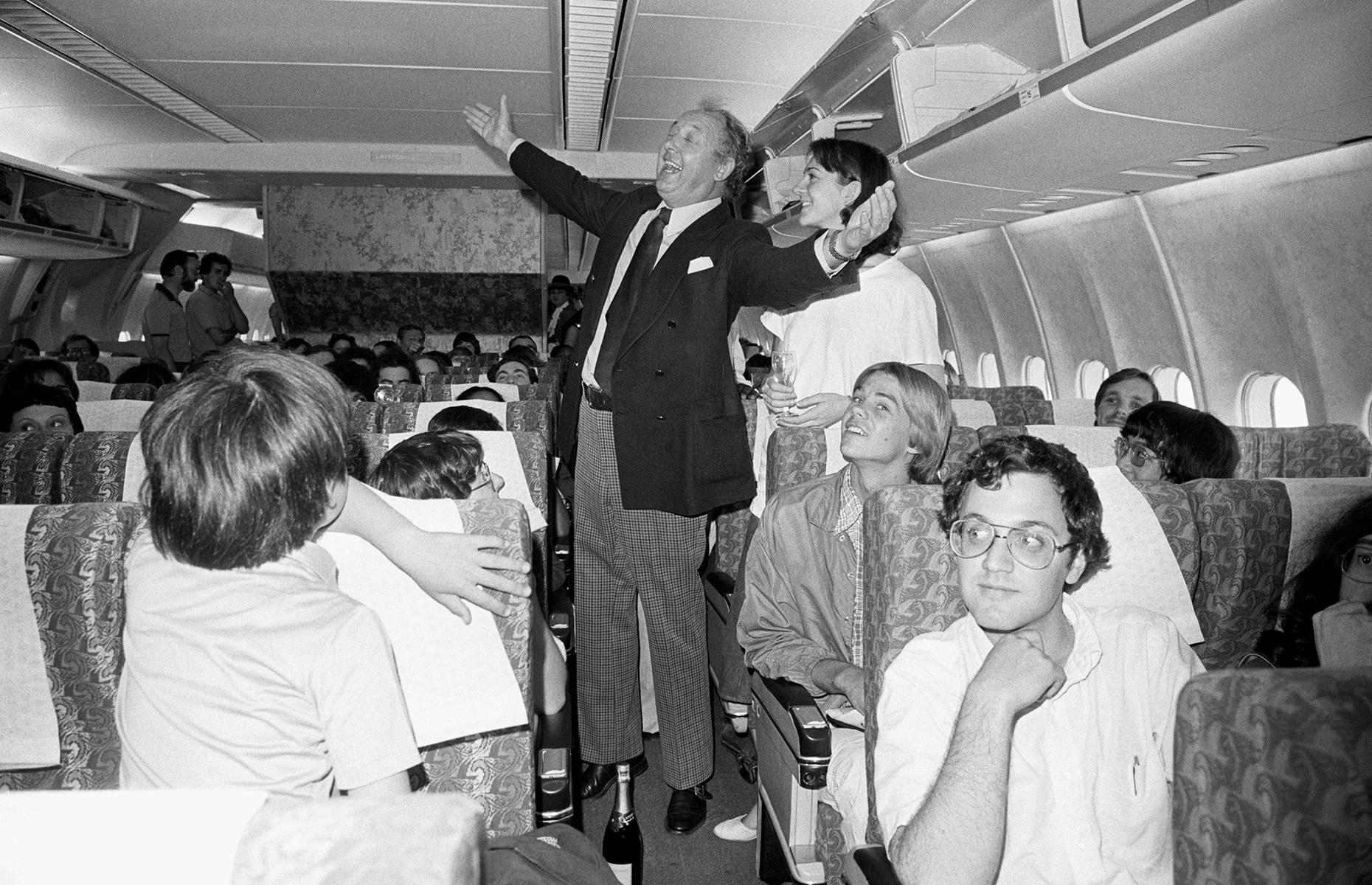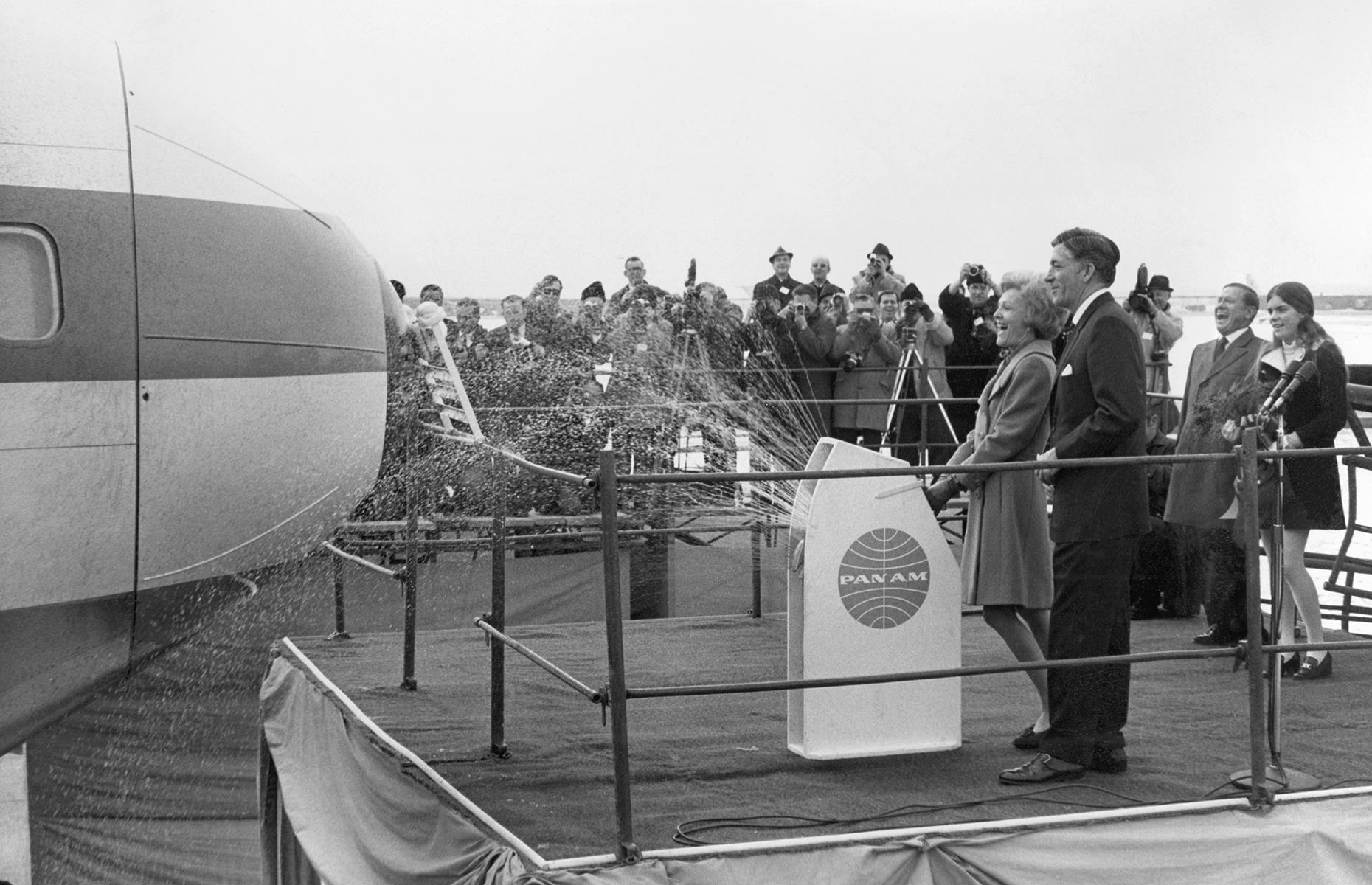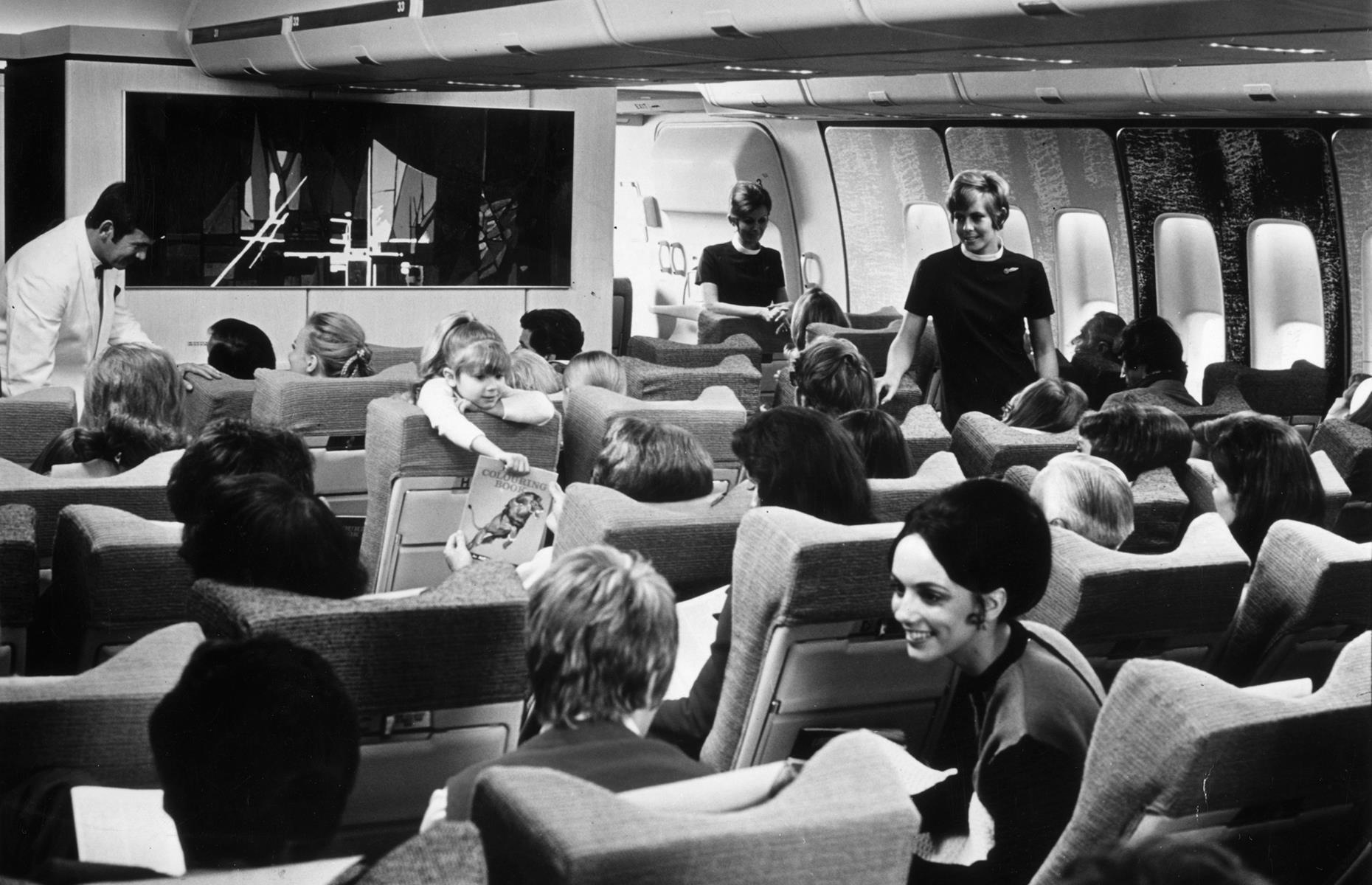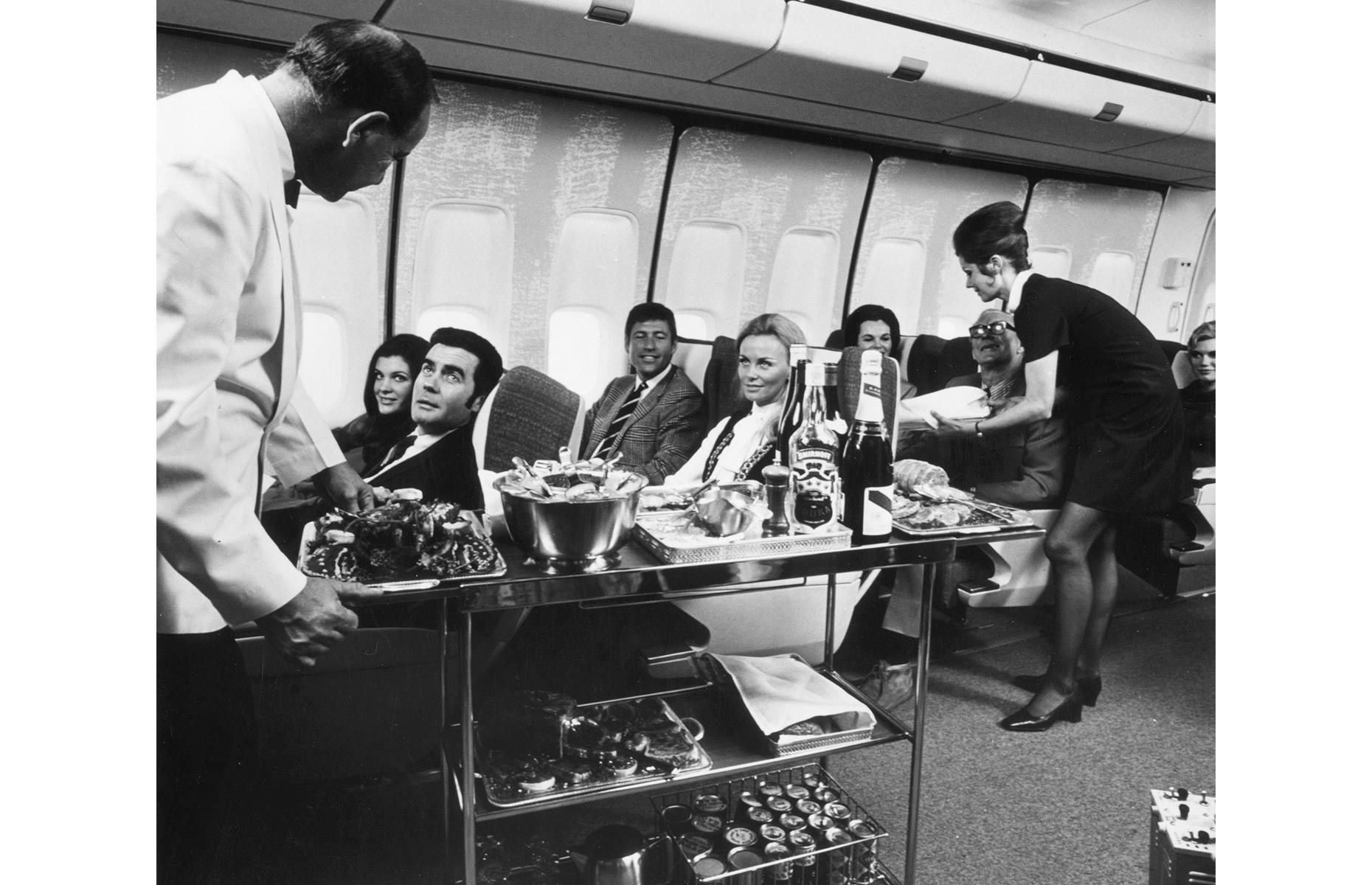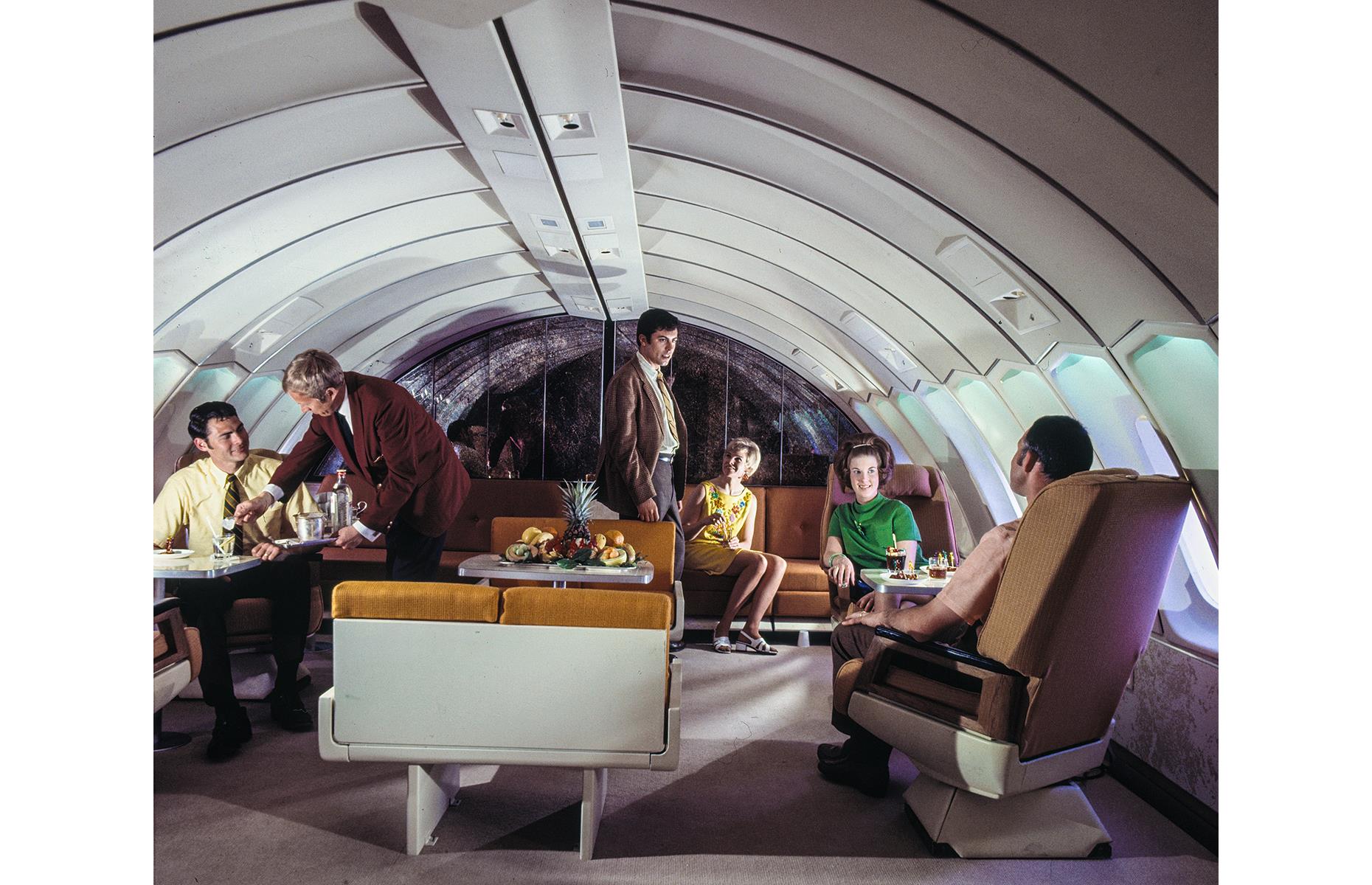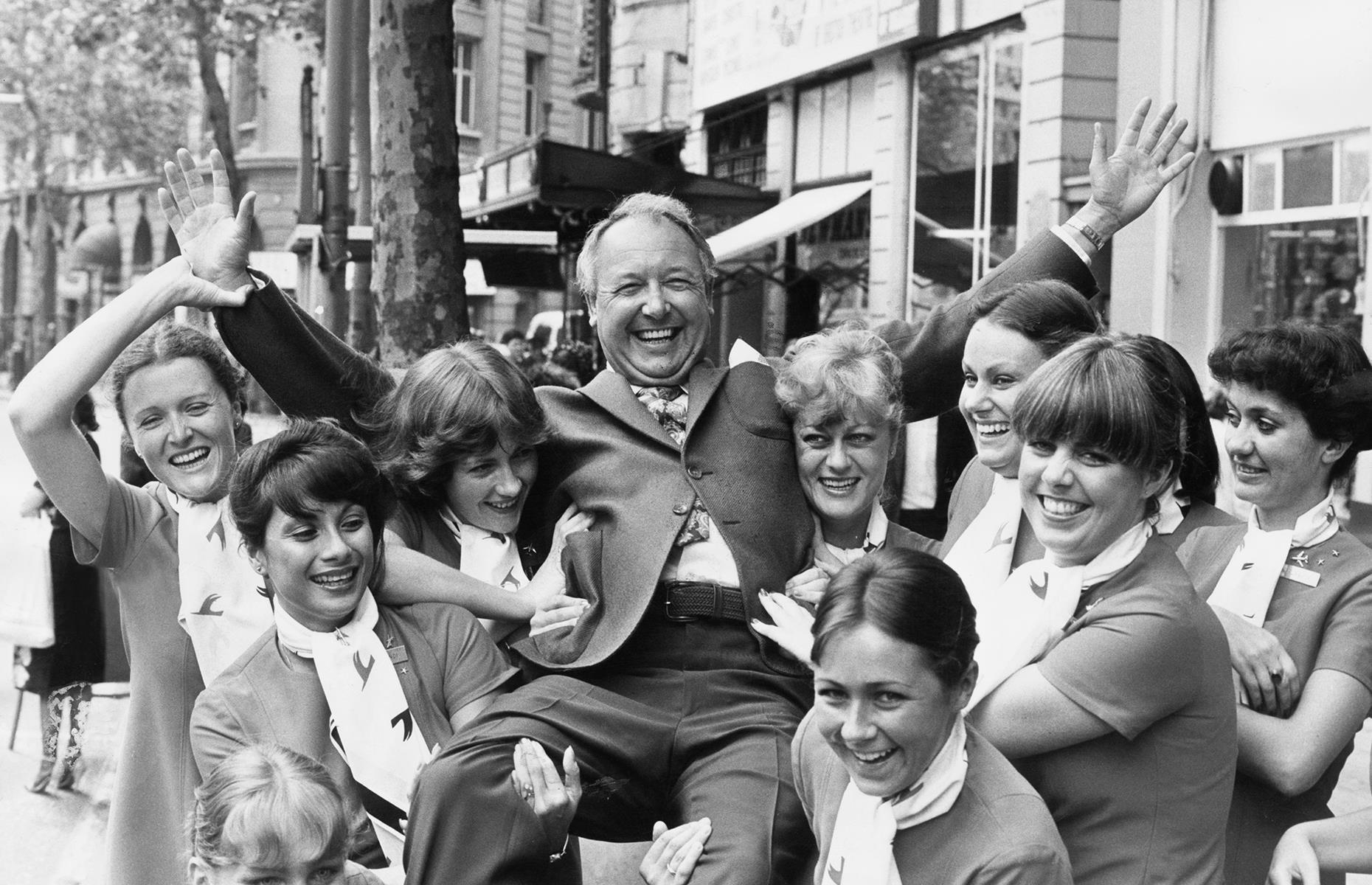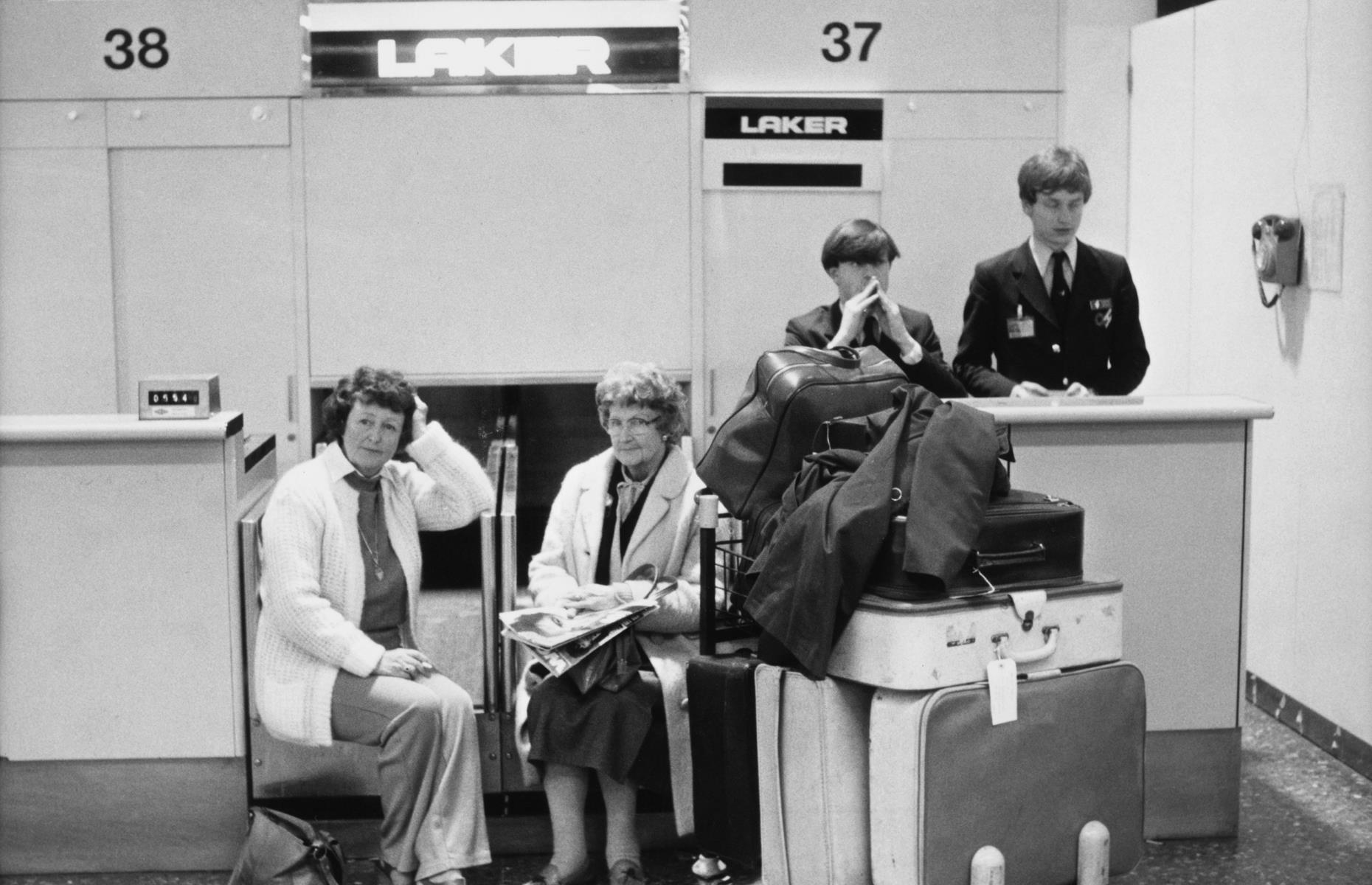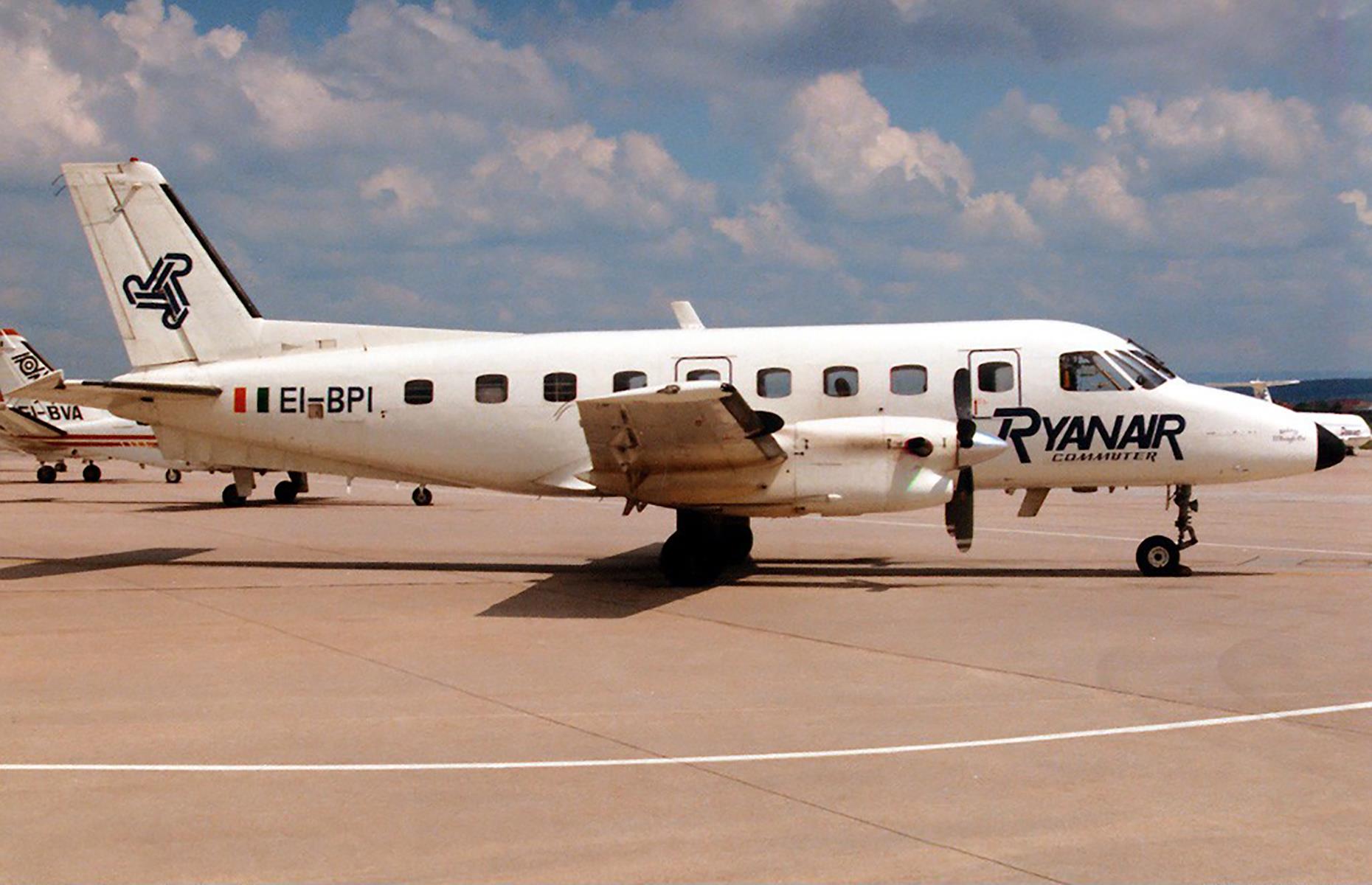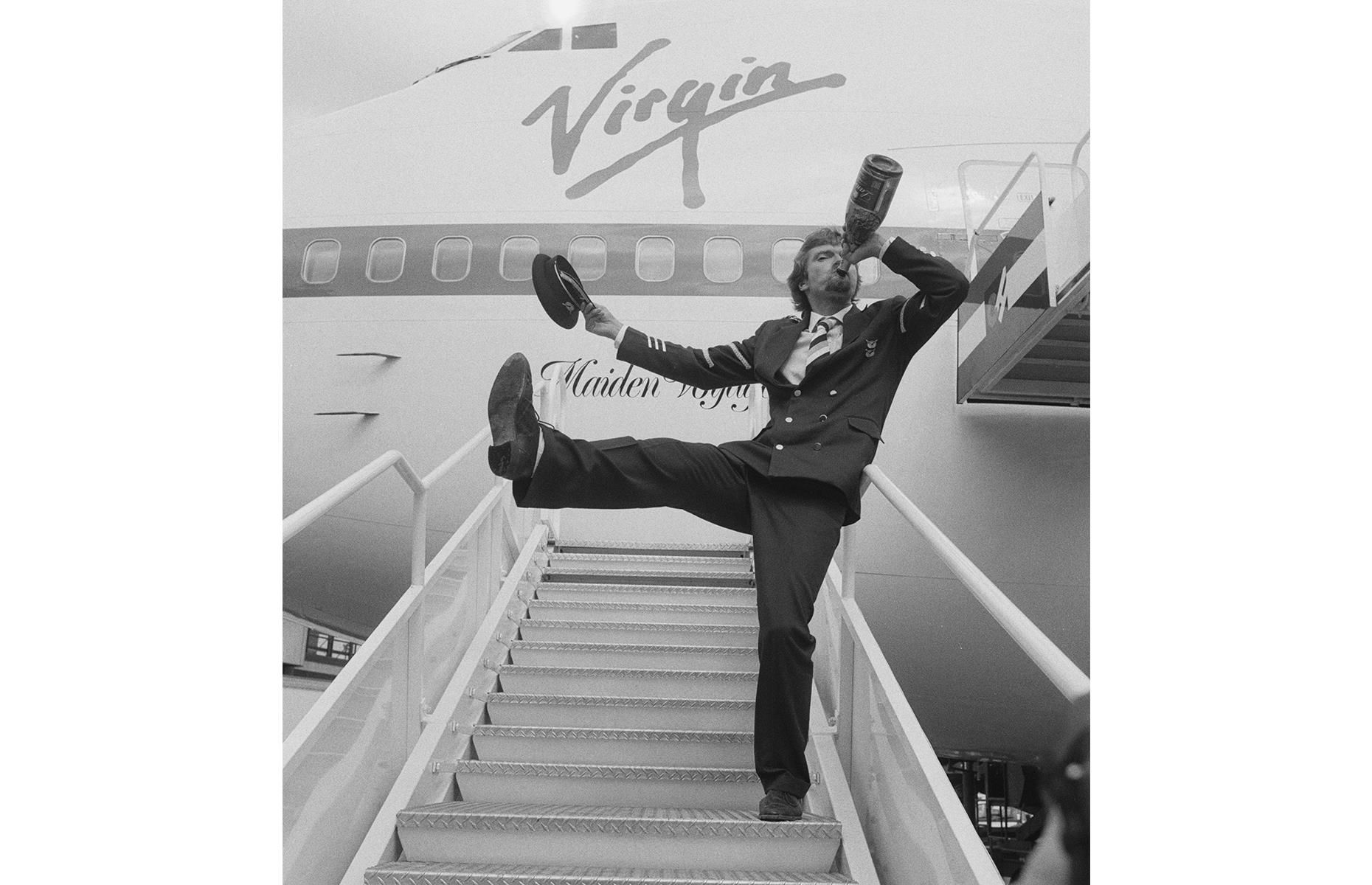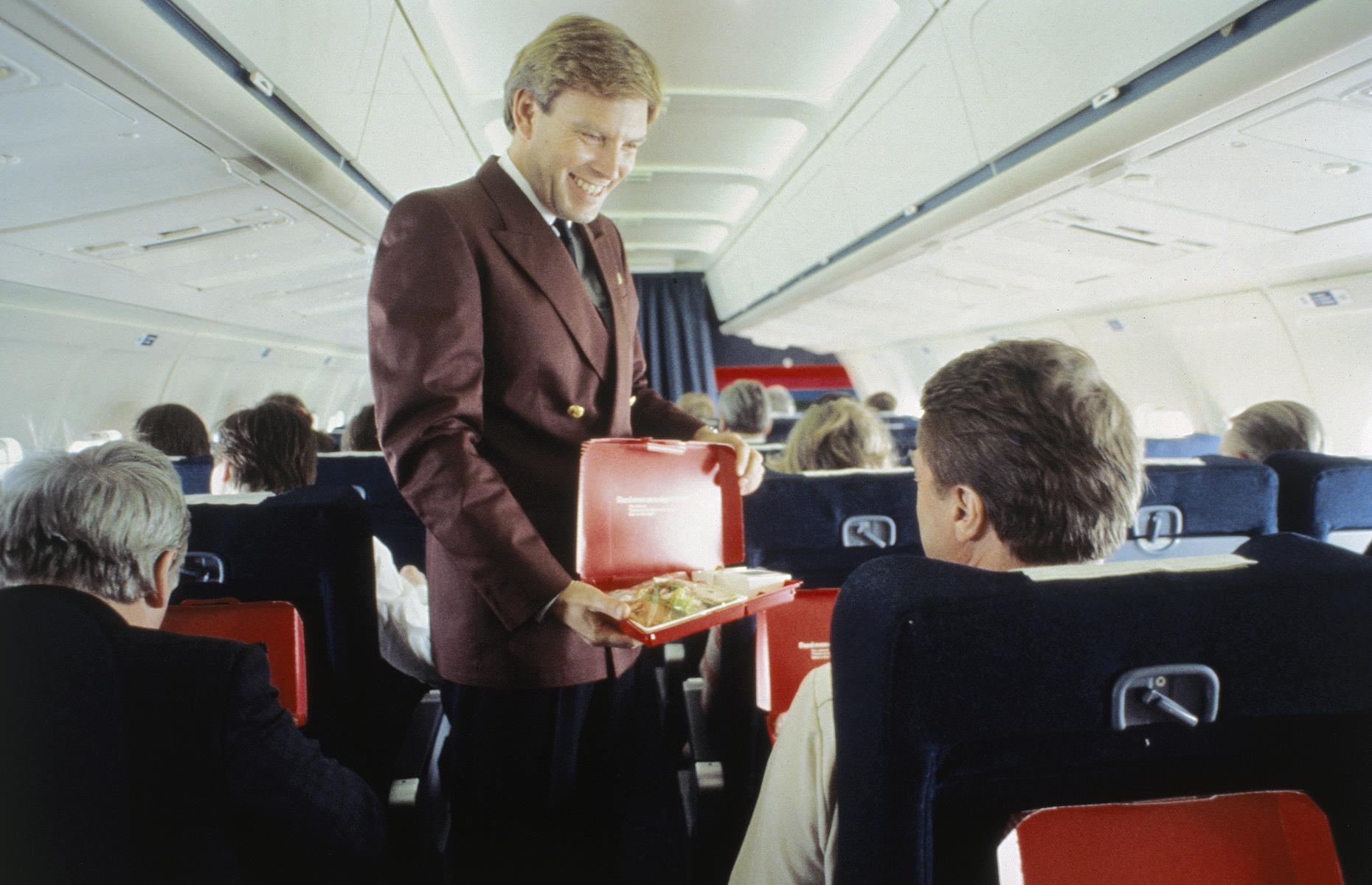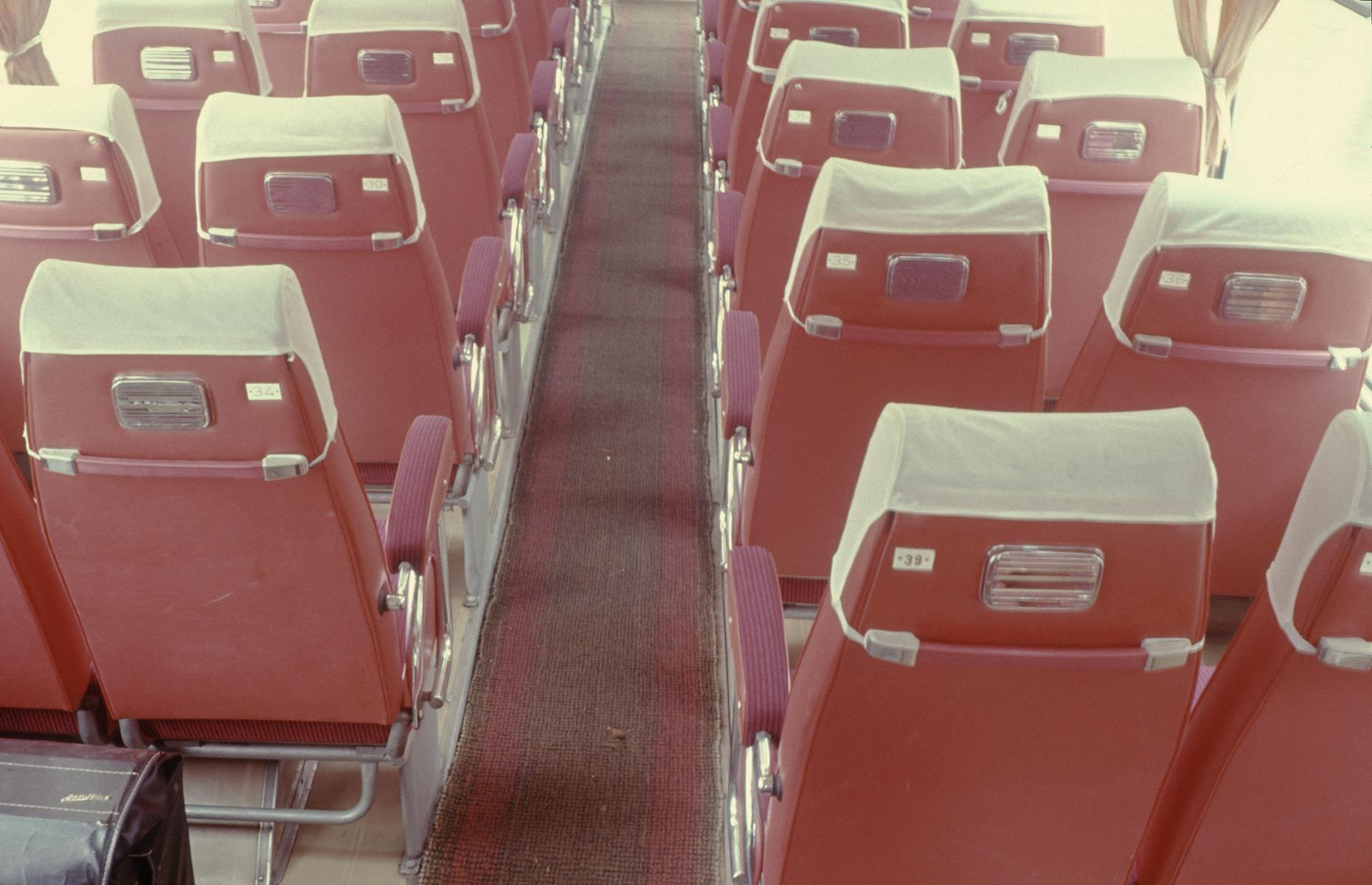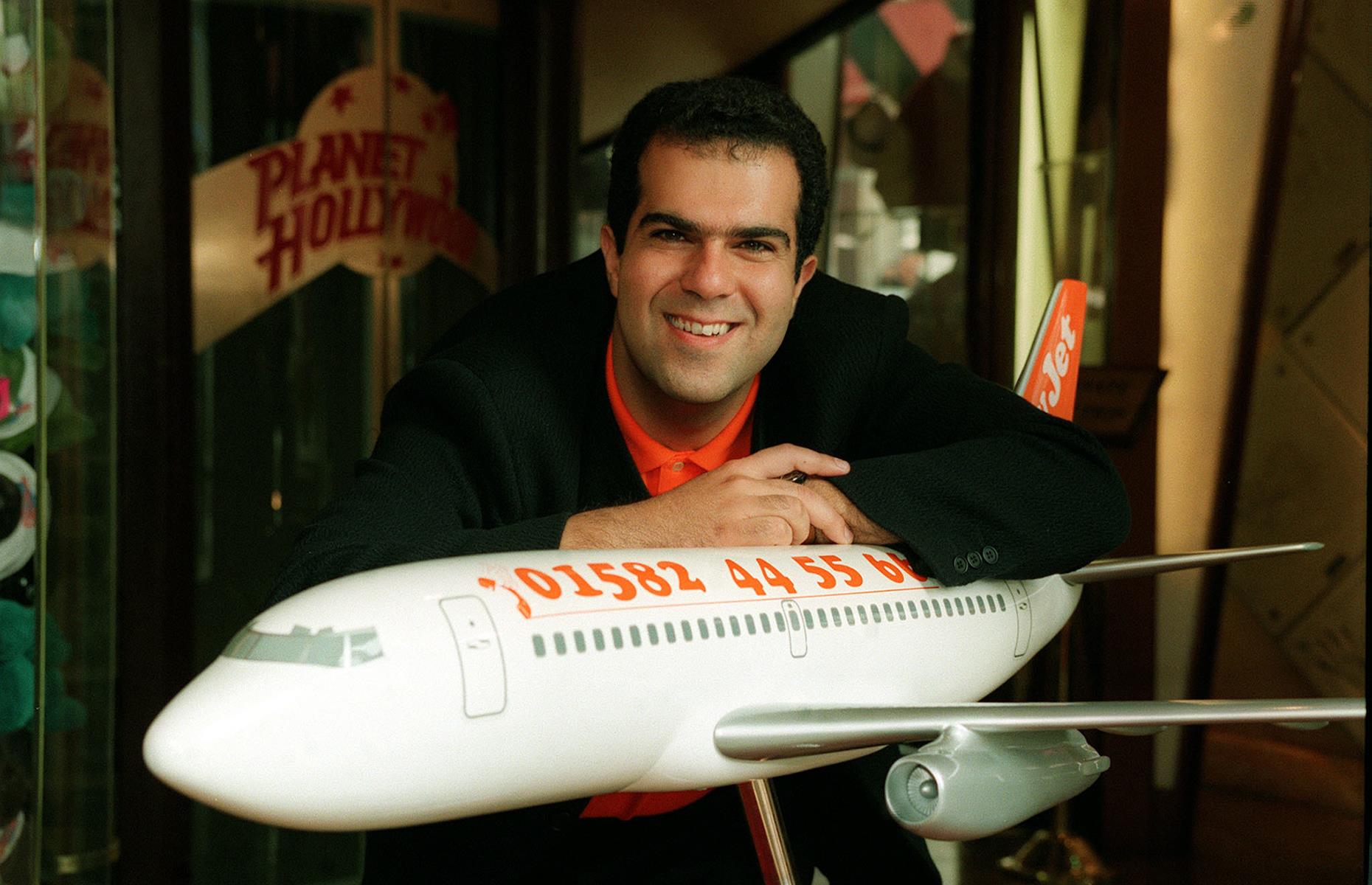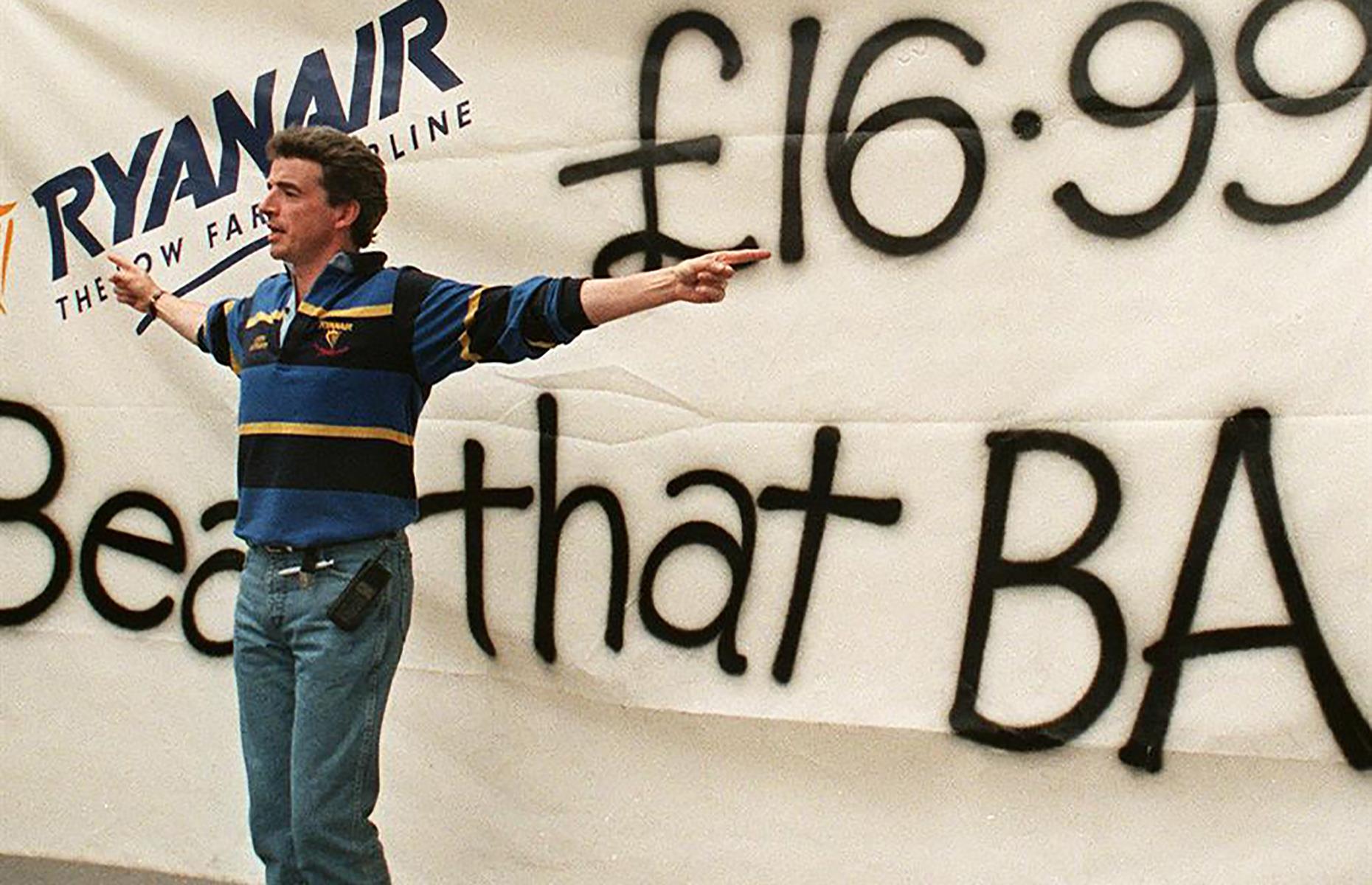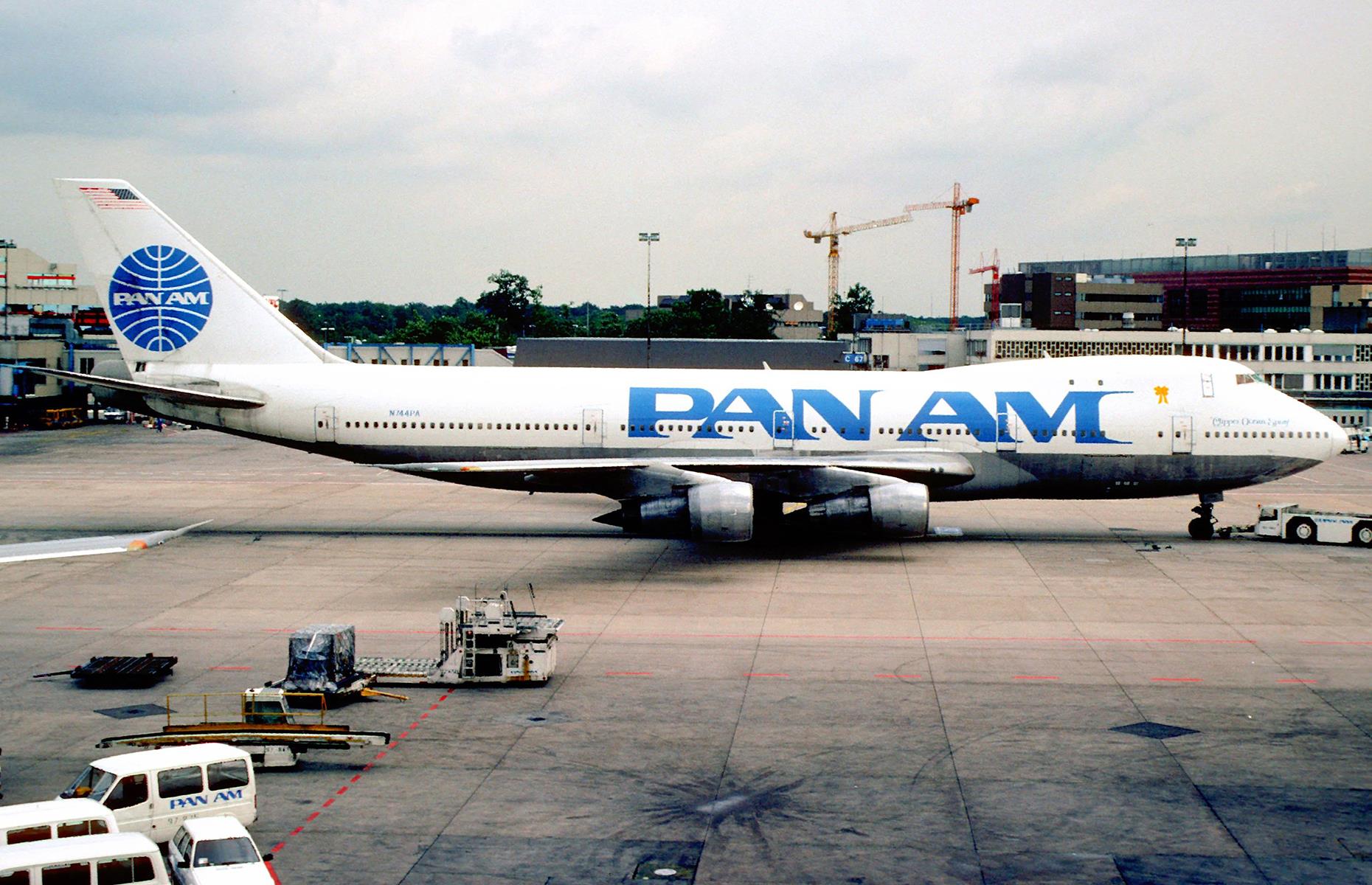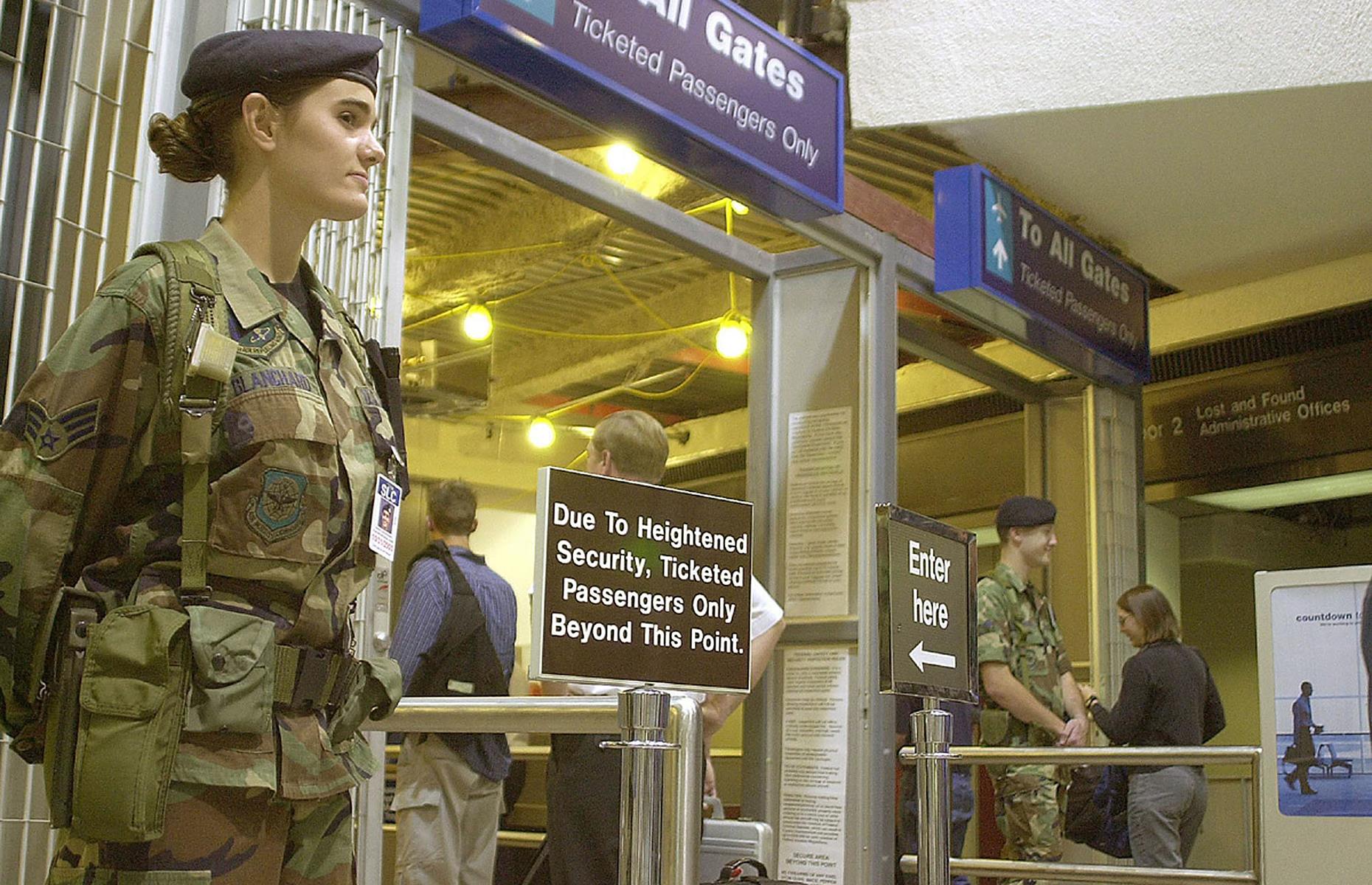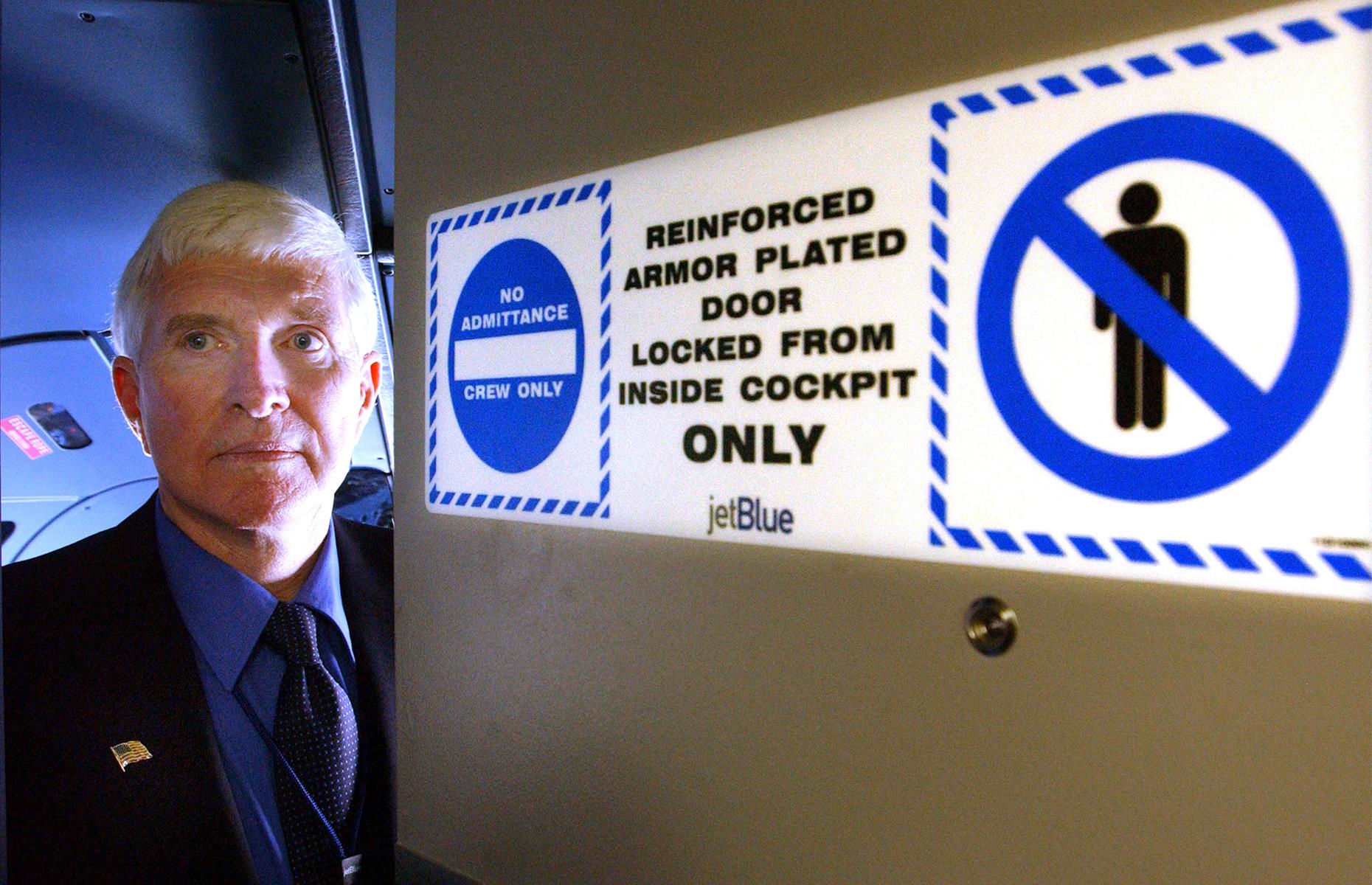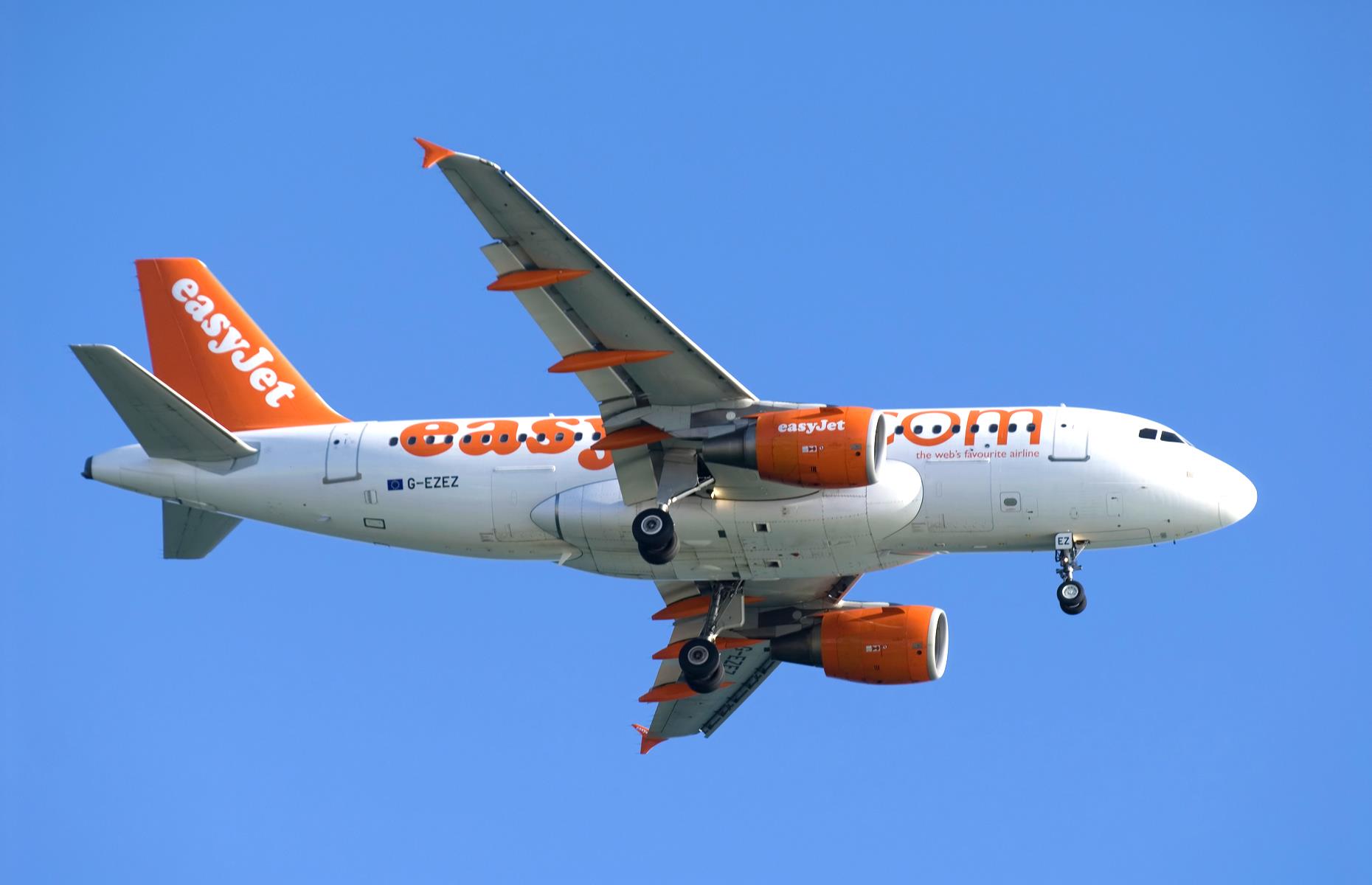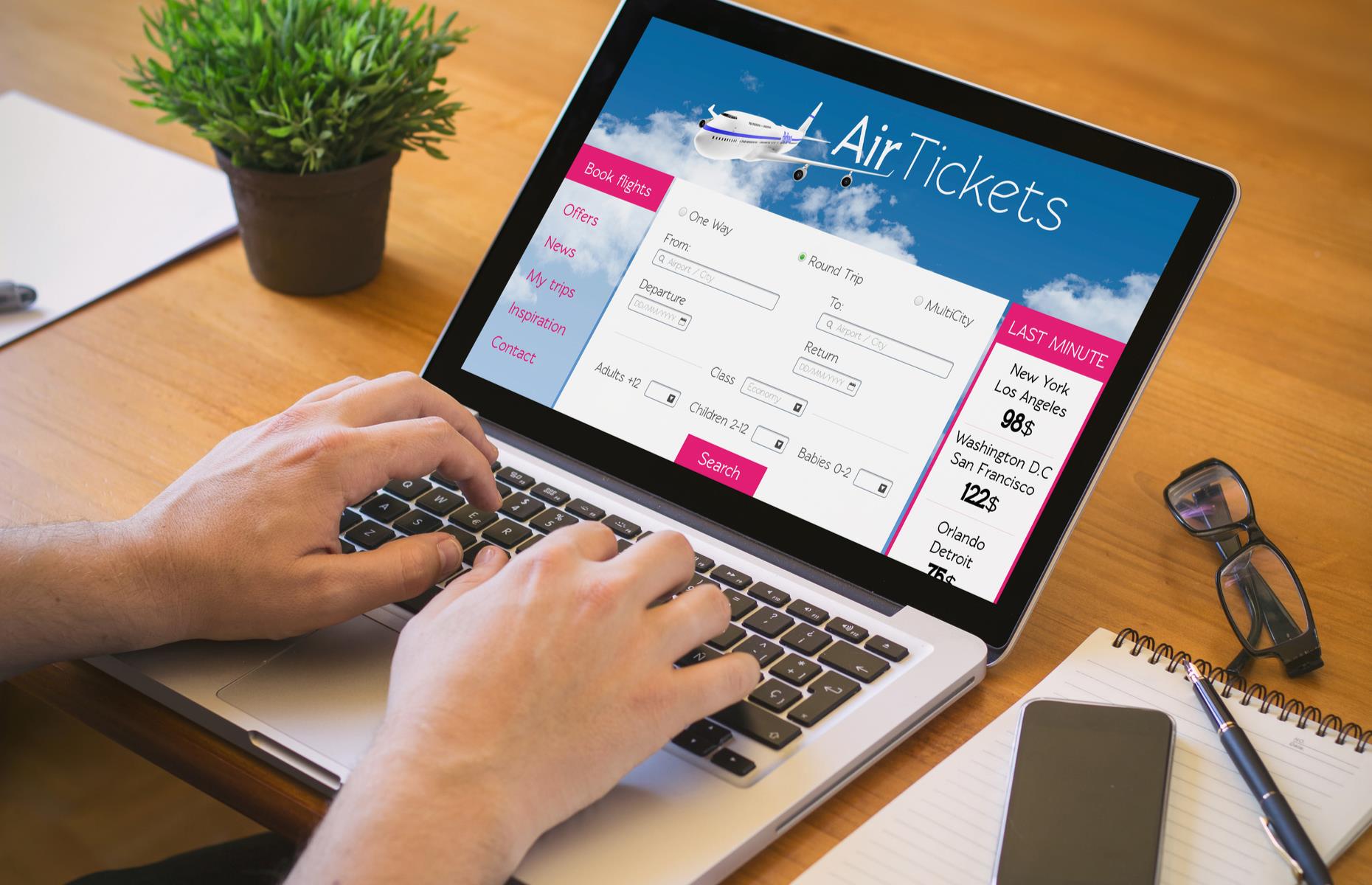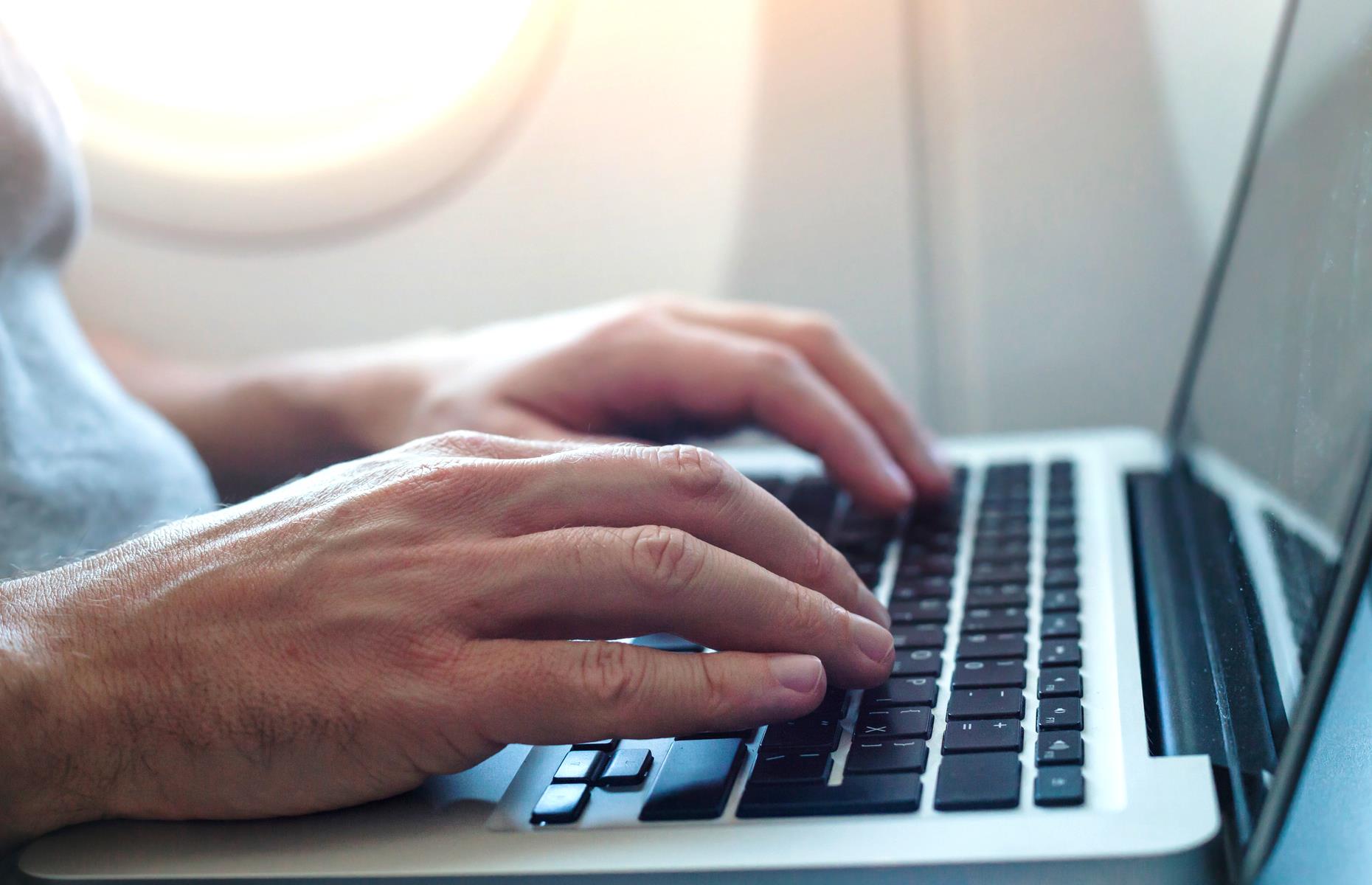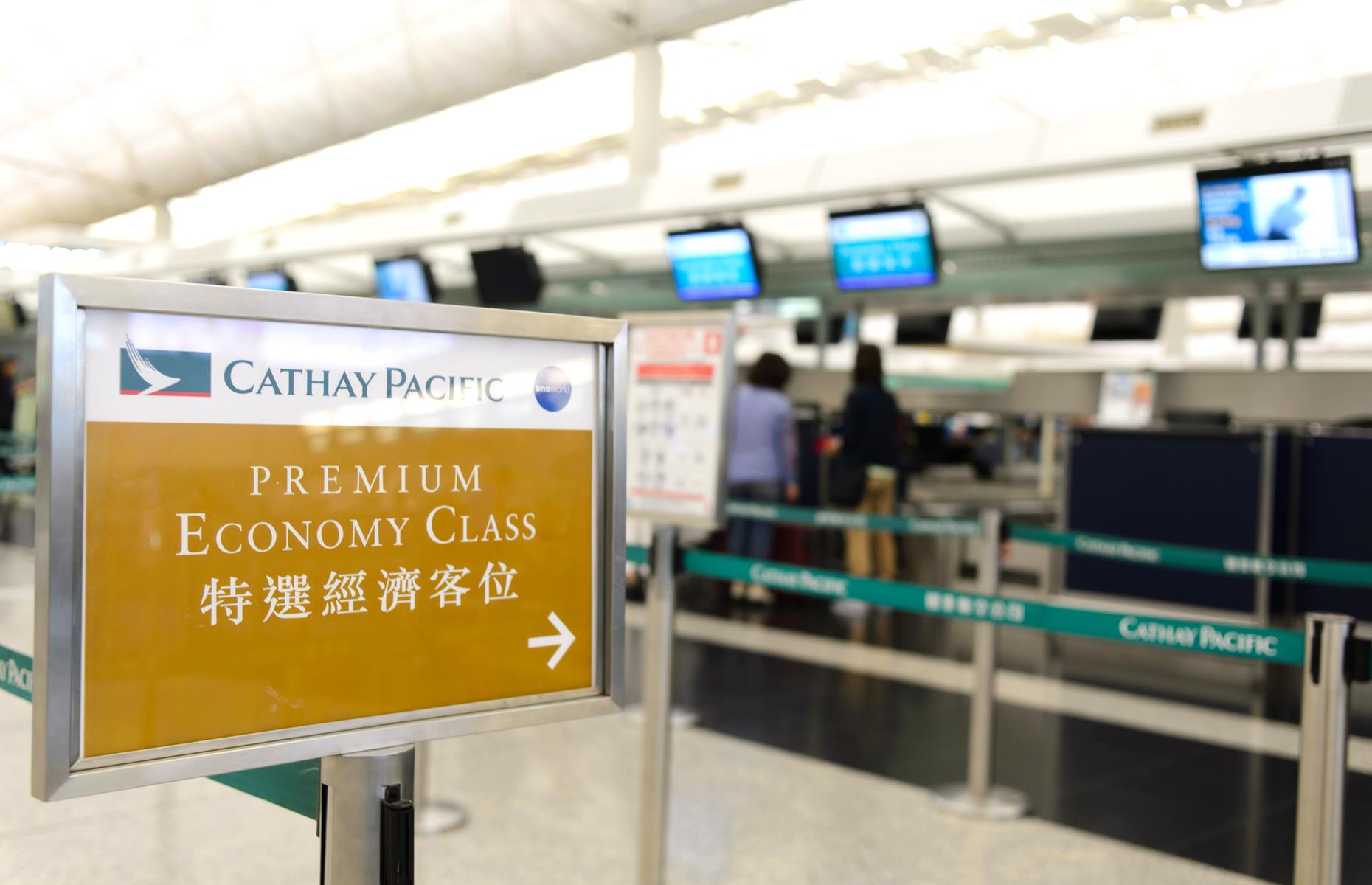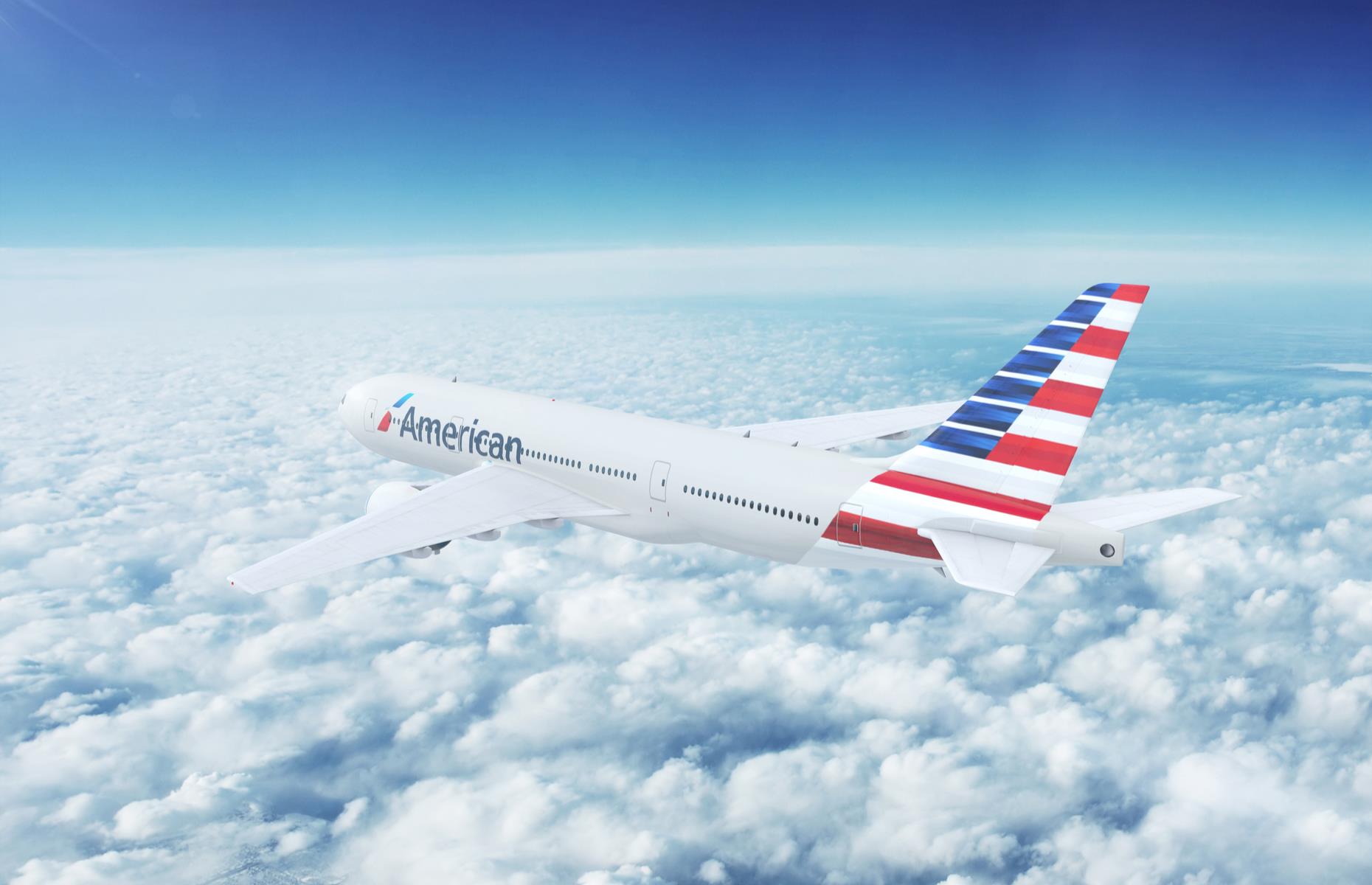 Flying through the ages
1920s: Passengers wait to board a plane in 1929
The story of commercial air travel begins before the 1920s, in 1914, when the world's first scheduled passenger service set off between Tampa and St Petersburg, piloted by Tony Jannus. Though commercial aviation did not take off quickly, through the 1920s more and more airlines and aviation companies tried to build on this milestone with varying degrees of success. Here, passengers wait at Croydon Airport, UK to board a Handley Page W.9 aircraft, a model used by early airlines Imperial Airways and Sabena.
1920s: a Western Air Express airliner in 1928
1920s: Lady Heath pilots a plane for KLM Royal Dutch Air Lines
1920s: passengers are served drinks on a French Air Union plane in 1929
1920s: an early in-flight movie in 1925
In-flight entertainment systems looked rather different too. Today airplane entertainment is a solitary affair, but in the early days of flight passengers would gather around a single screen if they wanted to catch a movie. One of the earliest films to be shown up high was Sir Arthur Conan Doyle's The Lost World in 1925 with Imperial Airways. Here, passengers on a German airliner also enjoy a movie in the year 1925.
1930s: a woman hands over an airmail parcel to Western Air Express staff c.1930
The early 1930s continued in a similar fashion to the 1920s, with airlines offering airmail delivery services and also carrying passengers. Flying was still extremely expensive and fairly uncomfortable but, according to the Smithsonian National Air and Space Museum, the number of airline passengers grew from 6,000 in 1930 to 450,000 in 1934. Here, a woman passes on her mail to the crew of a Fokker F.10 monoplane operated by Western Air Express.
1930s: Passengers listen to a broadcast aboard a flight in 1931
1930s: a Qantas plane and the first Anglo-Australian airliner in 1934
1930s: Eastern Air Lines stewards in the 1930s
In the 1920s and into early 1930s, the role of flight attendant was one mostly reserved for men, who were usually referred to as "cabin boys". This was soon flipped on its head, though. The first female flight attendant, a nurse named Ellen Church, was employed in 1930 and by the middle of the decade most of these jobs went to women. The women were often also trained nurses and there were strict rules as to their age, height and weight. Before this change, this photo shows an all-male team of air stewards posing before an Eastern Air Lines plane in the early 1930s.
1930s: an Imperial Airways cabin in 1935
1930s: passengers wait to board an Air France Douglas DC-3 aircraft
One 1930s invention would seriously revolutionize commercial air travel. The Douglas DC-3 had its first flight in 1935 and raised the bar when it came to commercial airliners. It was larger, faster and more comfortable than any model that had preceded it and it was soon snapped up by industry heavyweights such as Delta, TWA, American and United. An Air France Douglas DC-3 aircraft is pictured here later in 1946.
1930s: Pan American Airways flies across the Atlantic in 1939
1940s: Pan American World Airways' 'Flying Cloud' clipper
The onset of the Second World War meant developments in commercial aviation were put on the back burner, and all resources were plunged into the war effort. However, by the end of the decade, the industry was recovering, especially since the war had given rise to new runways and military aircraft were able to be converted and put to commercial use. This 1949 shot shows Pan Am's 'Flying Cloud' clipper, the first of a group of planes to begin a service between New York and London in the 1940s.
1940s: passengers aboard a Pan Am Boeing 307 aircraft circa 1945
1940s: poster advertising TWA
1950s: crowds wave off the world's first jet airliner service
1950s: a passenger enjoying lunch on the world's first commercial jet airliner service
1950s: a test flight for the Boeing 707 jet airliner with Pan Am
1950s: the Queen arrives in Bermuda on a BOAC flight in 1953
1950s: an air hostess attends to passengers on a National Airways Corporation flight in 1959
1950s: a movie projector on a United Airlines flight c.1950
1960s: lunch service on a Lufthansa flight in 1967
The golden age of travel reigned on through the 1960s and, partly since there wasn't much else to do, dinner was a grand affair. Menus often included multiple courses, bread baskets and dishes such as steak or even lobster. In this 1967 snap, passengers are being served onboard a Lufthansa flight.
1960s: dinner aboard an SAS aircraft in 1969
1960s: The Beatles arrive in London on a Pan Am flight in 1964
1960s: flight attendants line up before a model of Concorde in the 1960s
1970s: the first Concorde flight from London Heathrow to Bahrain in 1976
1970s: the Queen on a Concorde aircraft in 1977
Concorde got the royal seal of approval (the Queen is pictured onboard a Concorde aircraft in 1977), with its ability to cross the Atlantic in just 3.5 hours. But only a privileged few could afford to ride aboard the Concorde and it ultimately didn't shake up commercial air travel in the way it had been hoped. Canceled routes, economic setbacks and a devastating crash meant the Concorde was out of service by 2003.
1970s: Laker Airways founder Freddie Laker celebrates the airline's success
1970s: Laker and passengers aboard Laker Airways' Skytrain
Laker Airways' Skytrain offered a lower fare service between London Gatwick and New York's JFK, which began on September 26, 1977. Like many budget airlines today, the "no frills" service meant passengers had to purchase meals onboard and weren't subject to the usual luxuries of air travel in the era. Laker also came up with ways to reduce fuel consumption and engine wear to enable the lower costs. He's pictured here celebrating with passengers aboard the Skytrain in 1979.
1970s: the first scheduled Pan Am Boeing 747 flight
1970s: passengers in the cabin of a Boeing 747
1970s: passengers are served Champagne on a Pan Am 747 flight
1970s: lunch is served aboard a Boeing 747
1970s: a lounge on an SAS Boeing 747-B Huge Viking
1980s: Laker celebrates further fare cuts in 1980
1980s: passengers are stranded as Laker Airways collapses in 1982
Laker Airways collapsed in 1982, with debts amounting to $340 million (£270m). More than 6,000 passengers were left stranded in airports around the world. Here, exasperated travelers and dismayed Laker staff feel the brunt of the collapse on February 5, 1982.
1980s: a Ryanair aircraft in 1988
1980s: Richard Branson celebrates the launch of his new airline, Virgin Atlantic Airways in 1984
1980s: a flight attendant serves dinner on an SAS flight c.1980s
1980s: ashtrays on a commercial flight
1990s: easyJet boss Stelios Haji-Ioannou in 1995
1990s: Ryanair's chief executive promotes low-fare flights
The introduction of Ryanair and easyJet (and also Norwegian in 1993) meant pressure was put on traditional carriers, fares were pushed down and air travel became increasingly accessible. As travelers also began booking holidays online, competitive pricing became more important than ever.
1990s: a Pan Am aircraft in 1991
2000s: security at Salt Lake City International Airport in 2001
2000s: the door to an aircraft cockpit in 2001
2000s: an easyJet aircraft flying in 2009
Travelers eschewed air travel in the years following 9/11 and, according to the Bureau of Transportation Statistics, it took until 2004 for air passenger numbers to reach their pre-9/11 peak. Commercial air travel was recovering by the end of the decade, though, with US air passengers numbering 769.6 million in 2007 – a record high. During this time, it was low-cost carriers that saw the most growth.
2000s: a traveler books flights online
Another significant change during this decade was the way travelers were choosing to book their flights. According to PhoCusWright, a tourism research company, 2009 was the first year that more than half of all travel-related bookings were made online. This placed even more pressure on airlines to be competitive and offer the best value for money.
2010s: a man works on his laptop during a flight
The internet hasn't just infiltrated the booking process. Nowadays it's commonplace for carriers to offer in-flight Wi-Fi, either as part of the package, or for an extra premium. In a major shift from the golden age of travel, this means that flying today is no longer just about pleasure and relaxation – it's also about catching up with work and keeping in touch with people on the ground. Online check-in and smartphone boarding passes have also revolutionized the airport experience.
2010s: a sign for premium economy class in Hong Kong International Airport
Another relatively modern phenomenon is premium economy class, which offers a slightly more elevated experience than regular economy, but without the luxury and sky-high prices of business class. Though the concept was invented before the 2010s, it's in this decade that premium economy has really taken off with more and more airlines offering passengers this option. The usual perks include more legroom, wider seats and extra baggage allowance.
2010s: an American Airlines flight in 2017
The main change in this decade is the sheer volume of travelers: more and more people are flying than ever before, and the sky-high numbers show no sign of tailing off. It's thought that, this summer alone, US airlines will transport a record 257.4 million passengers. The International Air Transport Association has also projected that there could be 7.2 billion air travel passengers by 2035.
Source: Read Full Article