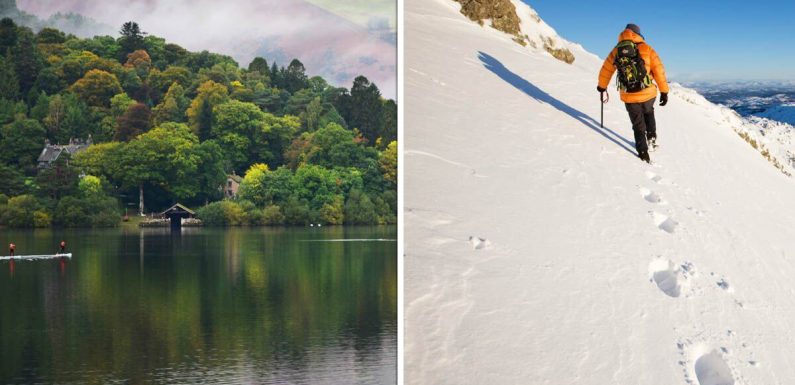 Travel expert Simon Calder discusses airline cancellations
We use your sign-up to provide content in ways you've consented to and to improve our understanding of you. This may include adverts from us and 3rd parties based on our understanding. You can unsubscribe at any time. More info
New research from Holidu found the most dangerous natural wonders around the world. It looked at the average number of deaths and incidents per year compared to the number of visitors.
Although Ben Nevis is the most dangerous natural wonder in the UK, the Lake District is England's most dangerous spot.
It was ranked as the 11th most dangerous attraction in the world with an average of 17 deaths per year.
The national park is an extremely popular staycation spot with almost 16 million people visiting each year.
It is home to England's deepest lake and Britain's highest war memorial as well as the birthplace of sticky toffee pudding.
The Lake District has many incredible hiking, boating, cycling and mountaineering opportunities.
However, it can be dangerous in certain conditions and tourists are advised to take precautions when they visit.
According to the Lake District Mountain Rescue team's statistics, the number of incidents peaked in 2018 at 656.
Incidents include tourists stuck in snow, mountain falls, missing and lost walkers and paddle boarders caught in windy conditions.
The team advises tourists to ask themselves three questions before setting out on a trip in the Lake District.
Visitors should question whether they have the right gear, the weather conditions and whether they have the knowledge and skills for the trip.
Tourists are also advised to charge their phone and enable location services before setting out.
The app what3words can identify a tourist's location to a three metre square which is very helpful for emergency services.
When it comes to the water, the Lake District website states: "Heading out on a boat is the perfect way to explore the larger lakes, but before heading out, make sure you know the basics in water safety.
"During the warmer weather, blue green algae may occur on some waters. While this occurs naturally, it can be toxic and lethal to animals."
It also advises tourists to check weather conditions with the Fell Top Assessors who tweet updates on @LakesWeather.
Accommodation providers should also be able to advise tourists on the best routes and trails while there is also a lot of information available online.
England's largest lake, Windermere, is one of the national park's top tourist destinations and tourists can enjoy stunning views of the landscape there.
Tourists should also pay a visit to the bustling village of Ambleside or take a trip to Keswick for a local lunch.
Coniston Water is the district's third longest lake and one of the best places to try out kayaking or paddleboarding.
There are many guided tours on offer for beginners as well as equipment available for tourists to hire.
Source: Read Full Article