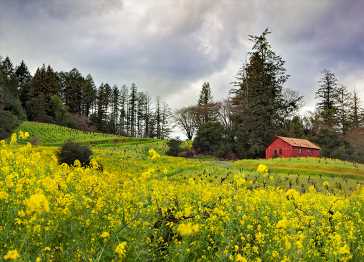 While the big three of Los Angeles, San Diego and San Francisco get all the glory out west, California is loaded with small town, quirky charm up and down the diverse 1,264-mile coast. And hey, now that so many of us are no longer commuting to work, these towns are becoming more desirable for full-time living and not just a weekend jaunt.
From towns that will evoke a Gold Rush era feeling to seaside cliffs boasting world-class golf to a dessert oasis (and even a small-town nestled on an island that's accessible only by boat or helicopter), you can have it all in the Golden State. Here are the most charming small towns in California.
Editor's note: Please remember to mask up and follow social distancing protocols while traveling and be sure to check up on the state's health and safety guidelines before you go.
RELATED: The 9 Most Romantic Hotels near Los Angeles for a Weekend Getaway

© Diane Miller/Getty Images


Image credit: Diane Miller/Getty Images
1. Healdsburg, CA
Napa Valley is a must for wine lovers but don't skip neighboring Sonoma County near the roaring Russian River. Your starting point should be Healdsburg and the charming town square. You will be spoilt for choice with tasting rooms and cute shops selling everything from kitchen gadgets to clothing. Adding even more excitement to this rolling hill pocket of the wine country, the Montage recently opened a 258-acre resort here, where visitors can enjoy private tasting tours to Aperture Cellars winery, the zero-edge pool overlooking the vines or simply lounging in the massive spa adjacent to a Zen yoga garden.
Airbnbs to stay at:
Gracianna winery loft: 2 guests
Wine country cottage: 4 guests
Hazel's hideaway: 6 guests

© Visit California


Image credit: Visit California
2.Carmel-by-the-Sea, CA
This quaint seaside village just outside of Monterey (where they filmed Big Little Lies), is known for nearby Pebble Beach word-class golf links overlooking the scenic hike around the peninsula, and its longtime famous resident, Clint Eastwood. While you can meander through the cobblestone side streets of the main town for hours on end, there is a dog and surfer-friendly stunning beach with ethereal Cyprus trees for a sunset picnic at the end of an active afternoon. Grab provisions from Bruno's market and deli such as the tri-tip sandwich to really make your day.
Airbnbs to stay at:
Romantic wine country tree house: 2 guests
Monterey on the beach: 4 guests
Golfer's paradise: 10 guests

© Justin Bartels / EyeEm/Getty Images


Image credit: Justin Bartels / EyeEm/Getty Images
3.Three Rivers, CA
For a rugged adventure up north amid the awe-inspiring giant redwoods near the Sierra Nevada foothills, Sequoia and Kings Canyon National Park in Three Rivers is your spot. Great for a family adventure of whitewater rafting, cave exploration and waterfall hikes, the rustic downtown area offers big-city excitement too—and potential for living out your Virgin River fantasy. Three Rivers Brewing has a lovely patio for sipping a flight of suds surrounded by nature, Reimers Candies is the place for old-school local sweets, and you can shop for handmade crafts at Gathered in Three Rivers or Totem Market & Gift.
Airbnbs to stay at:
Hillside home: 2 guests
Sequoia chalet: 4 guests
Main house near Sequoia park: 6 guests

© Visit California Mason Trinca


Image credit: Visit California Mason Trinca
4.Cambria, CA
In the shadow of Hearst Castle, this is a low-key, small beach town that's ideal for a 'get away from it all' break. Once you have breathed in that salty air and rejuvenated, the Paso Robles wine country is less than 30 miles away. Or if you want to stay put, try to spot the 20,000 seals at Elephant Seal Rookery or view the art of plein air painters at The Vault Gallery with contemporary works from Billy Zane, then have fun hunting for treasures at Rich Man Poor Man, Antiques on Main or Home Arts. For dinner along Moonstone Beach, check out the Sea Chest Restaurant & Oyster Bar and stay at White Water which opened last year.
Airbnbs to stay at:
Ocean front getaway: 2 guests
Cute Cambria cottage: 4 guests
Ocean view Cambria home: 6 guests

© Solvang USA


Image credit: Solvang USA
5.Solvang, CA
Gallery: The 15 Most Charming Small Towns in Colorado We Might Just Move to (PureWow)
1. VAIL, COLORADO
In addition to being a skier's dream, the Vail Valley looks like an actual snow globe come to life. Nestled at the foot of sweeping mountains, Vail Village is steeped in European Alpine charms and is home to amazing bars, restaurants and shopping. For boots with the fur, our favorite fuzzy place in town to lay down some serious cash is Gorsuch, a ski meets fashion and home wonderland.
Airbnbs to book:
A-Frame Cabin: 4 guestsMountain View Condo: 6 guestsSki In/Sky Out Chalet: 6 guests
2. TELLURIDE, COLORADO
Yes, there's quite a popular Kia SUV named after this town, and for good reason. For one, Telluride is renowned for its world-class ski slopes, hiking and golf courses. Once you're done with aforementioned physical activities, you won't be let down by the Victorian-era mining village though, which is bustling with shops and popular places to pick up a slice and chill out with a beer, like Brown Dog Pizza and High Pie Pizzeria & Tap Room.
Airbnbs to book:Bright and Cozy Boutique Apartment: 3 guests
Ski and Soak Alpine Escape: 6 guestsMountainside Log Cabin: 8 guests
3. ASPEN, COLORADO
Already a world-renowned destination that's favored by the jetsetter crowd, you too can enjoy the best views of the Rocky Mountains in Colorado from the comfort of your soon-to-be favorite town. Aspen is jam-packed with delicious restaurants, bars, nightlife, museums and high-end shopping, not to mention four distinct and wonderful ski areas—Aspen Mountain, Aspen Highlands, Aspen Snowmass, and family friendly Buttermilk.
Airbnbs to book:
Riverfront Downton Condo: 2 guestsLuxury Condo on Main St.: 4 guestsChateau Eau Claire: 6 guests
4. GRAND LAKE, COLORADO
This resort town packed with cabins and summer homes surrounds the largest natural lake in Colorado and nestled against Rocky Mountain National Park and Estes Park. It's the perfect town for snowshoeing and cross-country skiing in the winter, and hiking or camping in the summer. An Insta-worthy lakefront setting and historic boardwalk boasting art galleries, shops and restaurants make it a gem for any Colorado-bound visitor.
Airbnbs to book:Cozy Little Guest House: 2 guests Cabin with Hot Tub: 3 guestsThe Ranch: 6 guests
5. OURAY, COLORADO
Ouray is nicknamed the Switzerland of America, and with sweeping, panoramic views of the San Juan Mountains, we can attest that it's as close as you'll get to that high mountain Alps feel without boarding a jumbo jet. Situated in a stunning river valley and sitting at nearly 8,000-feet in elevation, amongst its many handsome brick-faced buildings, there's a local brewery, waterfall park, ice park, and popular mine tour nearby to keep you busy.
Airbnbs to book:Downton Townhouse: 2 guestsRustic Riverfront (Pet-Friendly) Cabin: 4 guestsMountain Rustic Chalet: 4 guests
6. STEAMBOAT SPRINGS, COLORADO
Located in the Yampa Valley of northern Colorado, travelers can visit the Howelsen Hill and Steamboat ski resorts. Steamboat offers six peaks, including the iconic Mount Werner. Another amazing aspect of this town is that it's home to a geothermal hot spring that offers swimming, soaking pools and even water slides. Go'head, unleash your inner child and get involved.
Airbnbs to book:Modern Ski Condo: 2 guestsModern Mountainside Chalet: 4 guests Entire Cozy House: 6 guests
7. DURANGO, COLORADO
This town that roughly 18,000 people call home is located in southwest Colorado and is surrounded by some of the state's most dramatic and diverse landscapes. It offers the sandstone bluffs of the Animas River Valley, as well as the jagged, dramatic peaks of the San Juan Mountains. But maybe most notable are Durango's unique shops—where you'll find everything from cowboy boots to antler chandeliers to luxe beauty products and fine home furnishings. There's a divine restaurant scene and a standout local art scene here, too. Another major draw: The Durango and Silverton Narrow Gauge Railroad—which in wintertime looks straight out of a scene of The Polar Express.
Airbnbs to book:Lake View Apartment (with Hot Tub): 3 guestsEntire Downtown House: 5 guestsDreamy Valley House: 10 guests
8. PAONIA, COLORADO
Paonia is named after the vast array of peonies that are grown in the area. The area features a lush landscape that produces fruits, vegetables and flowers, as well as an abundance of outdoor activities. Refinery is a popular store for what they describe as "upscale resale clothing for women and men" as well as gifts and other handmade items. There's also an adorable wine-meets-art gallery in town that boasts incredible views and a more incredible Riesling.
Airbnbs to book:
Off-the-Grid School Bus Tiny House: 2 guestsMountain View Apartment on a Working Farm: 2 guestsStone Cottage Vineyard and Wine Getaway: 4 guests
9. PAGOSA SPRINGS, COLORADO
Pagosa Springs is also home to beautiful hot springs where you're just as likely to find true relaxation as you are entertainment. With a small-town feel, this southwestern Colorado town will dazzle you with shopping and dining options in and around town. These include the Alley House Grill (serving American fare), Thai Pagosa, The Lost Cajun, and an experience you cannot miss, Sage Mobile Eatery—where comfort foods are served out of a trailer and you can socially distance at the outdoor picnic tables.
Airbnbs to book:Historic Downtown Guest House: 3 guests
Chic Condo with Views: 4 guestsThe Ridge Entire Modern Cabin: 5 guests
10. GLENWOOD SPRINGS, COLORADO
Glenwood Springs is known as Colorado's land of water and sits between the Colorado and Roaring Fork rivers. If bubbling hot water is your thing, you'll want to check out the area's few different hot springs, but you could also get involved in snow sports or Gold Medal fishing, and an array of other outdoor activities. The downtown has outdoor dining areas, key in these times, plus independently owned bookstores, boutiques, and thrift shops, but most importantly, the town website lists that there are several shops for those with a sweet tooth.
Airbnbs to book:Roaring River Fork Getaway: 2 guestsQuaint Downtown Guest House: 3 guestsCasa Del Sol Entire Guest House: 4 guests
11. LOVELAND, COLORADO
If you're looking for a romantic getaway, Loveland, which is near Fort Collins, is known as the Sweetheart City. It's become famous for its love stamp program, which re-stamps and sends out envelopes from around the world from the city of Loveland. The town's proximity to Denver makes it an obvious stop for those traveling through, and when they do, they'll find primo public art and sculptures at Chapungu Park that will make them glad they did.
Airbnbs to book:Cozy Downton Cottage: 2 guestsCharming Studio: 2 guestsEntire Loveland House: 8 guests
12. PALISADE, COLORADO
What's not to like about Palisade, the wine country of Colorado? Sitting in the heart of Grand Valley, the town of Palisade offers acres of vineyards, stunning lavender fields and breathtaking orchards. One place that sticks out in this fantasyland is Anita's Pantry & Produce, a farm stand that sells one-of-a-kind jams, jellies, salsa, syrups, fruits and veggies and more. In this town of almost 3,000 citizens, you can also have a top tier meal at Pêche, enjoy one of the state's top craft distilleries (Peach Street Distillers) or get involved with a wine flight at Colterris Winery.
Airbnbs to book:Artsy Bungalow: 4 guestsHiking Cottage with Incredible Views: 4 guests
Galloway Ranch Entire House: 4 guests
13. CRESTED BUTTE, COLORADO
Crested Butte is known as the wildflower capital of Colorado, and it draws just as many explorers in the summer for its mountain biking trails as it does in the winter for its sickening ski slopes. For breakfast, lunch, après ice cream—and some seriously out of this world, Cornish-style pasties—look no further than the adorable Tin Cup Pasty Co & Double Top, which is set in an updated miner's cabin.
Airbnbs to book:Cozy Guest Cottage Studio: 2 guestsEntire Townhouse: 2 guestsMountain Getaway Condo: 6 guests
14. CRESTONE, COLORADO
Crestone is perhaps one of the more unique, special towns you'll ever visit (with some of the most equally unique spots to stay at). It's tiny, but it attracts lots of artists, outdoor-lovers and even those seeking a religious experience in its secret town called Shangri-La. For an intro experience that's more spiritual than religious, simply climb to the top of Crestone Ziggurat. Or, get an otherworldly experience at the UFO Watchtower. It's the kind of Americana kitsch you've been dreaming of.
Airbnbs to book:Delightful Cozy Dome House: 2 guestsLuxury Cabin with Breathtaking Views: 8 guestsThe Mothership Dome: 9 guests
15. LEADVILLE, COLORADO
Leadville sits at 10,152-feet, which makes it the highest incorporated city in North America. It sits in between Mount Elbert and Mount Massive and offers an array of outdoor activities and scenic views. What can only be described as a lawless mining town turned tourism hot spot, one of Leadville's most attractive reasons to visit is the Leadville Railroad, which offers scenic Rocky Mountain rides that let you bask open air both in sunlight and Colorado's natural splendor. This year, the train will open up for Memorial Day weekend with limited capacity and social distancing enforced.
Airbnbs to book:Smoky Mountain Suite with Hot Tub & Sauna: 2 guestsCozy Yurt Near Skiing & Hiking Trails: 4 guestsStrawberry Fields Chalet: 6 guests
RELATED: 13 Charming Small Towns in Pennsylvania You Might Just Want to Move to
You may not be able to make it over to Scandinavia anytime soon, but this Danish-inspired town in the Central Region of the state just might satiate your urge for authentic pastry and cheese from Denmark, along with windmill sightings. It's also the place to stock up on hand-made Christmas ornaments and gingerbread houses (if that's your thing). While Solvang is a perfect pit-stop around the holidays, it also boasts a robust year-round biking scene, museums and missions to tour, but no trip to the region is complete without a visit to the Alisal Guest Ranch for horseback riding and gourmet BBQ cookouts with celebrity chefs.
Airbnbs to stay at:
Getaway cabin: 2 guests
Lounge modern: 4 guests
Scandinavian getaway: 6 guests

© Craft and Cluster courtesy of Visit the Santa Ynez Valley


Image credit: Craft and Cluster courtesy of Visit the Santa Ynez Valley
6.Los Alamos, CA
Santa Barbara takes all the wine country and gastronomic glory in this area on the border of Southern and Central California, but don't overlook the Old West agricultural community of Los Alamos where both Kurt Russel and Emilio Esteves have tasting rooms for their vino. Dine on the patio at Bell's for French bistro fare or hit Bob's Well Bread Bakery and Full of Life Flatbread for serious carb-loading. The city also is home to a renovated trendy motel, Skyview Los Alamos, that has been drawing a hip-artsy crowd from Los Angeles on weekends.
Airbnbs to stay at:
Getaway cabin: 2 guests
Private guest house: 4 guests
Den street cottage: 6 guests

© Visit California


Image credit: Visit California
7. Ojai, CA
Known as a spiritual artist haven where the late avant-garde potter Beatrice Wood called home, the cozy craftsmen and cottage architecture of the town still retains an eclectic mix of creative galleries including Porch Gallery (who also makes Beato chocolates as a nod to Wood.) The laid-back area is also perfect for hot springs, Meditation Mount or hiking trails amid the pixie tangerine groves. Farm to fork cafes, such as the Farmer and the Cook or Tipple & Ramble wine bar and shop with vintage finds are staples. Ojai is also a great place for one-of-a-kind jewelry designs using rare gemstones which can be found at Susan Cummings. Oh, and be sure to pop into Bart's Books to peruse the largest outdoor bookstore in the world.
Airbnbs to stay at:
Meiner's daughter: 2 guests
Room to roam: 4 guests
Santa Paula cottage: 6 guests
https://www.instagram.com/p/CD4dUEkhv0-/
A post shared by Idyllwild California (@idyllwildcalifornia)
Heading towards the tall mountain pines and San Jacinto Wilderness area, more hiking can be found in Idyllwild at Deer Springs Trail, along with another robust arts community. The area's granite outcrops helped turn this region into a top spot for rock climbing decades ago and the famous Idyllwild Arts Academy (founded by Beatrice and Max Krone) helps to fill the town with local as well as nationally renowned artists and craftspeople. You will not spot any chains here but rather one-of-a-kind places like Mountain Pottery where you can take a ceramic or painting class before hitting The Red Kettle for Polish sausage or a breakfast burrito. Ahh, don't forget to breath in that fresh mountain air.
Airbnbs to stay at:
A-frame cottage: 4 guests
Cabin in the clouds: 2 guests
Be idle or be wild cottage: 6 guests

© Ryan Killackey


Image credit: Ryan Killackey
9. Temecula, CA
California is loaded with wine country regions but this one in particular has come a long way in the past decade and there's no better way to view the bounty of the area than from above on a hot air balloon ride. The charming town features sweet lavender and soap shops along with olive oil and spices all produced at local farms and vineyards. Up the road near the 30 wineries, Europa Village is a one-stop-shop for Gallic ambiance and boutiques. Spanish flair can be found on the patio of Bolero, where you can order large pans of mouthwatering paella and tapas. Soon, Vienza—inspired by the Italian countryside—will open with more tasting rooms, restaurants and lodging options.
Airbnbs to stay at:
Apartment in Murietta: 2 guests
Coppergrove guest house: 4 guests
Farm stay: 6 guests

© Visit California


Image credit: Visit California
10. Pioneertown, CA
On your next spiritual escape for hiking and meditation to Joshua Tree National Park, turn down that dusty road off Route 88 to Pioneertown—an old-time hideaway in the San Bernardino Mountains where dozens of westerns have been filmed over the decades. The downtown area's faux-1880s façade houses shops such as MazAmar Art Pottery and the Pioneertown General Store, but you might say that Sir Paul McCartney really put this town on the map when he performed at BBQ joint Pappy & Harriet's. Past historical tales include Gene Autry playing poker until sunrise in Room #9 of the boutique-chic Pioneertown Motel.
Airbnbs to stay at:
Aberdeen arrow: 4 guests
Desert cabin: 2 guests
The nest in the Boulders: 6 guests

© Visit California Max Whittaker


Image credit: Visit California Max Whittaker
11. La Jolla, CA
One of the most upscale yet charming villages filled with galleries, shops and cafes along the Pacific Coast is located in San Diego County. The breathtaking seven miles of dramatic coastline is ideal for scenic walks, surfing in the cove and checking out the rugged terrain of Torrey Pines State Natural Reserve. La Jolla is also home to the Birch Aquarium at Scripps Institute of Oceanography, and one of the best snorkeling spots in the world La Jolla Underwater Park. Children's Pool Beach is where you can spot seals and sea lions and play in the tidepools.
Airbnbs to stay at:
Pacific beach apartment: 2 guests
West coast Oahana: 3 guests
La Jolla condo: 4 guests

© Visit California/Carol Highsmith


Image credit: Visit California/Carol Highsmith
12. Two Harbors, CA
Accessible by a one-hour boat ride or jet-setter helicopter journey, Catalina Island is usually associated with the port of Avalon, yet the tiny rustic town of Two Harbors on the west side is also reachable by high-speed boat. Here bison roam free along seaside the bluffs and ziplining is a favorite pastime. Rent gear from Two Harbors Dive Shop to kayak, stand-up paddleboard or scuba dive. Two Harbors General Store can sell you everything from camping gear to gourmet cheese, while Doug's Harbor Reef Restaurant is the place for burgers and brew on the outdoor patio. Spend the night at the craftsman-style Banning House Lodge or have Catalina Island Backcountry arrange for a romantic beachside picnic and camping along the shore.
Airbnbs to stay at:
Catalina condo: 2 guests
Glamping tent: 3 guests
The summer cottage: 4 guests
RELATED: THE 19 BEST HOTELS IN LOS ANGELES AT EVERY PRICE POINT
Want to discover more things to do in the L.A. area? Sign up to our newsletter here.
Source: Read Full Article