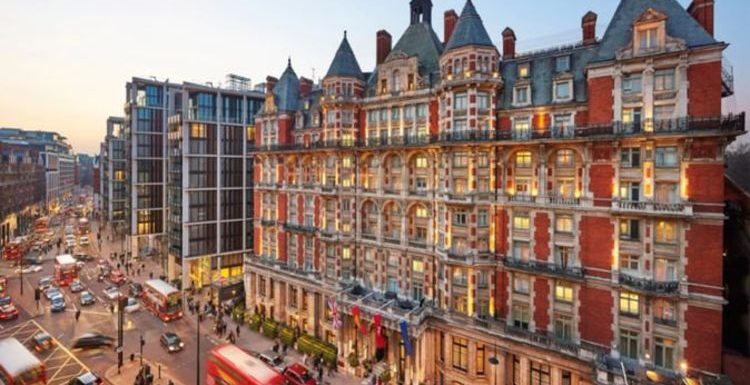 Lucy Alexander and Ruth Langsford enjoy luxury hotel lunch
We use your sign-up to provide content in ways you've consented to and to improve our understanding of you. This may include adverts from us and 3rd parties based on our understanding. You can unsubscribe at any time. More info
The Mandarin Oriental, in London, is one of the most luxurious hotels in the UK and the one that provides a most exclusive experience.
Guests at the Mandarin Oriental can pay up to £20,000 a night for staying in one of the luxury hotel suites.
The concierge explained that for that price, they have to be able to fulfill any of their guests' requests.
He revealed once they had to freeze liquid for a lady who had to take it on a flight from London to Boston. For that, he said, they had to use nitrogen.
Another guest requested an elephant for an Indian wedding they were having at Regent's Park.
He wanted a real elephant for his daughter to take pictures with it.
"And we made that possible," said the concierge.
The Mandarin Oriental welcomes a lot of VIP guests, and most of them belong to royal families.
In today's episode, they were expecting a middle east Princess, who arrived with 200 items of luggage.
The concierge and the rest of the staff had to stay until late at night to welcome the Princess, a sacrifice he explained they have to make to give the best first impression.
"It's not about the product. Any hotel can give you a really nice hotel room, it's the personal service that matters," he said.
However, he admitted they have a recurrent problem with royals: they never pay the bill.
"One of the main things I've learned from the royal family is that it takes them a very long time to pay the bill.
"Last year we had some royal guests and it took them nine months for them to pay.
"You need to meet with the person who takes care of that, who is in charge of the money," he explained.
Today, the concierge was getting concerned as the royal princess' bill looked like it was going to be a very large one: £200,000.
He tried to arrange the payment to be made today or at least 50 percent of it, with no success.
"I was trying to chase them the whole day and I was so close, but we didn't get anything."
So, the trick to get away with it and avoid paying a hotel bill for months and probably forever is to be part of any royal family.
The Mandarin Oriental in London is housed in a historic, Edwardian-style building. The hotel originally opened in 1908 as the Hyde Park Hotel and was converted into the Mandarin Oriental Hotel in 1996.
Over time, the hotel has been visited by several royals, including Queen Mary (wife of George V) and Edward VIII.
Source: Read Full Article