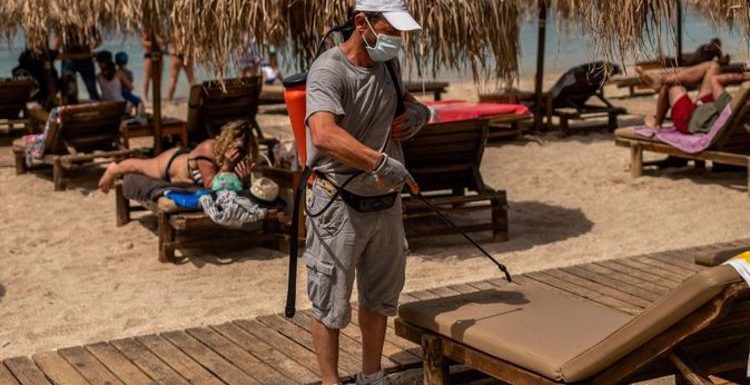 Grant Shapps says UK being 'cautious' over travel list
We use your sign-up to provide content in ways you've consented to and to improve our understanding of you. This may include adverts from us and 3rd parties based on our understanding. You can unsubscribe at any time. More info
Holidaymaking Britons now have a raft of new countries to choose from following the Government's latest amber list ruling. People can now travel to amber nations and return without having to follow Covid isolation rules. But they only apply to some people, who still have to follow the rules in their chosen destination.
Can you still travel to Greece?
People hoping to travel to Greece without observing quarantine will need both Covid vaccines first.
These provide the only exemption from the Government's travel-based Covid rules.
But they will need to take care while on Greek soil, as some islands have borne the brunt of a fourth infection wave.
The country is seeing an average of 2,667 cases per day, causing roughly nine deaths.
Although comparatively mild compared to other countries, such as the UK, concerns have emerged around some "party" islands.
Mykonos and Ios, both popular with younger tourists, have attracted considerable crowds.
Given infection rates have surged amongst people aged between 20 and 30, Greek officials have chosen to ramp up police presence.
Authorities fear non-family-oriented venues such as bars and pubs have not exercised enough diligence.
Speaking to the Guardian, Greek tourism minister Haris Theoharis said there was "more congestion than we would like to see" hosting younger tourists and locals.
Mr Theorharis added his department is attempting to ensure "some balance is kept".
Rather than place restrictions on people arriving on the islands, he has increased law enforcement presence.
DON'T MISS
British travellers no longer need Covid passports in Canary Islands – INSIGHT
Will Spain be added to amber watchlist? Holidays under threat – EXPLAINER
Brits urged to 'wear mask' and follow 'very strict protocol' – ANALYSIS
Mykonos has welcome 186 enforcers, an increase of 130 from last year when tourism was scarce.
And Ios, another tourist hotspot, saw another 30 police officers arrive with undercover agents and security officials.
Both islands are now under "orange" alert on Greece's risk-assessment system.
Concerns have also ramped up for six other islands, including Tinos, Zakynthos, Santorini, Rhodes, Paros and Lefkada.
Nikos Hardalias, Greek civil protection deputy minister, urged tourists and authorities to "pay close attention" to personal protection and venue operation rules.
He added the situation "calls for caution" and that it is "essential" people kept following the rules.
They won't prevent people from visiting Greece, but any islands that enter the "red" alert level will see visitors have their movements constrained.
The fourth and most restrictive category would introduce a curfew from 12am to 6am, van music and events, and introduce seat only service for bars and restaurants.
Source: Read Full Article