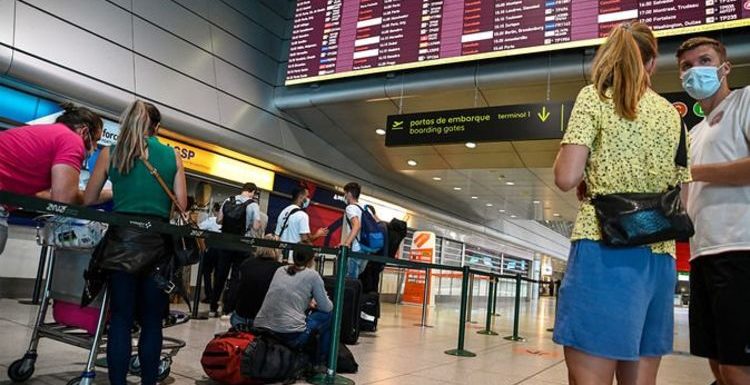 Rayner says removing quarantine travel measures 'reckless'
We use your sign-up to provide content in ways you've consented to and to improve our understanding of you. This may include adverts from us and 3rd parties based on our understanding. You can unsubscribe at any time. More info
Restriction-free holidays in the Mediterranean seem unlikely this summer as Greece has just imposed stricter rules on its islands and Italy has extended its mandatory quarantine for all UK arrivals.
Greece has decided to deploy extra police to its popular islands to ensure COVID-19 measures are followed.
Almost 200 officers have been sent to the islands, four times the usual number.
Greek deputy civil protection minister Nikos Hardalias said the islands are "one step" away from authorities imposing further restrictions.
This is because there are concerns over rising rates in the islands of Zakynthos, Tinos, Lefkada, Santorini, Paros and Rhodes.
What do you think? Join the debate in the comments section here

Earlier this week, and due to rising COVID-19 infections all but essential travel has been advised against for those visiting Greece, according to a warning from EU health body European Centre for Disease Prevention and Control.
13 islands are affected and have been marked as "dark red" on the European Centre for Disease Prevention and Control (ECDC) COVID-19 map.
Italy has also imposed tighter restrictions for UK visitors only, and has extended its quarantine rule for another month.
Travellers flying to Italy have to show a negative PCR test, quarantine for five days and take another test at the end of the self-isolation period.
This meant many travellers hoping to go on holidays in August have had to cancel again.
Julia Perowne, founder and CEO of travel PR firm Perowne International, said Italy's decision to extend their quarantine is "maddening and upsetting".
"I booked a holiday to Italy in July. We were forced to postpone it due to travel restrictions on both sides until August.
"The latest news is just another confusing wave of restrictions that make it simply impossible for us to travel.
"I have just had a baby, we are only going for three days for my 40th birthday to my favourite hotel on the Amalfi Coast," she explained.
"It's maddening and upsetting. Governments aren't talking and advice constantly contradicts both science and reason.
"My partner and I are both double jabbed.
"If we were staying in a villa or for longer, of course we would have continued with the trip and quarantined for the mandatory five days but unfortunately due to our circumstances, we have had to cancel," she said.
The FCDO advises against all but essential travel to Italy based on the current COVID-19 risk.
However, Italy is currently recognising the UK vaccination certificates, which makes it easier for Britons who complete de quarantine to access indoor spaces.
From August 6, proof of vaccination will be required to enter bars, restaurants, museums, cinemas, or any indoor venue in Italy.
Italy and Greece are on the UK's amber list meaning fully-vaccinated Britons don't have to quarantine on their return.
Source: Read Full Article