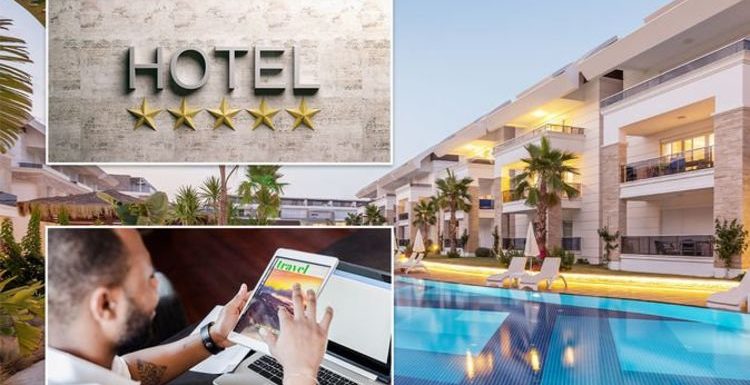 France: Simon Calder 'confident' of UK travel this summer
When you subscribe we will use the information you provide to send you these newsletters. Sometimes they'll include recommendations for other related newsletters or services we offer. Our Privacy Notice explains more about how we use your data, and your rights. You can unsubscribe at any time.
Hotel reviews have changed as the internet has evolved, with many guidebooks being pushed aside in favour of online reviewing platforms. Furthermore, in many parts of the world hotel review systems vary compared with the official ratings in place in the UK.
Travel journalist Simon Calder and former BBC producer Mick Webb for a new this week discussed how travellers can spot the ever-growing hotel review "scams" which often catch holidaymakers out.
Joined by Lonely Planet guidebook writer David Else, they identified how best to spot accurate reviews.
The prevalence of hotel scams is one that is particularly relevant when it comes to online "customer written" reviews.
This is largely because these often anonymous reviews are sometimes not really written by the general public at all.
Mr Else explained: "I think what we have got to look at is what is the source of that review.
"There will be reviews online which might be written online by somebody who may or may not have stayed in that hotel.
"I think it is not so much online but where has that review come from. That is how you think about the veracity of those reviews."
According to Mr Calder, there are some simple ways to distinguish who may have written an accommodation review.
DON'T MISS
Holiday news: 12 'green listed' countries Brits could visit in summer [COMMENT]
Holidays: PCR tests from £60 could be available in some situations [INSIGHT]
Holidays: Expert shares two tests needed for green countries [INTERVIEW]
This is true of hotels in the UK as well as those further afield.
"What I have heard about TripAdvisor reviews is that if a new property opens up the first review will be from the proprietor which will be very favourable.
"The second from the proprietor's spouse or partner, again very favourite.
"And the third from the hotel down the road and it will be extremely unfavourable."
What he suggests is weeding out some of the top and bottom reviews, to get an overall opinion of what the hotel is truly like.
"The standard process that I think many people adopt is you ignore the best five percent and ignore the worst five percent which probably are written by the property, his or her spouse and a rival hotel. You go for what is in the middle," he continued.
"I would always get to hotel reviews online after I've gone either to a guidebook or asking people for recommendations and really just going to the online reviews to get up to the minute things because you can find out what it was like last week for example."
However, it is not just online reviews that can fall victim to "scams".
"I would emphasise the point that just because it is online doesn't mean it is fake," said Mr Else.
"In many parts of the world where I have travelled the star system is decided upon by the property. He tells the signwriter 'after you've written the name of the hotel can you stick a few stars underneath it.'
"The star system on its own can often be meaningless.
"It may be down to the number of trouser presses, or my favourite is the 'stool in the bathroom', and various other sorts of practical considerations rather than how friendly the staff are, what the atmosphere of the place is like, that you can never entirely sum up in two, three or four stars."
Mr Else concluded: "Don't just automatically ignore [a review] because it happens to be on the internet and not on a printed page.
"It is much more about the source of the review and who has done the review."
Source: Read Full Article