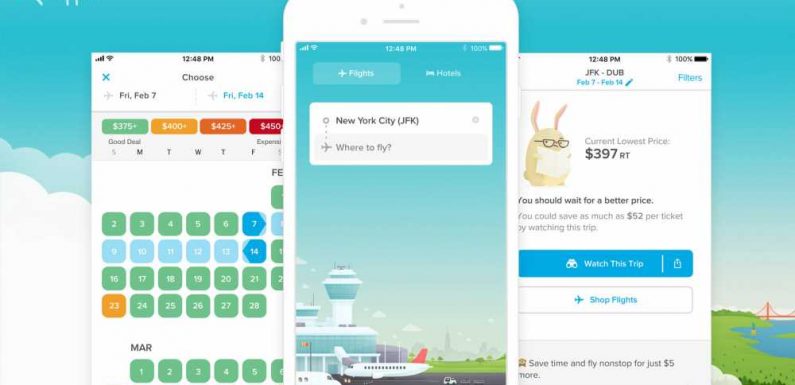 The booking app Hopper is adding a trio of price freeze and travel flexibility products to its slate of financial technology, or fintech, offerings.
The three — Price Freeze for Cars solution, new flexibility on hotel bookings and a Standalone Trip Protection product — are live for some users of the Hopper app. Rollout of the price freeze product will be completed this month. Final rollout of the other products will "closely follow," said spokeswoman Ellie Breslin.
The cost of each of the products will be priced dynamically, but Breslin said the cost to buy the price freeze and hotel products will average $30, while Standalone Trip Protection will average $25.
Price Freeze for Cars enables customers to freeze the price of a car rental for up to 21 days. If the price of the rental goes up before a final booking is made, Hopper will cover the difference up to $100. If the cost goes down, app users can book at the lower price.
For hotels, Hopper will offer a Cancel for Any Reason option and a Leave for Any Reason option. Cancel for Any Reason provides buyers with the option to cancel a hotel booking and receive a full refund up until check-in. With Leave for Any Reason, Hopper users who are dissatisfied with their lodging can pick another hotel of the same star category and have 100% of rebooking costs covered.
Standalone Trip Protection builds on Hopper's existing Flight Disruption Guarantee offering, which enables customers whose flights are canceled or delayed up to one hour, or who miss a connection, to rebook for free or receive a full refund.
Standalone Trip Protection is built for individuals who booked a trip directly with an airline or made their booking through a different OTA. The product provides an option to nevertheless purchase rebooking protection from Hopper, which will then cover the fees for flights that need to be rescheduled.
The solutions join Hopper's existing product suite, which includes prices freeze options for hotel and airline bookings, as well as Flight Disruption Guarantee. Hopper says that 60% of its customers currently purchase at least one fintech product, accounting for half of its total revenue.  
Source: Read Full Article