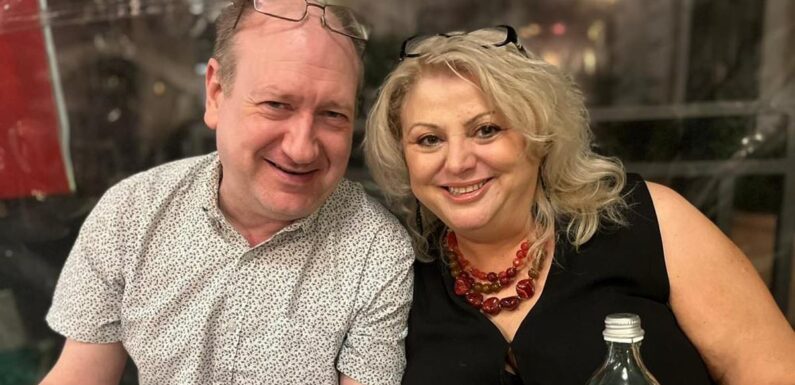 Woman, 56, claims she was removed from aeroplane after flight attendants saw her 'sweating'
Helen Taylor from Chester-le-Street was travelling to a mini-getaway in Rome
READ MORE:  Ryanair passengers cheer as disruptive passenger is removed
A woman has claimed she was removed from an aircraft, after flight attendants became concerned about her sweating.
On October 2, Helen Taylor from Chester-le-Street, along with her husband, were set to fly from Newcastle to Rome for a mini-getaway.
The 56-year-old, who is currently going through the menopause and has type 2 diabetes, was seemingly fine when she boarded her flight.
However, as she returned to her seat from the toilet before take-off, the mother began to feel light- headed and began to sweat.
Mrs Taylor put it down to her blood sugars re-levelling because she had eaten for the first time of that day shortly before.
Helen Taylor and her husband David Taylor (pictured) were not able to go on their mini-getaway to Rome after she was removed from the aircraft after flight staff became concerned about her health
She alleged that she was fine two minutes later, telling ChronicleLive that when she has such an episode, all she needs is 'to sit down and have a drink of water and I will be perfectly fine.'
But flight attendants became concerned about the woman's welfare after her dizzy spell.
The cabin crew were worried that she may no longer be fit to fly, with one suggesting the 56-year-old should have a medical examination, according to Ms Taylor.
The unhappy customer alleged that although she felt fine, the cabin crew made the decision to remove her.
The woman also claimed the captain assessed her and thought she looked fit to fly, even though he approved of his crew guiding her off the flight.
A Jet2 spokesperson told MailOnline: 'After liaising with independent medical aviation specialists, our highly-trained crew took this decision as the health, well-being and safety of our customers is always our first priority.'
The mother was left furious, stating that cabin crew should not have been able to make such a decision.
The disgruntled passenger alleged she and her husband were then guided through the airport and made to hand over their duty free purchases.
Ms Taylor also claimed the pair were quizzed by Border Control after being booted from the flight. 
She said: 'I had never heard anything so ridiculous in my life. I cannot believe how we were treated. It was absolutely insane.'
A Jet2 spokesperson said the 'health, well-being and safety of our customers is always' their first priority
Jet2 have confirmed to ChronicleLive that they will now be refunding the price of the irritated customer's holiday. 
Despite being agitated about the incident, Ms Taylor revealed that she and her husband are loyal customers.
The pair have planned three trips with Jet2 for next year. 
This comes after BA passengers claimed they were held inside a plane for hours despite fears of toxic fumes. 
The furious passengers alleged that they were held with cabin crew drapped in chemical suits for nearly two traumatic hours.
It was alleged the plain was shut down due to fears of a 'possible contagion' on board, after four people fell ill.
London Fire Brigade were called to the scene following the reports however they said there were no elevated chemical readings detected inside the aircraft. 
Source: Read Full Article