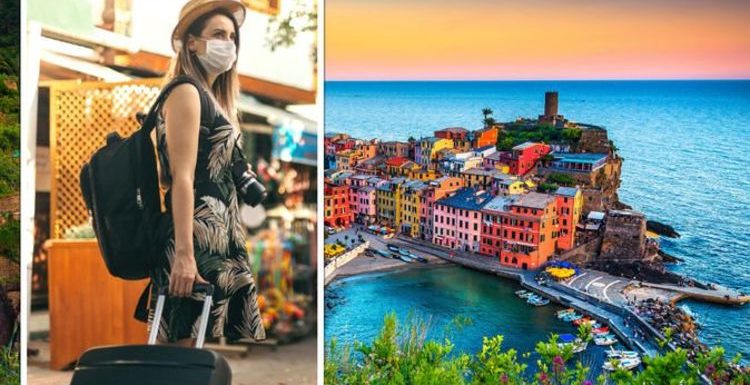 Sadiq Khan says he supports Covid passports
We use your sign-up to provide content in ways you've consented to and to improve our understanding of you. This may include adverts from us and 3rd parties based on our understanding. You can unsubscribe at any time. More info
Holidaymakers planning to jet off to Italy may find themselves unable to do so. The country has introduced new rules which will be hard for Britons to navigate.
Italy has introduced new rules for tourists and implemented a "super green pass".
The pass is needed for restaurants, cafes and tourist attractions.
Hotels and ski resorts have lately been added to the super green pass, meaning Britons wanting to hit the slopes may find themselves barred.
The pass is also required for public transport, and from February 1, banks, post offices, shopping centres and all non-essential shops.
Britons will need to be fully vaccinated or show proof of having recently recovered from Covid to get the green pass.
Tests are not allowed to get the pass, which means unvaccinated Britons will not be able to visit tourist attractions or get a hotel.
To be considered fully vaccinated, Britons will need two jabs, which could prove problematic for families with children who've only had one.
Children "ages 11 and under" do not need the green pass and are not required to be fully vaccinated.
The Italy Green Pass website states: "New super green pass restrictions will come into effect in Italy starting January 10, 2022 and through the end of the current state of emergency on March 31, 2022, based on a government decree on December 29, 2021."
It continues: "The super green pass is valid for nine months from the time of the most recent vaccination for those fully vaccinated (two doses or more), through January 31, 2022.
"Starting February 1, 2021, super green pass validity will be reduced to six months from the time of the most recent vaccination.
"Recovery certificates will continue to be valid for six months from the validity start date on the certificate."
Activities for which tourists will need the new pass are also listed.
The website says: "The additional activities previously allowed with a basic green pass that will require a super green pass (fully vaccinated or recovered) include: outdoor dining; public transport including domestic flights, trains, buses, ferries and local/regional transport."
The list continues: "Access to hotels and hotel restaurants; ski lifts, funiculars, cable cars; conventions and conferences; indoor and outdoor pools and wellness centres."
Italy is not the only country with restrictions for unvaccinated tourists.
Spain requires holidaymakers to be fully jabbed with two doses to enter the country.
France, meanwhile, still has a ban on holidaymakers from the UK.
The country slightly eased its ban on Britons but tourism is not included in the accepted reasons for travel.
Cyprus now requires a negative Covid test for all arrivals, regardless of vaccination status.
Source: Read Full Article