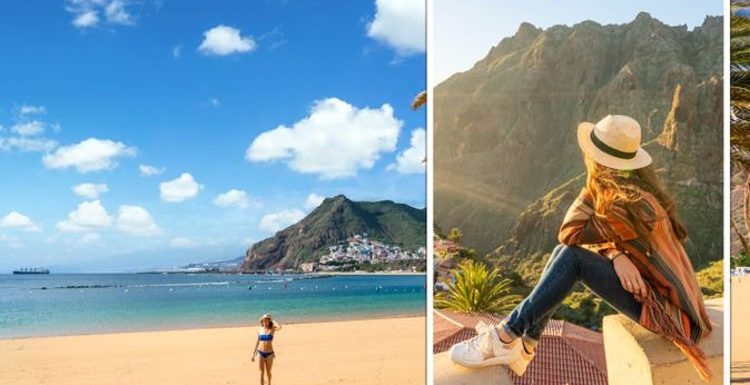 Spain: British expat questions enforcement of Covid passes
We use your sign-up to provide content in ways you've consented to and to improve our understanding of you. This may include adverts from us and 3rd parties based on our understanding. You can unsubscribe at any time. More info
Aya Shillingford was trying to go to Spain for New Year's Eve with her partner and some friends. She made it as far as the plane before she was being told her passport was no longer valid.
Aya was planning to fly to Tenerife on Thursday 30 and come back to the UK on January 8.
She had booked the holiday and was ready to go, made it through security and even boarded her Jet2 flight.
But she was removed from the plane when security sought her out and told her the passport she was using was invalid.
She was forced to cancel her holiday at the last minute and is now facing losing £2,000.
READ MORE: Cruise holiday: Nightmare room experience
Aya said: "We had arrived at the airport in good time, made it through security and dropped off our bags.
"Two members of staff – at security and at the gate for the flight – had already checked our passports and not raised any issue.
"But when we got on the flight suddenly there was a big commotion.
"A Jet2 staff member took my passport and said 'I'm sorry but you can't fly, this was issued over 10 years ago'.
"Then we were frog-marched off the plane and back to the airport. Everyone was staring at us."
The issue with Aya's passport was that it was issued more than 10 years ago.
While the document's expiry date was June 28, 2022, this made it invalid for travel to the EU.
British passports used to be valid up to their date of expiry when the UK was in the EU.
Since Brexit, however, Britons are now "third country nationals" and there are new rules for holidaymakers.
On the Government website, it is stated: "Your passport must be less than 10 years old on the day you enter (check the 'date of issue').
"Your passport must be valid for at least three months after the day you plan to leave (check the 'expiry date')."
Britons can no longer travel to the European Union up to their passport's expiry date.
They can still do so to go to Canada, the US and other countries around the world.
For Aya, the change meant she was unable to go on holidays and was told she would lose her trip and not get a refund.
A spokesperson for Jet2 said: "We always follow Government advice relating to passport validity and we remind customers to check the validity of their passport in our pre-departure communications.
"We also point them to our Travel Requirements page on our website, where they can find more information on how to ensure that their passport is valid for travel and in line with Government advice.
"Unfortunately, Ms Shillingford's passport was not valid for travel, and our teams noticed this before boarding.
"We would like to apologise to Ms Shillingford for this experience."
Source: Read Full Article