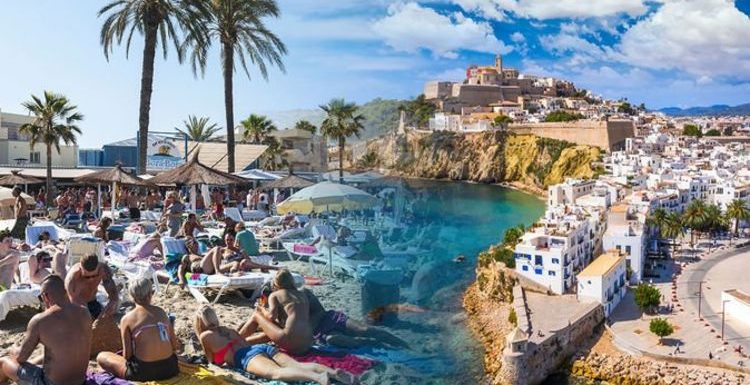 EU countries 'should be on UK green list' says O'Leary
When you subscribe we will use the information you provide to send you these newsletters. Sometimes they'll include recommendations for other related newsletters or services we offer. Our Privacy Notice explains more about how we use your data, and your rights. You can unsubscribe at any time.
Britons could soon have even more options for their summer holidays if the green list expands on Thursday. Up to eight destinations are anticipated to be added, with the Canary and Balearic Islands among those favoured as a result of their low Covid infection rates.
Any new destinations added to the green list will become exempt from quarantine.
A number of holiday hotspots in the Caribbean, including Jamaica, Barbados and Grenada, as well as Malta, Morocco and Finland are also being pinned as potential green candidates.
Travellers heading to green list destinations must take one pre-departure COVID-19 test, and another on day two of their return.
If any of the predicted nations make the cut, holidaymakers who jet off will only be required to self-isolate upon their return home if either of their tests come back with a positive result.
However, the Prime Minister has also warned he will "not hesitate" in moving countries from green to amber or red if it is necessary.
Those returning from amber list destinations must quarantine for 10 days at home upon their return to the UK.
They are also subject to a further PCR test on day eight of their self-isolation.
Meanwhile, those who return from red list destinations will be required to endure 10 days of mandatory quarantine in a Government approved hotel.
DON'T MISS
Which countries will be added to green list? Boris urged to do more [COMMENT]
60,000 Britons fly to Spain despite restrictions [DATA]
Families face up to four hour waiting times at airports [INSIGHT]
This will come at a cost of £1,750 to be footed by the passenger.
Testing will also be part of this package.
Ahead of tomorrow's update, Joint Biosecurity Centre is analysing data coming in from countries around the world.
Currently, the Balearic Islands, home to Ibiza and Majorca, are lower than the UK when it comes to the 14-day infection rate.
They have noted 35 cases per 100,000, compared to the UK's 44.9.
Meanwhile, the Canary Islands are currently recording currently at 80.8 per 100,000.
While there is some hope for the Canaries, Antonio Mayor, President of the Benidorm, Costa Blanca and Valencia Hotel Association Hosbec has suggested its figures may be too high for the UK to consider.
After a meeting with Britain's Ambassador to Spain, Hugh Elliot, Mr Mayor said: "The impression I was left with was that there was a good chance the Balearic Islands could be included on the next green list but not necessarily the Canary Islands because it's not doing the same amount of genome sequencing to identify the different strains of Covid."
Grenada and Morocco are also both recording lower figures than the UK's daily infection placing them alongside Malta as a potential green list addition.
When asked if the green list is likely to expand, PM Boris Johnson said: "We're going to try to allow people to travel, as I know that many people want to, but we've got to be cautious and we've got to continue to put countries on the red list, on the amber list, when that is necessary.
"I want you to know we will have no hesitation in moving countries from the green list to the amber list to the red list if we have to do so.
"The priority is to continue the vaccine rollout, to protect the people of this country."
Experts have also suggested the red list could be a long-term feature of travel after Heathrow Airport opened a dedicated terminal on Tuesday for red arrivals.
Speaking on BBC News, Paul Charles, CEO of the PC Agency said: "Indeed, Heathrow is saying it might be needed for some time and clearly because of the vaccine roll-out not being at the same pace globally then it is likely that there will be some red list countries sadly for some time."
Full list of destinations that may get approval tomorrow:
Ibiza
Menorca
Majorca
Canary Islands
Zante
Rhodes
Kos
Antigua
Barbados
Grenada
Jamaica
Malta
Finland
Source: Read Full Article