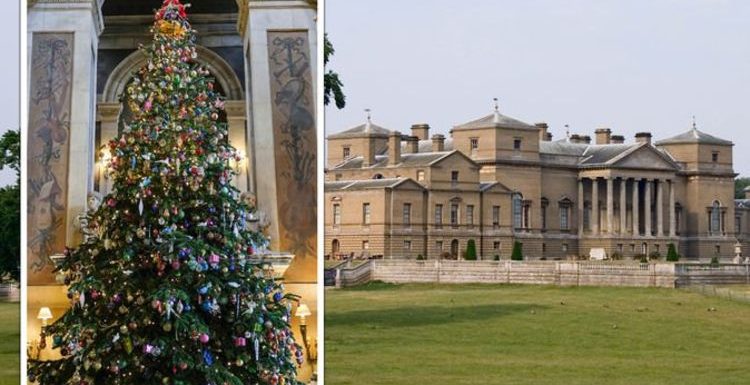 Sajid Javid rules out further Christmas restrictions
We use your sign-up to provide content in ways you've consented to and to improve our understanding of you. This may include adverts from us and 3rd parties based on our understanding. You can unsubscribe at any time. More info
Some of the best stately homes in the country have been transformed for Christmas. Country estates are popular attractions all year round, with the National Trust one of the most recognisable charity keeping them in shape.
The UK is home to many private stately homes and non-NT houses, but which can Britons visit this winter?
Holkham Hall
One of the most recognisable stately home in the country is Holkham Hall.
Located on the north Norfolk coast, the Hall is the seat of the Earls of Leicester.
Part of the Treasure Houses group, the Holkham Hall is one of the most beautiful houses in England today.
Britons can visit the estate this winter, with Holkham Park open daily from 10am to 4pm.
To visit the Hall this Christmas and get a chance to see the house in all its Christmas fineries, Britons will have to join an event.
Holkham Hall by Candlelight takes place on December 27, 28 and 29.
Chawton House
Named one of Country and Town House magazine's best stately homes to visit, Chawton House is steeped in history.
The Hampshire house was inherited by Jane Austen's brother in the late 1780s and is located five minutes from the Jane Austen House Museum.
The author called Chawton "the Great House" in her letters, and the historic home is now working to restore early women writers "to their rightful place in the history of English literature".
Britons can visit the house, which has been decorated for Christmas, this winter.
The house will be closed December 24 to 26, but reopens on December 27, with last entry at 7pm.
Harewood House
One of the Treasure Houses of England, the estate is owned by the Earl and Countess of Harewood and sits in the heart of Yorkshire.
This winter, the House, Grounds and Gardens are open to visitors.
The Bird Garden, Courtyard Café, Shop and Adventure Playground are also open.
A timed ticket slot is required to visit the house, which can be booked on the Harewood website.
For Christmas, the house has put on an immersive Christmas story until January 3.
Brodsworth Hall and Gardens
The South Yorkshire hall is one of the best conserved Victorian stately homes in the country.
The Victorian estate was "conserved as found" by English Heritage and Britons visiting will be able to immerse themselves in the gardens and the interior.
For winter, only the servants' wing of the Hall will be open, but families will be able to take part in a Christmas adventure quest around the family house.
The Hall and Gardens will be open from Boxing day through to the end of the year, including NYE.
Christmas at Holkham Hall is on tonight at 8pm on Channel 4.
Source: Read Full Article