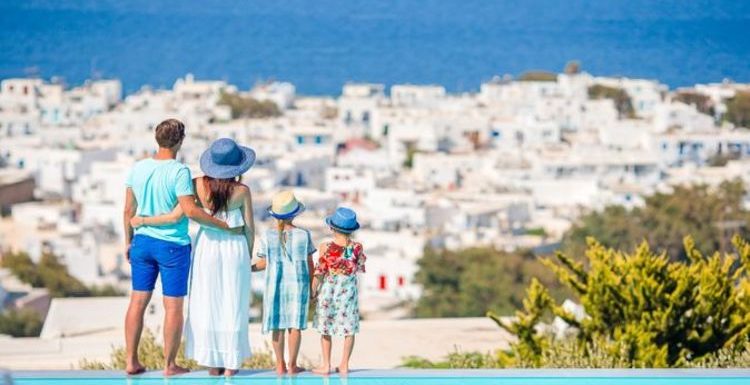 Brexit: British expat discusses difficulty of living in Spain
We use your sign-up to provide content in ways you've consented to and to improve our understanding of you. This may include adverts from us and 3rd parties based on our understanding. You can unsubscribe at any time. More info
Great weather, dreamy beaches and welcoming people, Greece is quickly becoming a top British expat destination. Christopher Nye, senior content editor at Property Guides, told Express.co.uk that demand for Greek property has recently increased.
He said: "Greece has gone from being our seventh most popular overseas destination to our fourth most requested."
While Spain is the top Mediterranean destination for British expats, Christopher said Greece has always had a place in British hearts.
He told Express.co.uk: "Greece has always been a popular choice for Brits to move to.
"From the Durrell family in the 1930s, Shirley Valentine in the 80s and Mamma Mia! in the 2000s, it just captures that warm, relaxed Mediterranean vibe better than busier hotspots like Ibiza or the Cote d'Azur."
Gerald Durrell's autobiography of his eccentric family life on Corfu was made into a hit ITV series in 2016.
Mamma Mia! caught the attention of Britons of all ages with its depiction of the protagonists' dreamy existence on a fictional Greek island.
Christopher said: "The people are friendly, especially towards the British, the property is super affordable and only just climbing from rock bottom prices.
"You also have a wide choice of locations, including over 200 inhabited islands."
Although the island of Corfu has the highest number of British expats, there's a paradise for everyone's taste in Greece.
Crete, Rhodes, Spetses and Lefkada are also very popular destinations and each has something special to offer.
Expats looking to get away from tourist crowds should investigate one of the quieter Greek islands such as Kasos or Kastellorizo.
Thessaloniki on the Greek mainland is a fantastic option for expats who want a mix of city and beach life.
Christopher said: "The Greek debt crisis did not leave the world with a great image, but that has been reversed by their swift and efficient response to the pandemic, which allowed tourism to restart long before other international destinations."
Greece saw its tourism industry recover more quickly than other hotspots and has recently announced it intends to expand into winter tourism.
Christopher added: "Above all, it is the incredible lifestyle on offer in Greece that continues to attract us."
The Greek diet is one of the healthiest in the world and puts the spotlight on fresh ingredients.
High in vegetables, oily fish and yoghurt, experts have said the diet helps to prevent heart disease and stroke.
Christopher told Express.co.uk: "Greece wants us! They have a range of visa schemes for retirees and others, including an inexpensive golden visa.
"Whether for an affordable holiday home or permanent relocation, Greece is the word."
Visit Property Guides for more information on moving to Greece.
Source: Read Full Article