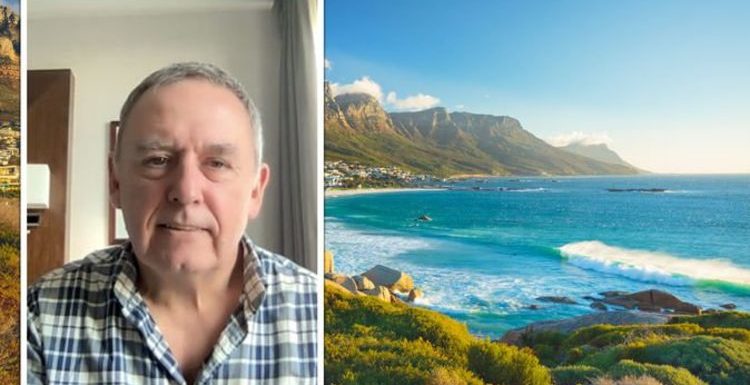 Omicron: 'More breakthrough infections' says South African doctor
We use your sign-up to provide content in ways you've consented to and to improve our understanding of you. This may include adverts from us and 3rd parties based on our understanding. You can unsubscribe at any time. More info
South Africa, along 10 other countries, is currently on the travel red list. And with the red list comes added restrictions, including a need to quarantine for 11 nights.
At a cost of £2,285, Britons coming home have to stay in managed hotel quarantine.
Sean McGrath was in South Africa to visit his daughter he'd not seen since March last year,
He was "one of the first ones out" of the country.
When Express.co.uk spoke to him, he was in his hotel quarantine room, having just taken his Day 8 test.
While in relatively good spirit, Sean thought "the whole thing was done very badly".
He claimed: "There's no rationale for it. I'm a keen political watcher and I think everyone knows they've screwed up."
Quarantine and the red list reaction to Omicron from the Government was "a shambles", Sean said.
"It's chaotic and the biggest frustration is it's unnecessary.
"Every single person in this hotel, their Day 2 test was negative."
Sean believed the Government should never have stopped the requirement for PCR tests.
He explained: "We shouldn't be doing this.
"It's a waste of human resource, they're locking people up for something a Day 2 PCR test could have sorted.
"They should never have stopped the Day 2 PCR test.
"They did it because of political pressure.
"And all you had to do was a lateral flow test, which don't work, let's be honest."
After the Government announcement of the reintroduction of the red list and hotel quarantine, Sean was "desperate to get out" of South Africa and "tried to go through Dubai" when his original flight was cancelled.
"There were no direct flights. BA cancelled, Virgin cancelled."
He even "bought a ticket to Turkey via Addis Ababa" and is now waiting for a refund for that flight.
Getting out of South Africa was not easy, with all flights cancelled and the announcement made when it was "not physically possible" to get back on time.
"Usually they gave people a couple of days, but not this time. The stress about getting back was intense because I didn't know what I could do."
Sean explained: "It was Thursday at 11pm as we were going to bed when this all kicked off.
"Physically it was impossible to come back. They made [the new restrictions start] from noon on the Friday, and the flights to South Africa are all overnight.
"So if you were in the air you were ok. But otherwise it was impossible to get on a flight on time."
He eventually managed to get back to London via Johannesburg and Frankfurt.
And his experience at Heathrow where also "poor": "I came in from Frankfurt and I was with about 60 people from Zimbabwe.
"We sat on the floor in the Arrivals Terminal 2 at Heathrow from 7am until 11am.
"They didn't process one person in that time. Everything was happening in Terminal 4, and they didn't think about us. They didn't really know what to do with us.
"And then the hotels weren't ready. It was a nightmare of a day."
Source: Read Full Article