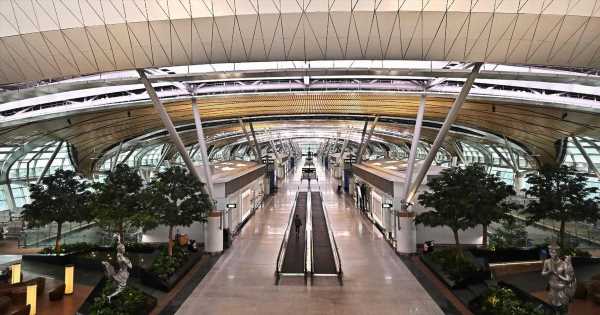 When people head over to Bangkok, in Thailand, usually they hope to see stunning temples, try delicious spicy food and even see the pretty landscapes. But, it turns out that from the moment you touch down you're in a dark tourism hotspot where ghosts apparently roam.
Suvarnabhumi Airport, In Bangkok, is apparently known to be haunted by spirits. Frankly we can't think of anything worse than spending eternity haunting an airport, but the reason paranormal experts think there are otherworldly forces at play in Suvarnabhumi Airport is all about where it was built.
TravelLocal experts share some of the most haunted, and lesser-known spooky destinations you can visit across the world with Daily Star. They claim that the airport in Thailand was constructed on top of an ancient cemetery – and if there's one thing we know it's not to disturb the dead and put planes on their resting place!
READ MORE: 'I accidentally moved to 'most haunted town' – I've felt ghosts and heard screams'
Check out our travel section for more holidays, travel news, hacks, flight secrets and more…
Whilst the airport was being built, workers reported disturbing noises of screams and wails around them. On person even said they could hear classical Thai music being played with no obvious source, reports the Mirror. Some of the workers even quit there on the spot once they knew – because they were too frightened to continue among the ghouls. Since then, there have been a number of reports of unusual incidents linked to ghostly sightings and activities.
While the airport was being built, officials apparently invited 99 Buddhist monks to appease the ghosts and ask them to leave. Although, it seems their efforts – involving nine weeks of chanting and prayers – may have been ineffective.
One of the most well-known ghosts, Poo Ming, is said to be one of the leading spirits causing issues within the international airport. During the opening ceremony it's said that a young baggage handler proclaimed himself to be Poo Ming – the guardian of the cemetery.
The man was blessed by the monks and thankfully returned back to normal. However, the cemetery's watchman didn't stop there. Poo Ming, who is said to be blue and takes the form of an old man with a stock has been spotted wandering the airport.
Other spirits are also said to live in the terminals – possessing people within and causing accidents. Travellers have reported seeing a pale lady carrying baby who steps in front of drivers to freak them out. Plus, an abandoned Honda car apparently sits in the car park. The owner is thought to haunt the area and so people place flowers on the vehicle to make him happy again.
Thai culture is full of the belief of spirits and ghosts. To protect the living and honour the dead there are spirit houses within the airport – beautiful golden structures with temple-like roofs where offerings are given to the spirits.
It's not just Suvarnabhumi Airport that struggles with ghosts though. According to Holidu, Heathrow Airport has its fair share. The holiday company said: "The haunted history of Heathrow Airport might not be one you're familiar with, and it might be one of the last places you'd expect to see on this list of paranormal places – but you'd be wrong.
"The main story is one of a tragic plane crash which happened in 1948 and a man who arrived at the scene asking if anyone had seen his briefcase. Firefighters later reported seeing the body of that same man in the wreckage.
"Since that day, the briefcase-carrying ghost has been spotted on the airport runways several times. Not convinced? In 1970, the Heathrow Airport radar office picked up a signal which looked like a person on the runway, only to find no one there when emergency services rushed to the scene."
Source: Read Full Article