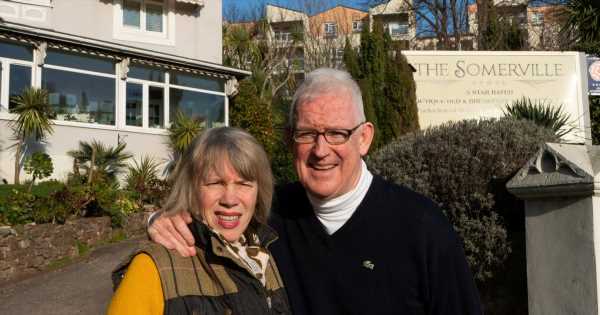 Iconic British TV show Fawlty Towers is scheduled for a revival which has the nation all a-twitter.
Quite literally, the 1975 show that cemented itself in pop culture within just two seasons is trending across Twitter.
But, nobody is quite as excited to see the return of bonkers English hotel manager Basil than Peter Bland.
READ MORE: Inside the Harry Potter villa that's £32pp a night with a Diagon Alley and flying car
Dubbed a "real-life Basil Fawlty' the 55-year-old runs a bed and breakfast in Torquay.
He's long been compared to the quirky John Cleese character and hopes that the return of the comedic show will lead to a boost of business.
The hospitality boss manages The Somerville with his wife Helen, also 55, in the Devon coastal town where Fawlty Towers was set.
Peter reports that he's often been called a "dead ringer for Basil" due to his mannerisms as a host.
He said: "I think I do see myself as a Basil Fawlty character, not to the extent where Basil was rude to guests. But I like to think of myself as a bit of a character, anti-woke and all that sort of stuff.
"And I absolutely think the reboot will bring a few more people down to Torquay."
He claims that Torquay has become "swamped with holiday lets", adding: "But there is nothing nicer than being welcomed by the patron and his wife – although I'm not sure if I'm allowed to say that anymore."
Peter bought his B&B seven years ago and claims his life since has often imitated comedy sketches from Fawlty Towers.
Peter said: "I have a room that sort of looks out onto a wall, so what I actually did is have this great big mural printed of Torquay and had it glued on the wall opposite.
"There's that episode where an old and deaf lady walks into one of Fawlty's rooms and says, 'I booked a room with a view.'
"Basil says, 'This does have a view of Torquay! What would you like to see from the room? Would you like to see wildebeest running over the plains?'
"So when guests check in for that room, I always joke, 'Of course, you do have a sea view.'"
He added: "The Brits get it, but some of my overseas guests from over Europe perhaps don't. Maybe that's just British humour."
Bloke gets flight to Italy and delicious pizza – for less than price of Domino's
The manager is also happy to act as a "private concierge" for his patrons and often rolls out the red carpet for solo travellers in case they're an inspector.
He laughed: "When I first arrived, I had this absolute phobia that every single-person guest that came was the hotel inspector.
"I did exactly the same as Basil, and still do to this day, because it's a secret visit.
"The next morning, they'll show you a card and say, 'Hello, I'm the AA hotel inspector.'"
Plus, he makes sure the breakfast room is lively each morning.
Peter added: "I hate a breakfast room that is silent.
"So I like to get people speaking to each other and having a chat – and we speak about the world.
"Whether that's like Basil Fawlty, I don't know. Maybe it's just being a very good host."
Peter and his wife have even come across guests that wouldn't be out of place on the sitcom – and done their best to oblige their whims.
He said: "She was this lady from Surrey, and insisted on everybody knowing she was from Surrey to the extent that she asked another guest to move their car because it was 'her spot'. But as the owner, I absolutely love that.
"Every afternoon she had tea up on the terrace, and I had to make it. Nobody else was allowed to make it, and it had to be with this special tea that I was serving her.
"But it wasn't special tea at all. It was the tea that I served to all my guests. She was like a female 'colonel', but I thrive on that."
Peter and Helen insist that their bed and breakfast stands out above the rest due to their recommendations for what to do around town.
Plus, the five-star establishment has eight glam art-deco rooms.
He said: "Essentially, I'm a five-star hotel here. My rooms are outstanding. My public area is outstanding.
"But there's nowhere on any of my information that says this is a hotel – this is a bed and breakfast that looks after people.
"Whether that's like Basil Fawlty, I don't know."
You can find out more about the B&B on somervilletorquay.co.uk.
READ NEXT:
Where was Wednesday filmed? Inside the real castle used for Nevermore Academy

National park that inspired Avatar has 'floating' mountains and towering cliffs

Inside the 'most alien looking place' on Earth with bizarre trees and animals

'I spend £12k a pop on glam trips to Dubai but men offer to fly me out for free'
Source: Read Full Article