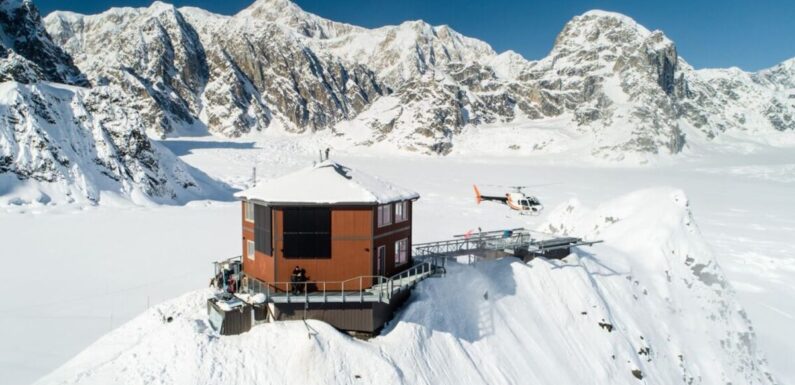 The incredible Sheldon Chalet sits on a 6,000 feet ridge in Alaska's Denali National Park
Do you dream of getting off grid? One of the world's most remote hotels is 6,000 feet above sea level and it's only accessible by helicopter.
The Sheldon Chalet in Alaska's Denali National Park is perched on a rock on the flanks of North America's highest mountain, Denali.
Guests can only reach the exclusive chalet by helicopter as there are no roads, railways or walking trails to the remote haven. The closest town, Talkeenta, is 55 air miles away.
The incredible chalet has been owned and operated by the Sheldon family since 1966. The family are the only people permitted to fly over the national park.
Situated on five private acres, the chalet runs on solar energy and can accommodate just 10 guests at a time.
This is truly an off the grid experience as the Sheldon Chalet doesn't have wifi. The family likes to encourage guests to switch off and immerse themselves in the park's breathtaking natural beauty.
Guests will have an astounding view of the Northern Lights and during winter the park experiences just four hours of daylight.
Lucky chalet guests will have access to incredible experiences including glacier trails, gourmet picnics, ice climbing and meteor shower viewing.
Unsurprisingly the chalet doesn't come cheap and guests will need to fork out £26,000 per night for the exclusive experience.
The chalet has two resident chefs who curate the bespoke guest menu using locally sourced Alaskan ingredients.
One of the chalet's chefs has previously cooked for US presidents and Hollywood stars while the other has hunting and fishing experience.
Advert-free experience without interruptions.
Rocket-fast speedy loading pages.
Exclusive & Unlimited access to all our content.
Each of the chalet's staff was born in Alaska and guests are welcomed from the helicopter with an Alaskan seafood feast and champagne.
Source: Read Full Article