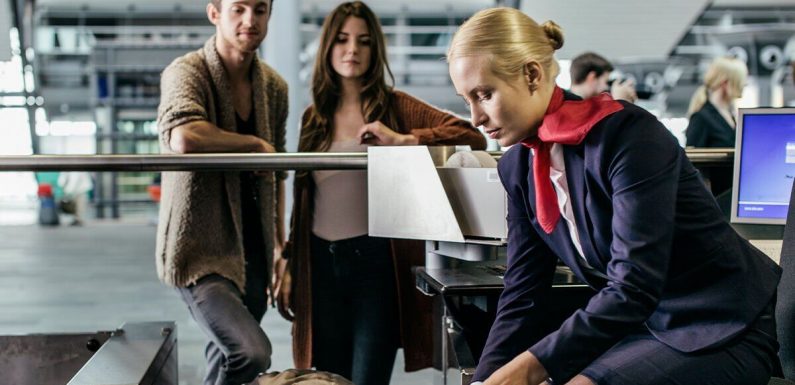 Martin Lewis Extreme Savers: Expert on how to cut luggage costs
We use your sign-up to provide content in ways you've consented to and to improve our understanding of you. This may include adverts from us and 3rd parties based on our understanding. You can unsubscribe at any time. More info
Loading up on souvenirs and gifts can be the thing that tips the scales for your luggage when returning from a holiday. However, a former flight attendant has shared a hack she uses while travelling to avoid being charged when her suitcase goes above the weight limit.
Kat Kamalani worked as a flight attendant for a US airline for over six years, and during that time she discovered a number of ways to make travelling easier. In a video posted to her TikTok page, Kat explained: "This tiny hack will save you if you ever have baggage that is overweight while travelling."
Most airlines set out a luggage weight and size limit for passengers. While size restrictions usually apply to hand luggage, bags going into the hold often face a weight limit.
Those who end up with bags which exceed the specified amount can find that they face a hefty fee at the airport, though the amount varies depending on the airline operating the flight.
@katkamalani I've done this so many times #didyouknow #flighthack #travel #tipsandtricks ♬ Monkeys Spinning Monkeys – Kevin MacLeod & Kevin The Monkey
However, if you can get your suitcase down to the weight limit, this will save you from any last-minute costs.
"This hack works the best when you are travelling home from vacation," said Kat. "You will always want to carry a pillowcase in your bag because if your bags are overweight you can stuff your pillowcase full of clothes and use it as a pillow on the aircraft. This is seriously a game changer to avoid those fees for overweight bags."
Kate also confirmed that in her experience a pillow does not count as a personal item or towards airline luggage allowances.
TikTok user Larissa, who posts under the username @is.me.larry said she and her friends were able to "save nearly €80" (approximately £67) on hand luggage fees when they put the pillowcase hack to the test.
DON'T MISS
Cruise guest explains reason passengers had to be 'flown home' early [COMMENT]
easyJet travel warning as British tourists could be 'delayed' [WARNING]
Spain's new digital nomad visa explained [INSIGHT]
In the video, she said: "We tried the airport pillow hack and we succeeded." The user and her friends can be seen stuffing all of their belongings into an empty pillow case, disguising them as comfy cushions for personal use during the flight.
However, in the UK, the likelihood of the hack working could depend on the airline you are travelling with. Nicky Kelvin, head of The Points Guy UK explained: "The likes of Ryanair and easyJet have been allowing people to bring pillows aboard for aeons, not to mention goading customers on social media over the more inventive means of maximising carry-on.
"Given the clothing and pillows are effectively perfect for stashing extra items, it was only a matter of time before people looking to avoid steep luggage prices steeper would see how far they could push it."
As more people begin to test the hack, some airlines may begin to click on and put a stop to the sneaky solution. "There are plenty of TikTok videos showing it does work, but with every view, there's more heat and it wouldn't be surprising if the airlines clamp down on the hack at some point," said Nicky.
He also pointed out some flaws of the hack. Nicky said: "For one, all your clothes will be creased to high hell — just use packing cubes.
"Secondly, imagine this doesn't work, do you want to be the person at the airport standing with a pillow of belongings they can't take with them?
"Thirdly, actual pillows are far comfier than pillows you make out of your belongings."
Fans of Kat's have applauded her recommendation, however, with one user named Jenni describing the hack as "genius". Another commenter added: "That's a naughty game changer."
Source: Read Full Article