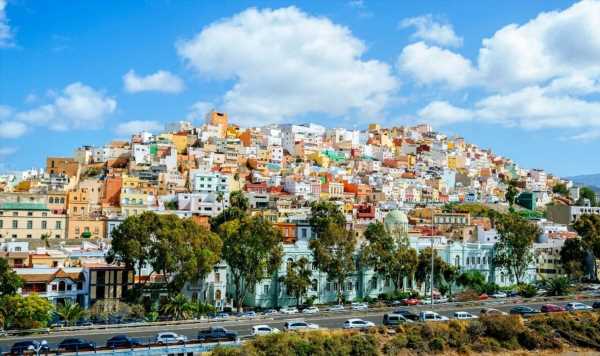 We use your sign-up to provide content in ways you've consented to and to improve our understanding of you. This may include adverts from us and 3rd parties based on our understanding. You can unsubscribe at any time. More info
Dreaming of starting a new life in Spain? The best place for British expats to live is a gorgeous island in the Canaries.
Best destinations for expats in Spain
Gran Canaria
Fuerteventura
Tenerife
Mallorca
Barcelona
Seville
Alicante
Menorca
According to Nomad List, Gran Canaria is the best destination for expats in Spain, taking the top spot for the second year in a row.
The beautiful island is located in the Canaries and ranked well on safety, healthcare and property prices.
Nomad List found the average cost of living per month was just 1,341 euros (£1,196) in Gran Canaria.
Expats will also enjoy good weather all year round, due to Gran Canaria's proximity to the Equator.
On Tripadvisor, the island's top rated attraction is the beautiful Playa de Maspalomas, a beach backed by dunes.
A visitor wrote on the review platform: "You can walk for miles on the beach. There are also paths overlooking the sand dunes with good views. It is a beautiful area. A must visit."
Playa del Ingles is the island's party centre and the best place to move if expats are looking for nightlife and bars.
The island also has an incredible aquarium, Poema del Mar, which could be the perfect place to take visiting family members.
The Canary Islands dominated the list, with Fuerteventura and Tenerife taking second and third place.
Both islands also scored highly when it came to safety and ranked near the top on healthcare.
The cost of living on both islands came to slightly more than Gran Canaria, at 1,468 euros (£1,310) in Fuerteventura and 1,702 euros (£1,508) in Tenerife.
Majorca came in fourth place in the rankings, while Barcelona was the fifth destination on the list.
Barcelona had the highest cost of living on the list at 2,727 euros (£2,434) per month for expats.
The majority of destinations on the list were coastal, reflecting expats' desire to be close to the Spanish sea.
Alicante could be the perfect choice for expats who want to settle in an established community, as many retired Britons have made their home there.
However, although Alicante still scored well on healthcare, it was slightly further down the table than some of the other top destinations.
Source: Read Full Article