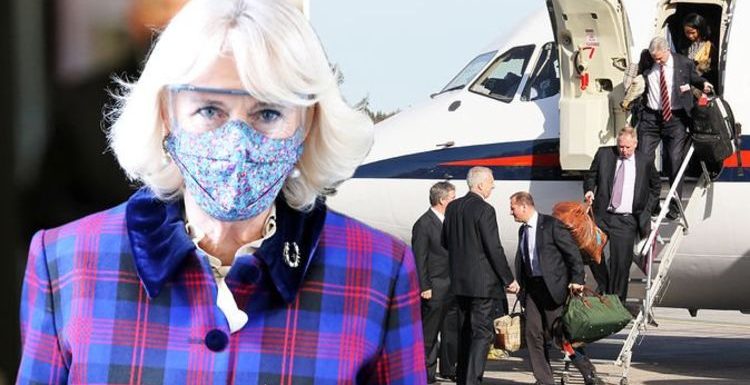 Camilla is 'establishing her legacy' says expert
Camilla Parker Bowles has been on a number of state visits with her husband Prince Charles. The royal pair are, unsurprisingly, well looked after by staff throughout their royal trips abroad. In fact, sometimes employees go to great lengths to make sure Camilla and Charles are happy.
In 2007, the pair travelled to Kuwait as part of a ten-day tour of the Gulf region.
The Duchess of Cornwall was reported to have made a rather odd demand when it came to a missing item.
According to the Evening Standard, the royal asked for a pair of high heels she had forgotten to be flown to her from their home in Highgrove in England.
It was requested that the pair of heels, which matched her outfit for the dinner planned that evening with the Kuwaiti Royal Family, were sent out to her by plane.
We will use your email address only for sending you newsletters. Please see our Privacy Notice for details of your data protection rights.
But they then made the 3,000 mile trip to the country only for Camilla not to wear them at all.
However, an insider did go on to clarify what exactly had happened.
A palace spokesperson told the paper: "The Duchess did not ask for the shoes to be sent, but a member of staff did arrange for them to be flown over to her after they realised that they had forgotten to pack them.
"They were not specially couriered, but were sent along with a number of items and paperwork as is often the case on royal tours."
Royal needs don't stop with what gets packed and what doesn't.
Food is another tricky topic, with hosts on foreign visits instructed beforehand with what they can and cannot serve.
"Her hosts are now sent a list of the foods she liked and disliked," according to the Mail Online.
Charles and Camilla are also quite particular about their alcohol.
Telegraph reporter Gordon Rayner, who has attended 20 royal tours, said the pair travel with their own booze.
"Prince Charles and the Duchess of Cornwall sometimes take their own alcohol so there's no danger of their drinks being spiked," Rayner told Conde Nast Traveler.
The heir to the throne and his wife don't actually carry the booze themselves, however.
This job is done by bodyguards whose job it is to protect the royals at all times.
"Their police bodyguard will discreetly carry a bag of their drinks," said Rayner.
The reporter also revealed the favourite drinks of both the Duke and Duchess of Cornwall.
He claimed that Charles's favourite drink is a gin and tonic while Camilla favours red wine.
Source: Read Full Article