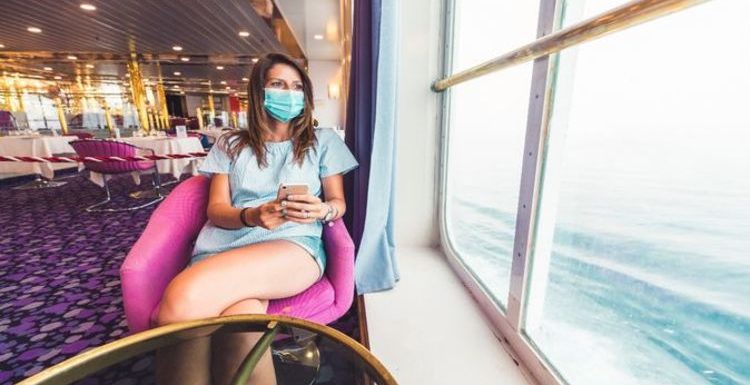 Billionaire Cruise Ship: Chef reveals how much food is cooked
We use your sign-up to provide content in ways you've consented to and to improve our understanding of you. This may include adverts from us and 3rd parties based on our understanding. You can unsubscribe at any time. More info
While some passengers only ever opt to travel on small boats, huge cruise liners often carry thousands of guests. Unfortunately, that means there can be a few terrors onboard.
Reddit user, 'Salty-Equivalent8463', shared a nightmare experience they'd had on a cruise holiday.
They said: "At approximately 2.30 in the morning on our first night we were rudely awoken by the sound of kids and teenagers running up and down the hall screaming on our deck and banging on different doors.
"This obviously alarmed us until we realised it was just kids. We thought they'd knock it off but it went on for 15 minutes before I got ticked off and called guest services.
"What's even worse was that these kids then proceeded to make rude and racist remarks about other passengers on board.
"After security came and reprimanded them they stopped for the night, but I can't help but wonder where their parents were and whether they thought it was acceptable.
"There was similar behaviour on other nights too, but it wasn't quite so late so we just ignored it."
Out of control kids could easily ruin a luxury cruise holiday, especially if they're abusive to guests.
One Reddit user said: "I'm ex-staff and this happened all the time when we had kids onboard. Also the reason why some people avoid spring break and Christmas cruises."
Another Reddit user said: "I was on a cruise where a teenager had gone missing during the sailing.
"The parents reported the teen missing around 11pm. Security began conducting room to room searches.
"The teen was located, passed out drunk in another teenager's cabin. No harm, just shenanigans.
"The parents, their children travelling with them and the teen in question were put off the boat in Jamaica."
Cruising outside of school holidays could help holidaymakers to avoid travelling with out of control kids.
However, some older passengers were also called out for their behaviour on cruise holidays. One Reddit user said while at a tram stop on land: "We had a man demand he speak to the staff manager because he had been waiting there for two hours.
"My dad stood up to him. He erupted and went on a tirade saying to mind his own business and s*. He tried to start a fight."
Another said their pet peeve was people who hogged deckchairs. They said: "On a sea day they got to the pool area early and put towels on more seats than they had people.
"They didn't even use the seats they hoarded. They were barely at the pool but left their towels there for the better part of the day."
Pool etiquette can cause a lot of problems on a cruise especially if seating is limited on deck.
Another added that guests who smoked had ruined their holiday, saying: "I hate being on my balcony and cigarette smoke blowing in my face and that's all I can smell."
One guest said: "The one and only time we had a balcony, our neighbours smoked. It was pretty miserable."
Source: Read Full Article