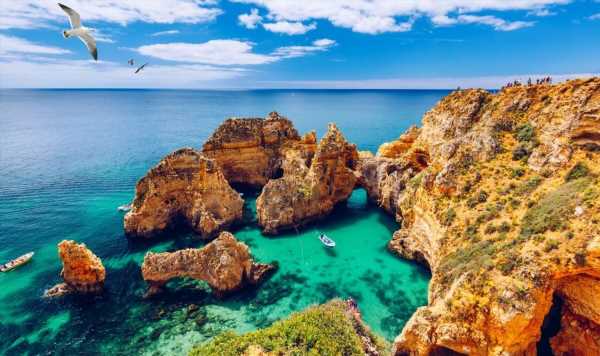 The travel experts at Club Med analysed the number of sunlight hours, average temperatures, the number of rainy days and sea temperatures to find the sunniest destination in Europe. The winning destination is a popular holiday hotspot in the south of the continent.
Sunniest destinations in Europe
Faro, Portugal
Athens, Greece
Marbella, Spain
Palermo, Italy
Dubrovnik, Croatia
Bodrum, Turkey
Stockholm, Sweden
London, UK
Bordeaux, France
Copenhagen, Denmark
Faro in Portugal's Algarve was the winning hotspot with a whopping 11 hours of sunlight each day during summer.
Temperatures average 24 degrees during the summer months and it was the only destination on the list with zero rainy days.
The capital of the Algarve region, the city is close to some of Portugal's most stunning beaches and has a charming Old Town.
A tourist 'Janette Gould-Martin' wrote on Tripadvisor: "Old town is magnificent. I loved every second of my time in Faro."
Don't miss…
Cruise expert explains when guests should arrive for a cruise [CRUISE]
Top tourist destination named pickpocketing capital of Europe [PICKPOCKETS]
Travel advice for Mexico holidays in 2023 [MEXICO]
Another tourist 'Lukas' wrote: "Such an amazing and beautiful town. Stunning cathedral. There is a lot to like about Faro."
Athens was named the second sunniest spot in Europe with just one rainy day each summer on average.
The Greek capital is home to some of the world's most incredible ancient sites, including the Parthernon.
Tourists might want to wake up early to explore the ruins as soaring temperatures can make it uncomfortable at midday.
A trip to Athens could be combined with a holiday to some of Greece's islands, as tourists can grab the ferry from the capital.
Marbella was Spain's sunniest destination with 11 hours of sunshine a day in an average summer. Popular with British tourists, the town is close to Costa del Sol beaches.
Britons might be surprised to see Scandinavian destinations such as Stockholm and Copenhagen make the list.
However, the region's long days during summer mean that tourists get the chance to enjoy al fresco dinners late in the evening.
During June, the sun will set after 10pm in Stockholm and rise at 3:30am. If tourists are lucky with the weather, they can take a trip out to the archipelago by boat.
Palermo in Sicily was Italy's sunniest spot while Dubrovnik in Croatia rounded off the top five sunniest hotspots.
Tourists planning to stay in the UK for a staycation might want to consider a holiday in London as the capital came in eighth place on the list.
Bodrum in Turkey could be a fantastic choice for Britons looking for a budget break in the sunshine.
Source: Read Full Article