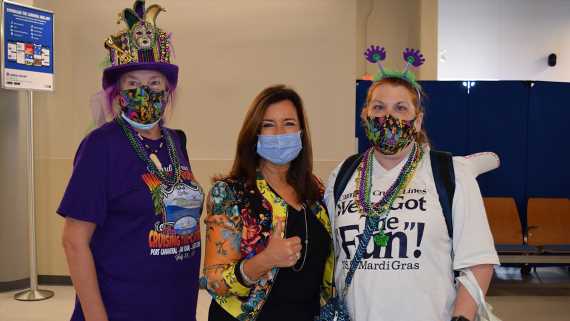 All Carnival Cruise Line guests, including vaccinated passengers, will have to wear masks in certain indoor areas starting Aug. 7.
They also will have to show proof of a negative Covid-19 test within three days of embarkation, starting Aug. 14. 
Travel Weekly is tracking which ships have returned to service and when other ships will be back.
The cruise line said the rules are temporary and in response to the "evolving public health situation." 
Carnival said it implemented the mask policy in "an abundance of caution, and following the lead of similar sectors and venues — including Nevada casinos, Disney theme parks, and Broadway theaters." 
The line is requiring all guests ages 2 and older to wear face masks in elevators, designated indoor entertainment areas, all retail shops, in the casino, prior to being seated in the main dining rooms and in the lido buffet area, and occasionally in other designated areas where larger number of guests may congregate (signs will be posted). Guests do not have to wear masks while eating or drinking. Vaccinated guests are not required to maintain physical distance onboard. 
Related: President Biden calls out Florida and Texas governors
"These new requirements are being implemented to protect our guests and crew while on board, and to continue to provide confidence to our homeports and destinations that we are doing our part to support their efforts to protect public health and safety," said Christine Duffy, president of Carnival. "We expect these requirements will be temporary and appreciate the cooperation of our guests. Our first month of guest operations has been met with tremendous enthusiasm and very positive guest feedback, and we are committed to continue our restart with both fun and safety in mind."
The policy was implemented on Aug. 4 on the Carnival Vista, after Carnival said a small number of positive Covid cases were detected on board.  
"Our pre-established protocols of vaccinated guests and crew, testing, enhanced medical capabilities and contact tracing anticipated the potential for positive cases, and they are designed to adapt to various scenarios. We have identified and tested close contacts and anyone who tested positive is in isolation," the line said in a statement.
"The decision to implement the mask policy was made in an abundance of caution, given our focus on the health and safety of our guests and crew. The voyage will continue as planned and we are dedicated to continuing to provide our guests with a fun and safe vacation."
Rules for unvaccinated guests continue
On all ships, unvaccinated guests must continue to follow the requirements previously communicated, which includes pre-cruise PCR testing, testing prior to boarding, and testing within 24 hours of debarkation on cruises of five days or longer. Unvaccinated guests approved for an exemption are charged $150 for testing and health screening costs, and on cruises departing from Florida and Texas they are required to show proof of insurance. 
Carnival's policy shift comes as Florida and Texas account for about one-third of new Covid cases in the U.S. over the past week. The two states have the busiest cruise ports in the U.S.
Carnival has been operating its cruises with 95% vaccination rates, as per CDC guidelines, and a fully vaccinated crew. 
Royal Caribbean International updated its testing policy last week, with passengers on its cruises of 5 days or longer from the U.S. having to test negative for prior to embarkation starting July 31, regardless of vaccination status. 
Source: Read Full Article